In this year's Best of the Best 2020 awards, we recognise the brands that have pushed boundaries in design and innovation, and those that have made significant contributions to alleviate the pandemic. Here are the best nine within the watch category
The hottest material in watchmaking is the least valuable. Steel, traditionally popular with mass-market brands or for entry-level timepieces in a luxury watchmaker's collection, is the metal of the moment no matter the price. Collectors are clamouring for it in such staggering numbers that nearly all top-tier companies have been getting in on the game with elevated timepieces fashioned from the humble alloy.
A Lange & Söhne is one of the most recent converts. While the ultra-elite brand has been (quietly) known to make steel watches for collectors, its  first series-produced steel-bracelet timepiece, the Odysseus, launched last year with a price tag of US$30,800 (S$42,034). H Moser & Cie's crowning achievement of 2020, the steel Streamliner chronograph, comes in at US$40,000 (S$54,590). And last September, Vacheron Constantin introduced a production version of its historic Cornes de Vache 1955 in steel (it had previously been produced only in pink gold or platinum) for US$39,000 (S$53,225).
Retailers say the demand shows no signs of waning. Steel is scratch-resistant and better suited to daily wear, especially for today's casual dress code. But those same retailers admit these watches are overpriced given the material, and when you consider recent world events it's hard to imagine how, at five figures and more, steel can continue to soar. Prices for this year's models are already set, so any dip would still be a ways off – a year, maybe more. Still, when will the pendulum of popularity swing back to precious metals?
"There is going to be a massive return to yellow gold within the next two years," says James Lamdin, founder of vintage-watch purveyor Analog/Shift. Gold is "currently wildly undervalued", Lamdin adds, and is being re-embraced by fashion-driven consumers and those who appreciate its timeless appeal. "In general gold has gone up in value and that helps – that's another reason why I feel that, when this (gold) thing begins to pop, it's going to pop considerably."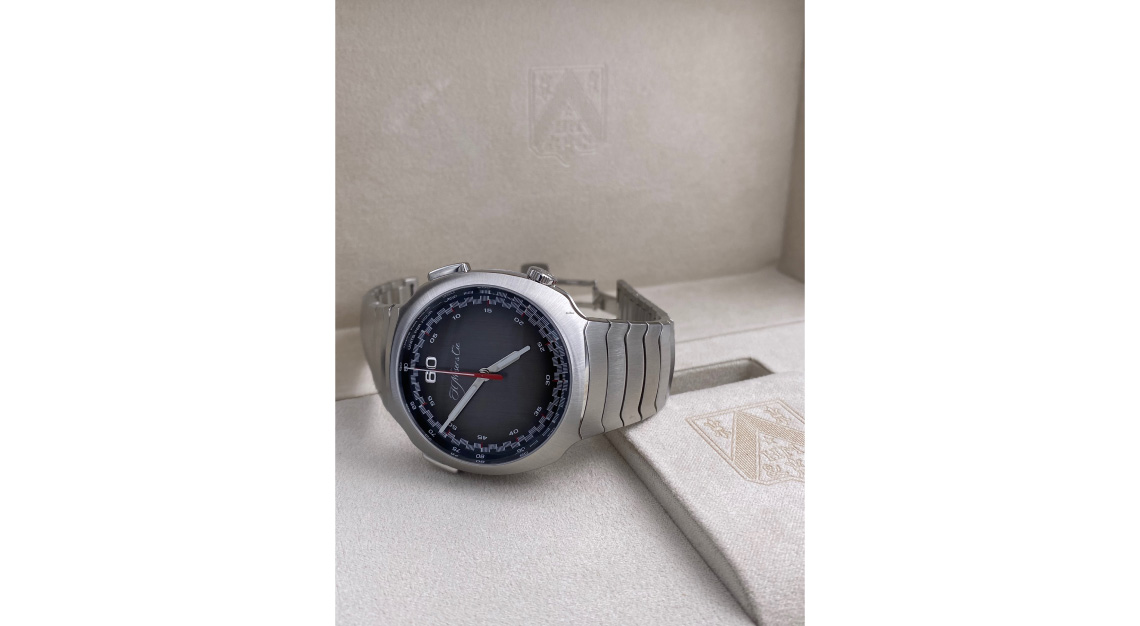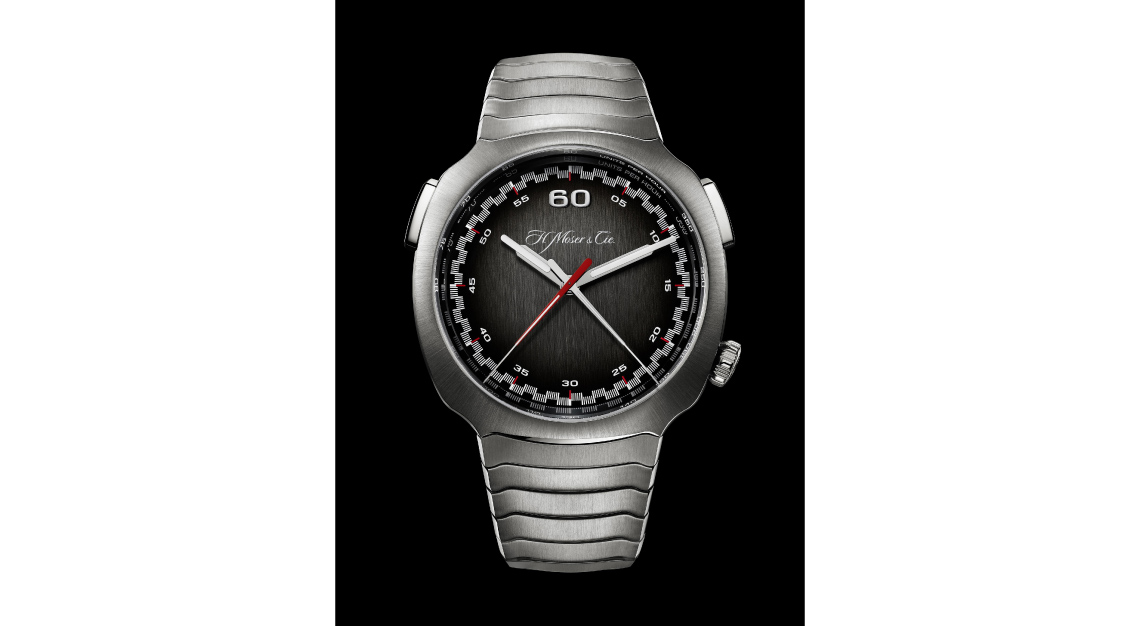 Best sports watch: H. Moser & Cie Streamliner Flyback Chronograph Automatic
At H. Moser & Cie, less is more. Since the 192-year-old brand's reinvention under the Meylan family in 2012, the company has become known for mastering minimalism; its most recognisable timepieces are two-hand, time-only watches with zero branding, zero numerals and zero markings to distract from the richly hued fume dials. It's not the kind of look that lends itself to a chronograph.
But in its first foray into the genre, H. Moser & Cie managed to flex its signature streamlined aesthetic by forgoing subdial counters on the Streamliner Flyback Chronograph Automatic (US$40,000/S$54,590, limited to 100 pieces). The dial's only flourishes are a two-tiered track, one indicating seconds and one for minutes, plus two extra hands for the chronograph function. That still leaves a big canvas for its black fume dial, but flip it over and you discover the real show: the stunning HMC 902 movement, which rivals those from even the most elite watchmakers. Its retro '60s vibe and integrated bracelet are the icing on the cake.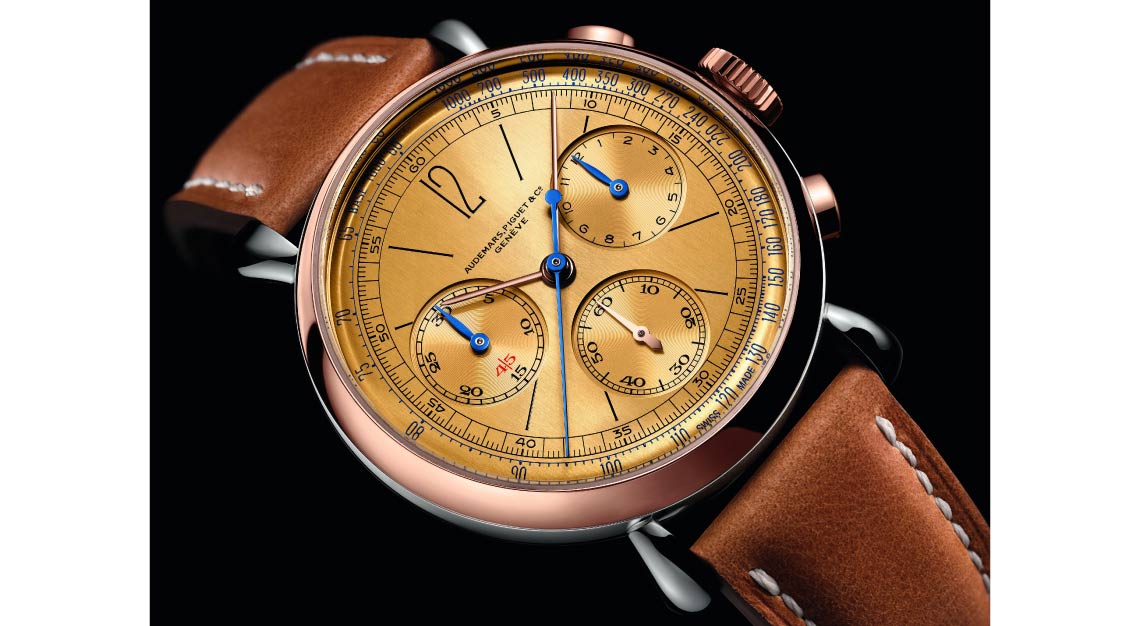 Best reinvention: Audemars Piguet [Re]master01 Selfwinding Chronograph
There are vintage re-editions and then there is the Audemars Piguet [Re]master01 (S$78,900, limited to 500 pieces), a completely different take on what it means to be inspired by the past. Instead of trying to replicate outright or simply drawing design references from a historical model, the [Re]master01 is about taking a second attempt on an existing watch. Like going back in time but with the knowledge of today. It's an idea that comes from the music industry as vinyl records are remastered using state-of-the-art techniques. And just like that, Audemars Piguet has given us the perfect marriage of past and present.
All the physical attributes of vintage timepieces that collectors love but are no longer typically found in modern watches are present and accounted for. The piece that provided the blueprint is the Reference 1533.
See those exquisite teardrop lugs and olive-shaped chronograph pushers, as well as a colour palette that's nothing short of riotous. A yellow gold-toned dial with blue tachymetric scale, pink gold hands, blue chronograph hands, a bi-colour pink gold and steel case on light brown calf leather… yet all melding together harmoniously in a quirky-cool aesthetic familiar in many '40s chronographs.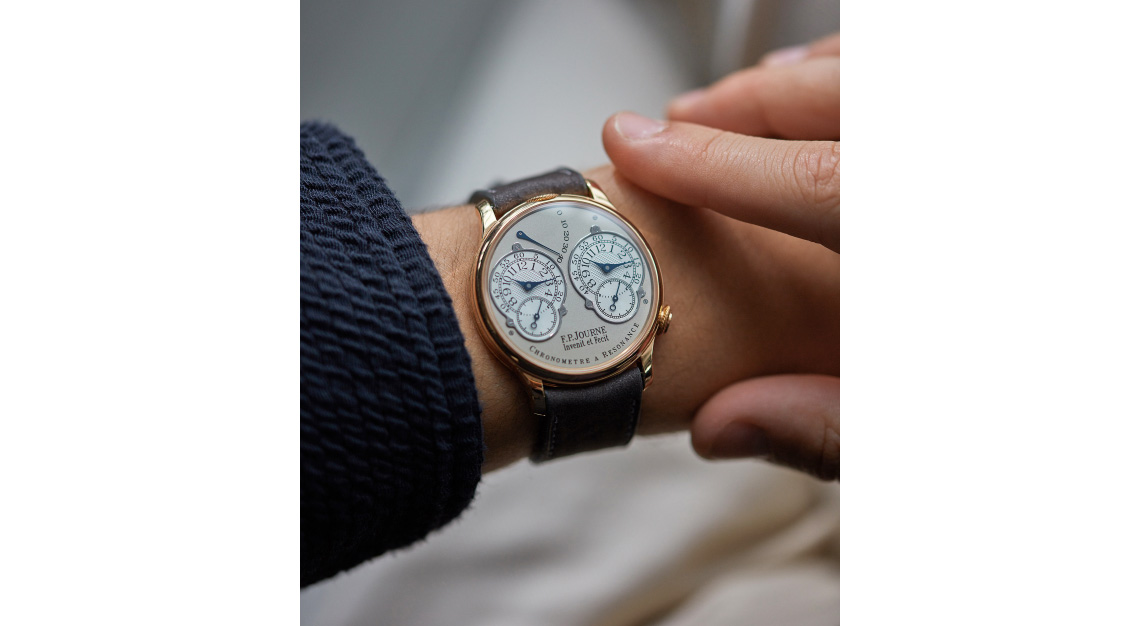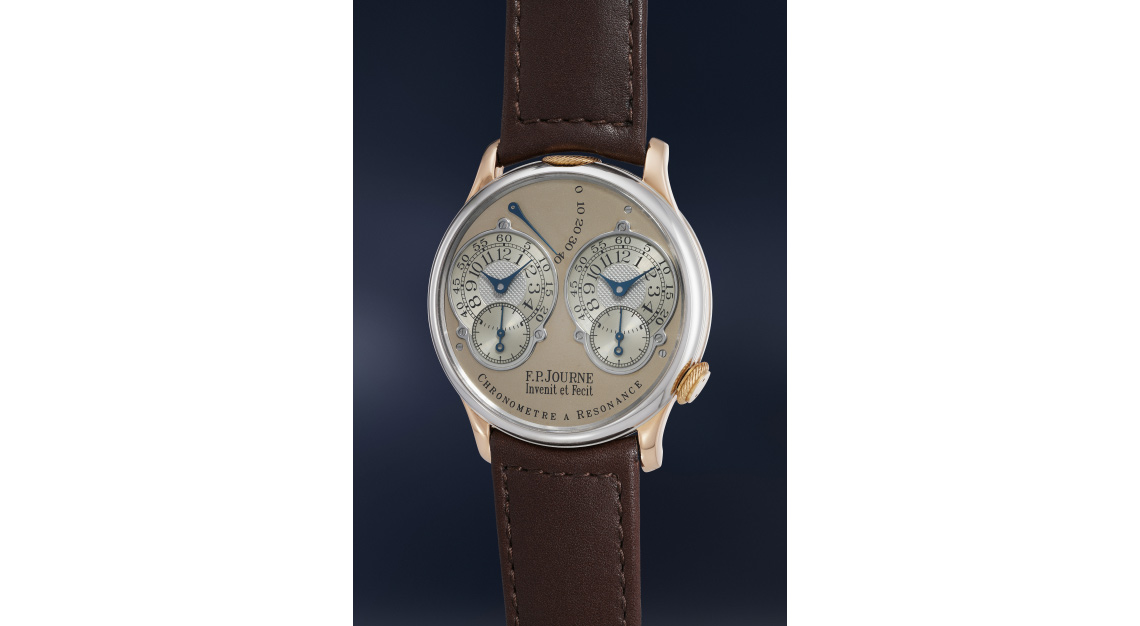 Best auction star: F.P. Journe
There's no overtaking Patek Philippe in the auction space, but if the results of the last Phillips Geneva Watch Auction XI are anything to go by, independent watchmaker F.P. Journe has officially joined the million-dollar table. Four timepieces sold well above their estimates, with two pieces clinching over CHF1 million (S$1.5 million) each.
A Chronomètre à Resonance closed at CHF1.04 million/S$1.56 million (estimated at CHF80,000 to CHF160,000; S$119,943 to S$239,886) and a Tourbillon Souverain Souscription fetched CHF1.4 million/S$2.1 million (estimated at CHF150,000 to CHF300,000; S$224,893 to S$449,786). But this isn't the first time F.P. Journe watches crossed the six-digit mark.
At Only Watch 2017, a unique F.P. Journe monopusher split-second chronograph sold for CHF1.15 million (S$1.72 million), leaping comfortably over the previous record of US$915,000 (S$1,248,751) set by a Philippe Dufour Duality at Phillips' inaugural Winning Icons auction in New York. All these clearly indicate the rising superstardom of F.P. Journe on the resale market, particularly pieces that keenly demonstrate the watchmaker's incredible savoir faire.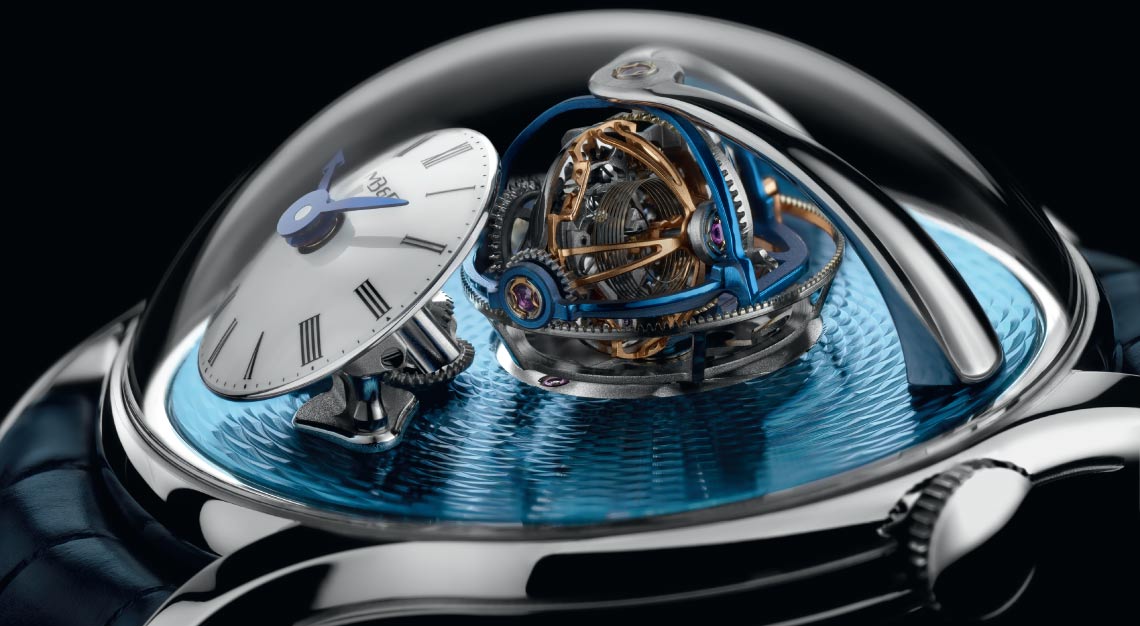 Best watch design: MB&F Legacy Machine Thunderdome
The funny thing about MB&F machines is that for all the wildly different, surrealist concepts with out of-this-world shapes and fantastically over-the-top designs, you can always recognise an MB&F creation when you see one. Which is seriously impressive considering how brand founder Max Büsser sets out to make each machine completely different from the next. And the next. With the Legacy Machines, however, collectors have come to expect a somewhat classic round timepiece with recurring features such as the sprawling sapphire crystal dome, and the overhanging arc that holds a flying balance wheel (or two). But knowing MB&F, there is always a strong sense of three-dimensionality, something which the Legacy Machine Thunderdome delivers in spades.
It's a massive timepiece to say the least. And one that you'd be hard-pressed to keep on the wrist because of how tempting it is to admire it from each angle. There's plenty to admire and it gives you something different every time thanks to the fabulous dance of its triple-axis tourbillon regulator comprising a unique Potter escapement, hemispherical balance and helical hairspring. Ever the aesthete, Büsser is also known for having exquisite taste when it comes to the design and finishing on his watches, and the Legacy Machine Thunderdome is beautifully finished by none other than Kari Voutilainen for MB&F. The blue guillochage beneath the tourbillon carriage truly completes the scene, adding a touch of zen to the otherwise tempestuous timepiece. There are 33 pieces made in platinum (S$398,700) and a further 10 in tantalum (S$376,600) for The Hour Glass Singapore.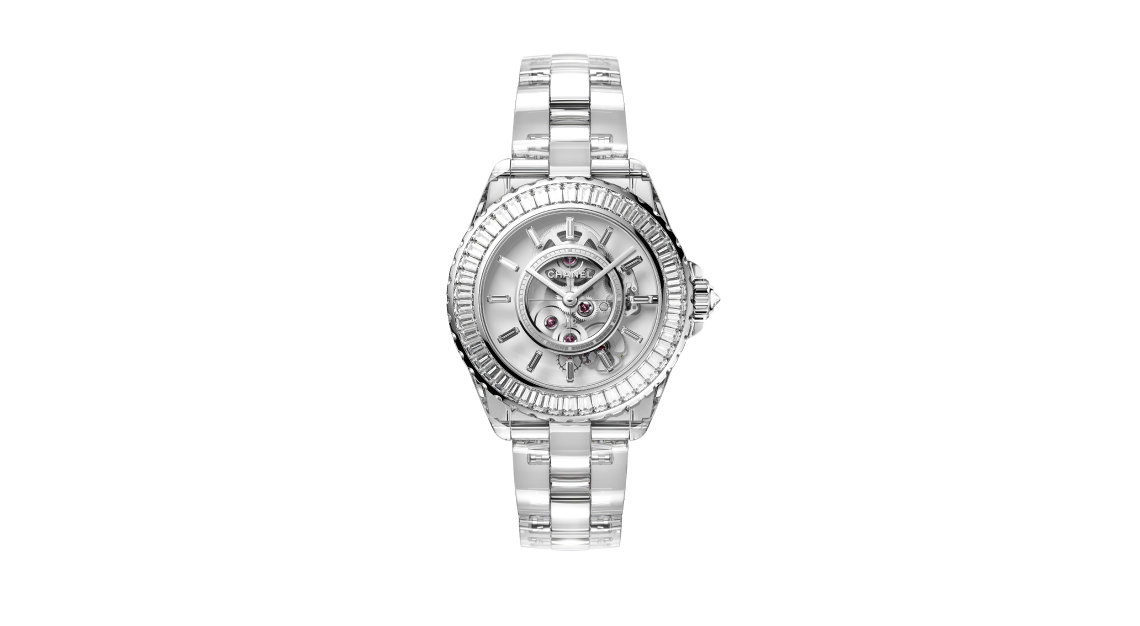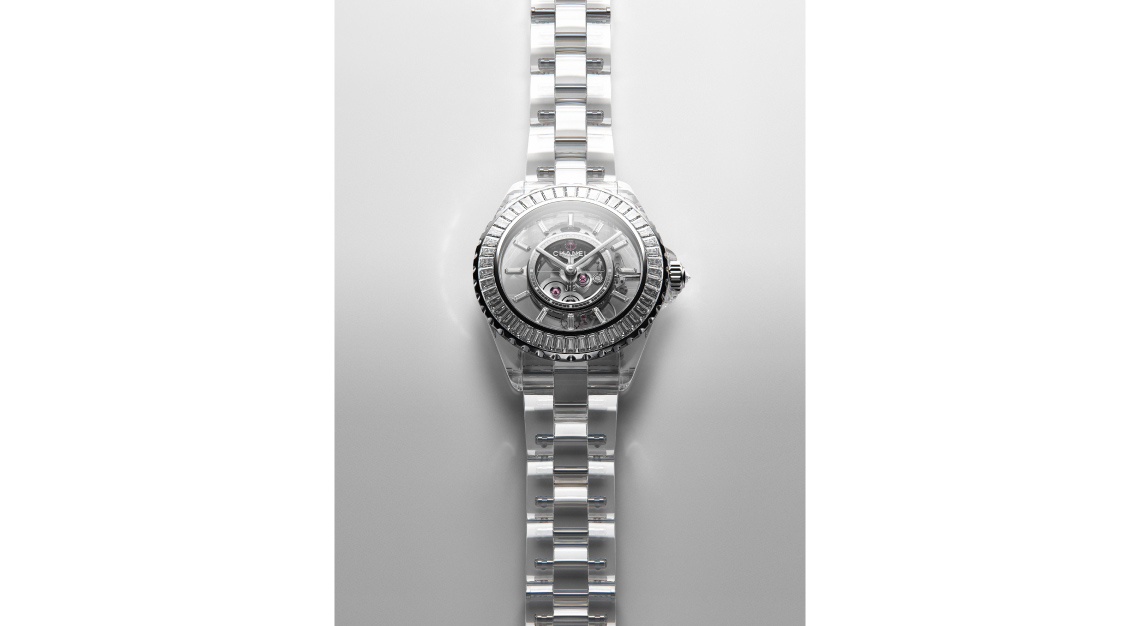 Best unisex timepiece: Chanel J12 X–Ray
It's a rare feat indeed to introduce a watchmaking idea that has never been done before in the profession's several-hundred-year history. Even more notable is when one of 2020's most inventive designs comes courtesy of a company best known for quilted leather handbags and conservative tweed jackets.
The new Chanel J12 X-Ray (US$626,000/S$854,337, limited to 12 pieces), named for its crystal-clear casing and skeleton movement, is the first watch to be constructed entirely in sapphire crystal, right down to its spine and bracelet. While high-horology brands such as Richard Mille, Hublot, Bovet, Greubel Forsey, Girard-Perregaux and more have used sapphire crystal in their casework, none has achieved a sapphire-crystal bracelet.
The substance is notoriously hard to work with. It's the second-hardest mineral on Earth, behind diamonds, and therefore requires diamond-tipped  tools to machine – a costly endeavour that can keep price tags at six figures (or much more) just for watches with crystal cases. So consider the work that goes into a watch like the J12 X-Ray, which, with the exception of the hands, diamond accents, train wheels, mainspring and a few other technical components, is made entirely from sapphire crystal.
Since its release in 2000, Chanel's J12 has proved instantly identifiable, and earlier iterations were recognised for their groundbreaking ceramic casing, proving the French luxury house could flex its design muscles beyond its directional fashion collections.
The new X-Ray is the haute couture version of its J12 – a cut above the rest, meant only for an elite few.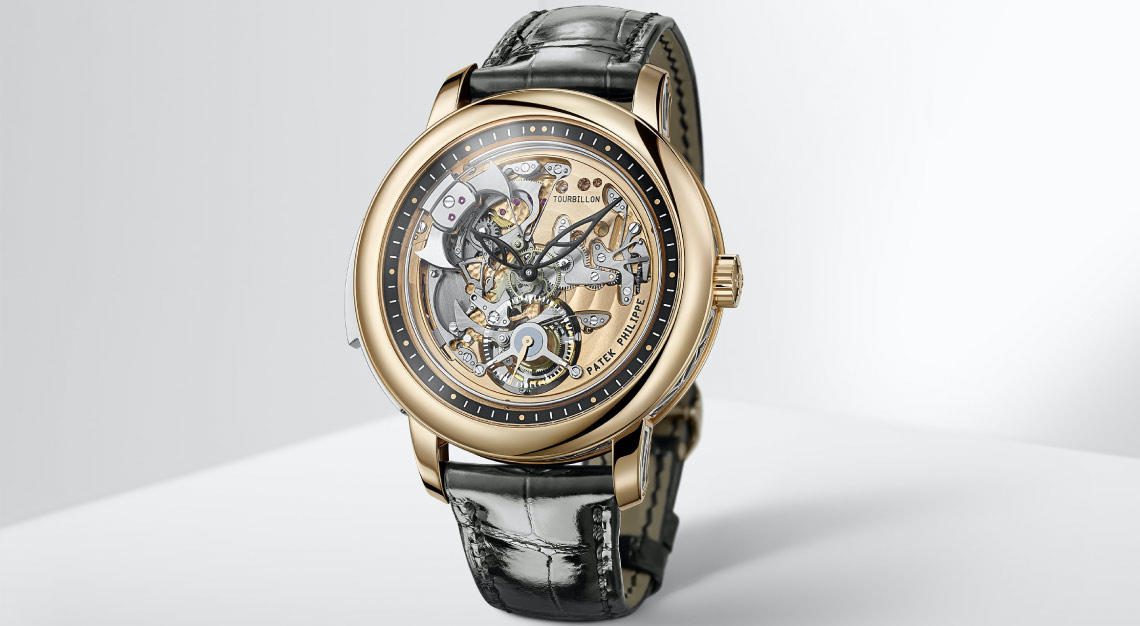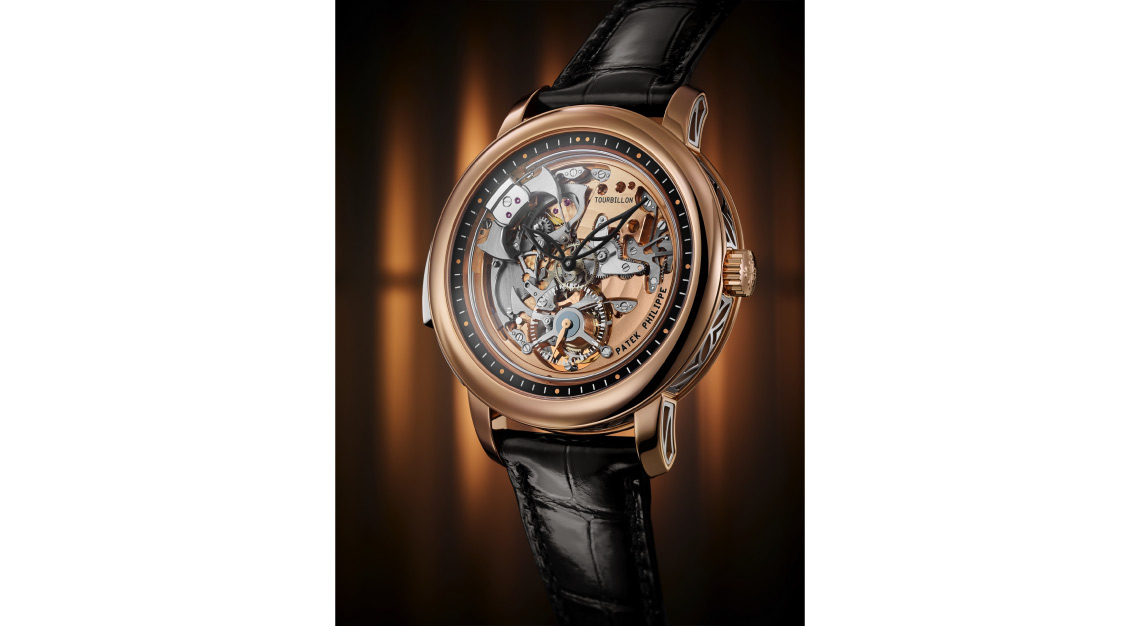 Best chiming watch: Patek Philippe Ref. 5303R Skeletonised Minute Repeater Tourbillon
If its 42mm rose gold case enveloped by white gold foliage motif intarsias were a stage, then the Patek Philippe skeletonised minute repeating tourbillon Calibre R TO 27 PS would be the greatest watchmaking show on Earth.
Ref. 5303R (CHF600,000/S$899,573, very limited production) is the manufacture's latest striking grande complication and it flaunts a stunning open-worked architecture that exposes, for the first time, the repeater mechanism on the dial side. View the strike train, the hours, quarters and minutes racks, the hammers and gongs all without taking it off the wrist. Belting out the time on a pair of classic gongs, its euphonious chimes are so perfectly gentle, round and warm that we shudder to think how this watch would sound had Patek Philippe equipped it with cathedral gongs.
There's also plenty to admire through the sapphire caseback, such as the solid gold third wheel, the flying governor sitting underneath a gold Maltese cross, and of course the tourbillon with Patek Philippe's patented Gyromax balance wheel.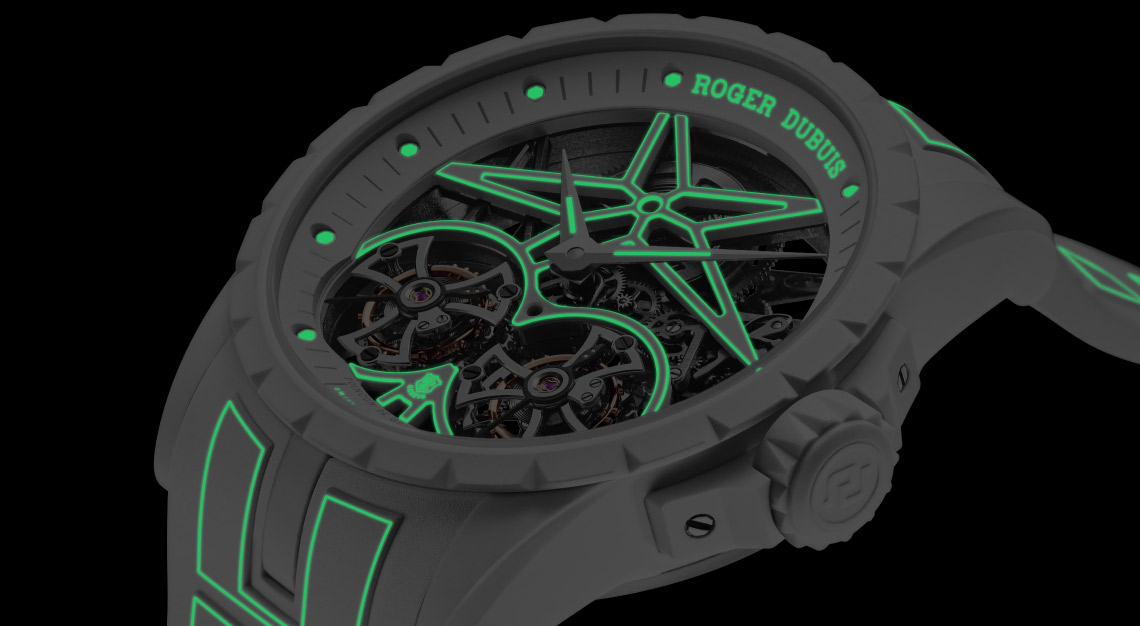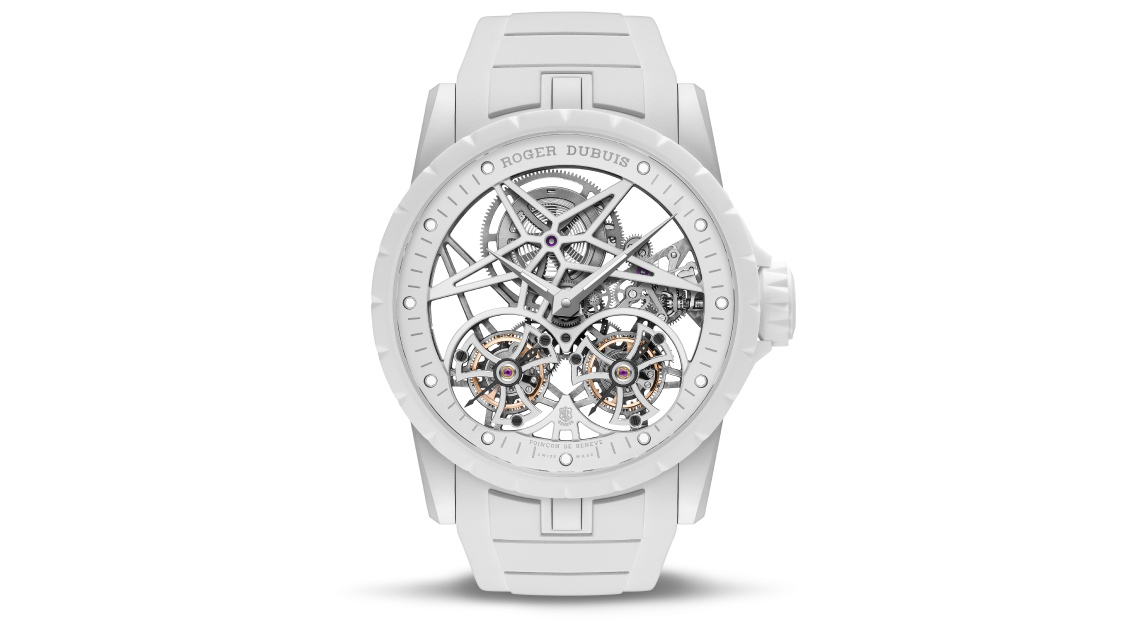 Best skeleton watch: Roger Dubuis Excalibur Twofold
Roger Dubuis' iconic Astral skeleton movement gets the white-out treatment here and the double flying tourbillon is undoubtedly dazzling but – short of sounding blase about such an astounding grande complication – that's not the most impressive part of this watch. Cased in a pristine white ceramic-based material known as Mineral Composite Fibre, the watch's movement bridges glow in the dark thanks to luminescent paint applied onto its edges, which outline the star motif and tourbillon apertures. The Excalibur Twofold (S$393,000, limited to eight) is the only skeletonised timepiece to offer such an exciting feature, and to top it all off, the strap made of Fluro-Elastomer rubber is also marked with a trademarked luminescent paint known as LumiSuperBiwiNova, which is said to be 60 times more long-lasting than the industry standard material.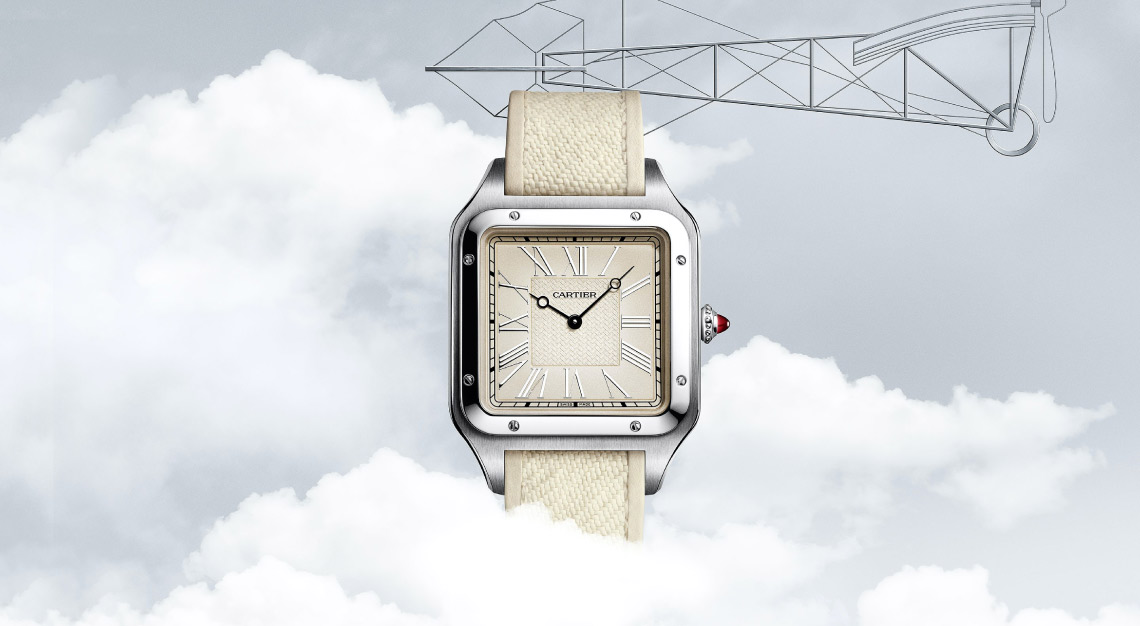 Best men's watch: Cartier Santos-Dumont Limited Edition
It was a toss-up between this piece and Tank Asymetrique, but the Santos-Dumont finally prevailed for one simple reason: it is a modern tribute to one of the most stylish gentlemen known to soar through the skies. Specifically, Alberto Santos-Dumont and his most evolved flying machine, La Demoiselle, which inspired the design of the platinum limited edition. Exquisite doesn't even begin to describe its finely finished case and ruby cabochon. Or that creamy off-white Panama-weave dial. Or how the seventh Roman numeral cheekily replaces the word Cartier with Santos. Or how the extra-large dimensions have been effortlessly offset by the relatively slim height – a very doable 7.5mm thanks to the manually wound Calibre 430MC being extra-thin (always a welcome feature in any top-notch gent's watch).
If none of the aforementioned features will move you, then surely the knowledge that this collector's item is accompanied by a stunning lacquered maple wood box with palladium finished hardware, a linen canvas and Chamel Eco Black interior might. Not enough? Cartier has thrown in an alligator leather watch travel pouch, plus an extra leather strap and a pair of white gold and tiger eye cufflinks that even Santos-Dumont himself wouldn't say no to. Finally, its sheer rarity – only 30 pieces were made, priced at S$60,000, and are completely sold out.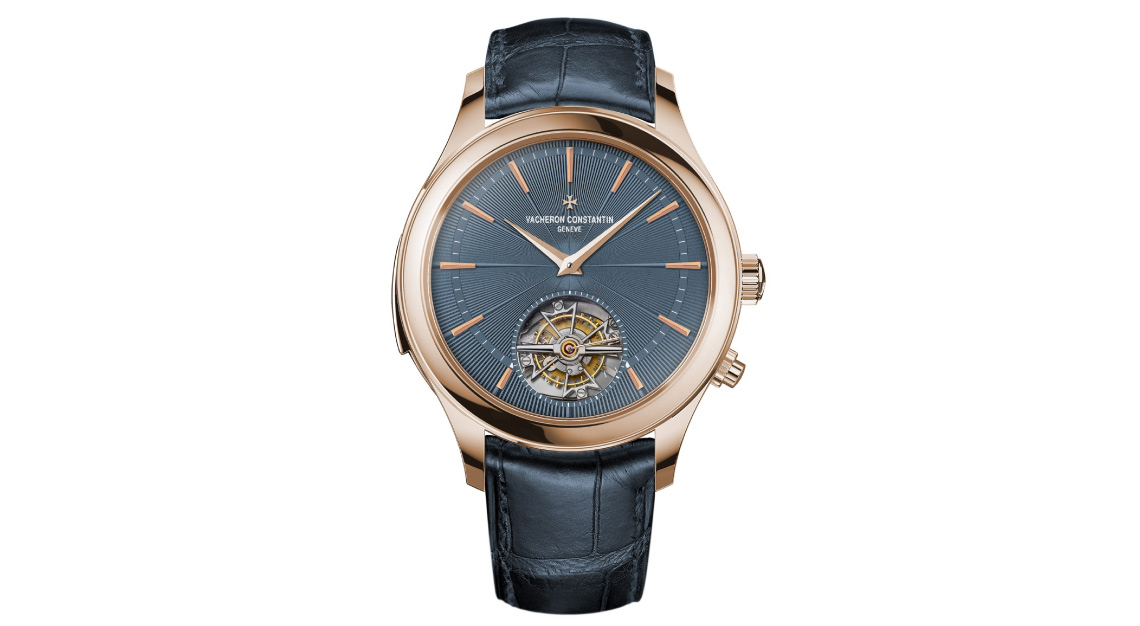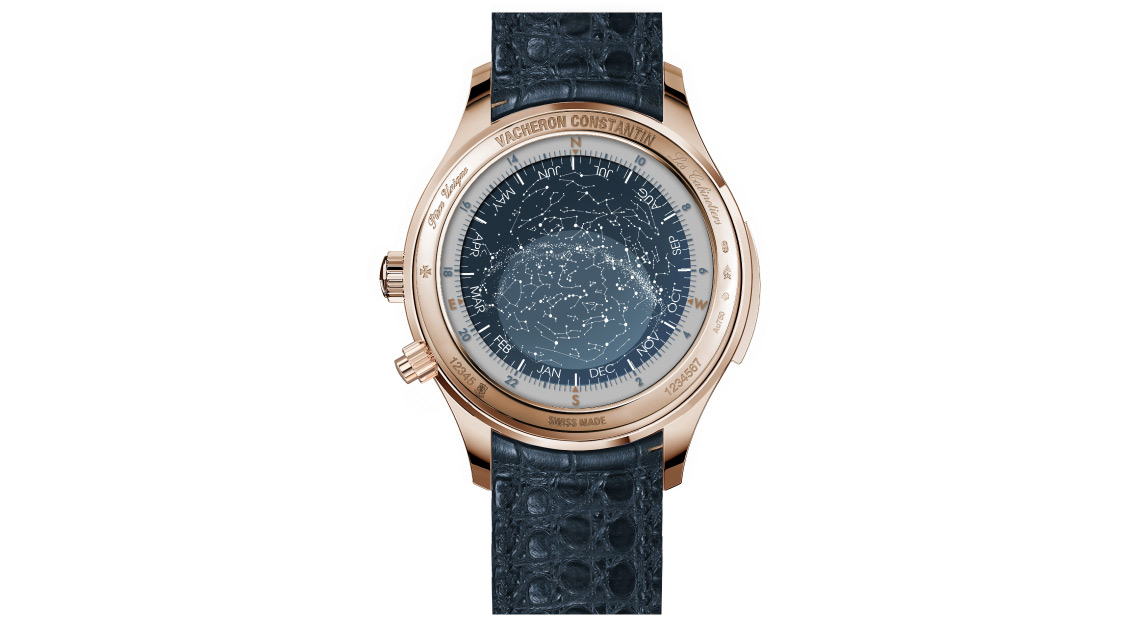 Best high-horology one-off: Vacheron Constantin Les Cabinotiers Minute Repeater Tourbillon Sky Chart
Are there any pieces that come out of Vacheron Constantin's Les Cabinotiers atelier that couldn't be considered the best of the best? The studio has been turning out the Swiss watchmaker's most elite watches since 1755, and for 2019 released a collection that included around 40 unique chiming watches, but the standout was the Minute Repeater Tourbillon Sky Chart (price upon request). The watch has forward-facing features, encased in 18-karat 5N pink gold, that include a stunning 18-karat gold sunray-finished guilloche dial with 18-karat white-gold applied markers, as well as a one-minute tourbillon carriage accented with a seconds hand in 18-karat 5N pink gold.
On the flip side is a striking view of the Milky Way on a celestial tableau, which performs a complete rotation in 23 hours and 56 minutes, according to sidereal time. The day, month and cardinal points are indicated with an ellipse highlighting the position of the constellations in accordance with the time.
But the sky was not the limit for this special watch. The unique sound of its minute repeater function comes with its own recording and certification from London's famous Abbey Road Studios. The sound print will forever reside alongside hits from the Beatles and Elton John, so that Vacheron Constantin's watchmakers can service the watch to its exact tone, even well beyond the original owner's lifetime.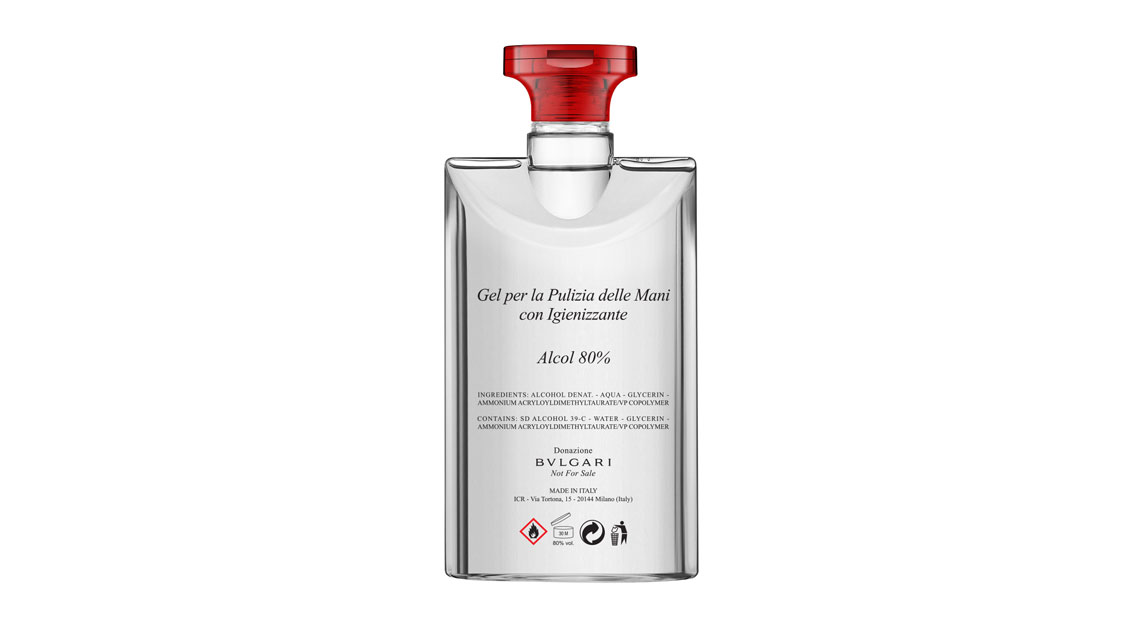 Humanitarian award: Bvlgari
The onset of COVID-19 has made 2020 one of the most challenging years, but it hasn't stopped Bvlgari from keeping occupied even as luxury retail and shopping came to a standstill. Responding to the crisis in March, CEO Jean-Christophe Babin turned the manufacturing lines for Bvlgari fragrances into production for hand sanitisers, which were donated to hospitals and organisations in Switzerland and Italy. Its Bvlgari Ristorante Luca Fantin in Tokyo also pitched in by providing bento boxes to front-line medical staff. Says Babin: "If I have to think about the world of luxury today, I proudly say that it has never stopped. Many companies have understood the emergency and have converted whole productions to give support to the people who are fighting on the front lines in hospitals."
Our full list of Best of the Best 2020 winners here