See the latest in high jewellery creativity and artisanship from all your favourite jewellery Maisons
First there was Schiaparelli's absurdist lion dress, and then came upside-down dresses from the Viktor & Rolf show. But Paris Couture Week was not a complete madhouse thanks to the city's best high jewellers who have all presented their latest high jewellery creations.
Ensuring that the city of lights was shining brighter than ever, the pieces showcased the inimitable savoir-faire of every Maison, weaving intricate stories from precious gold and gemstones.
As always, jewellers reserved their most beautiful, one-of-a-kind gemstones for their high jewellery and designed pieces that best reflects the stones' magnificence and natural hues. With thematic capsule collections, bold extensions of current collections, and exquisite single-piece launches, high jewellery week was a reverie on the senses.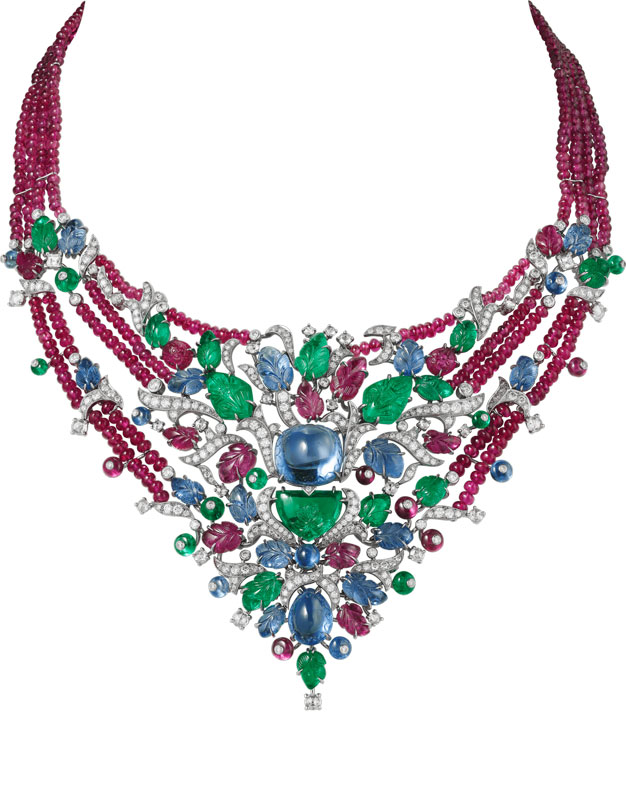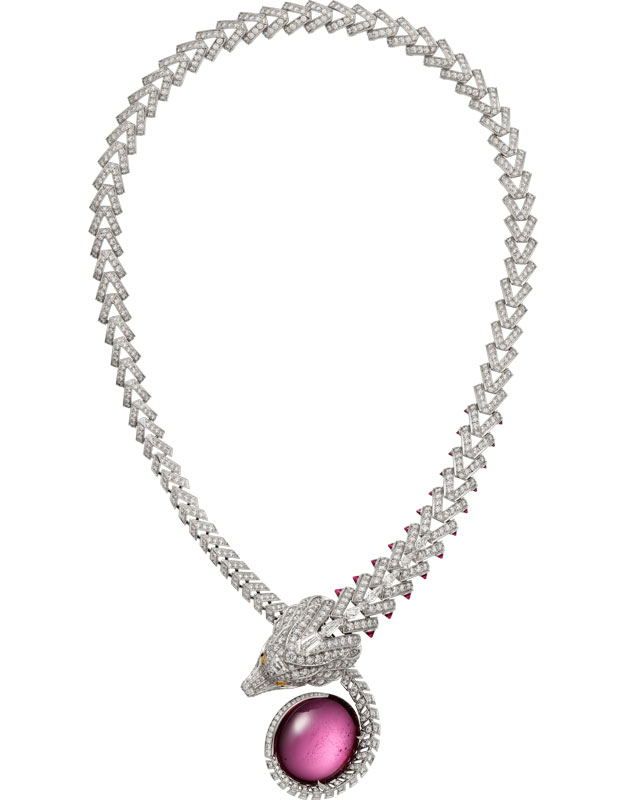 Cartier Beautés du Monde
The third and final chapter of Cartier's Beautés du Monde high jewellery reprises its love and appreciation for nature, finding beauty in the flap of a bird's wing or the swish of a fish's tail. In addition, the collection draws inspiration from cultural motifs which manifest as iconic shapes or colour pairings.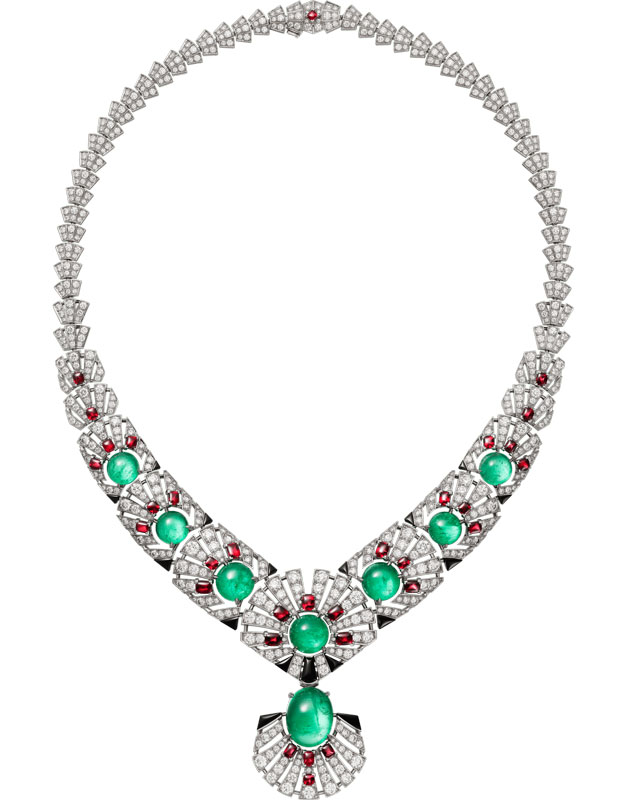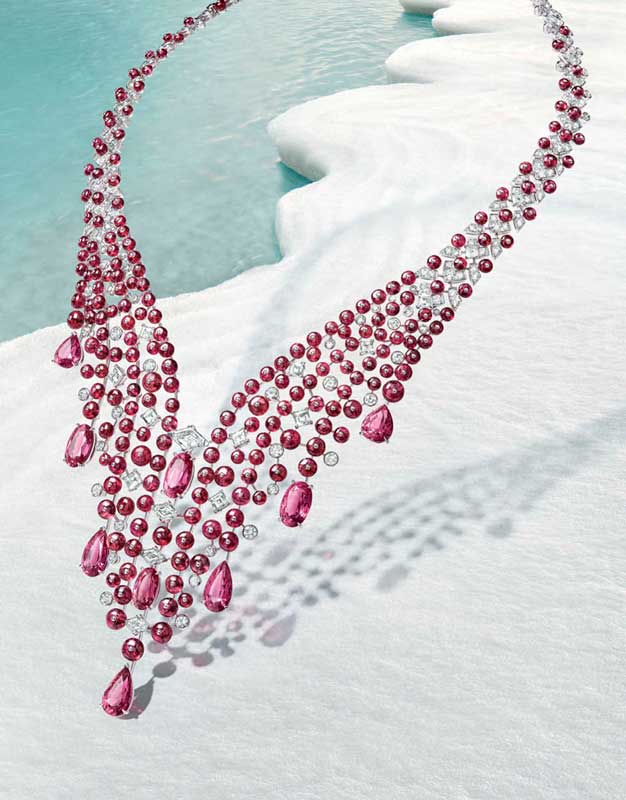 In this suite of four splendid high jewellery necklaces, Cartier worked with platinum or white gold, along with sumptuous gemstones including emeralds, opals, spinels, onyx, and of course, diamonds.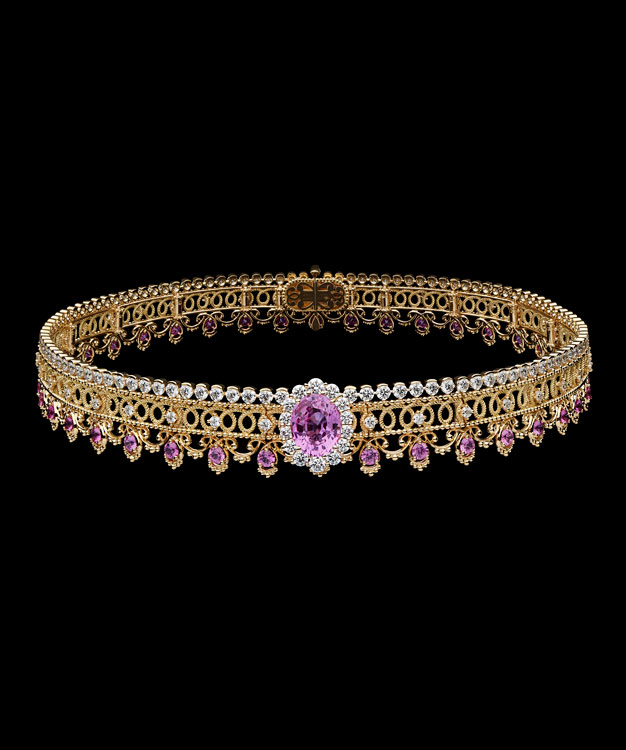 Dior Joaillerie Dearest Dior
The world of haute couture is a natural fit to high jewellery, and this is doubly fitting at the Maison Dior, a classical couturier with an exemplary jewellery collection. For 2023, Dior returns to a chapter first opened 10 years ago called Dear Dior, but this time Jewellery Creative Director Victoire de Castellane traded explosions of colour for the subtlety of lace. Dearest Dior is an ode to the virtuosity of Christian Dior's savoir-faire, reflected through 77 extraordinary creations.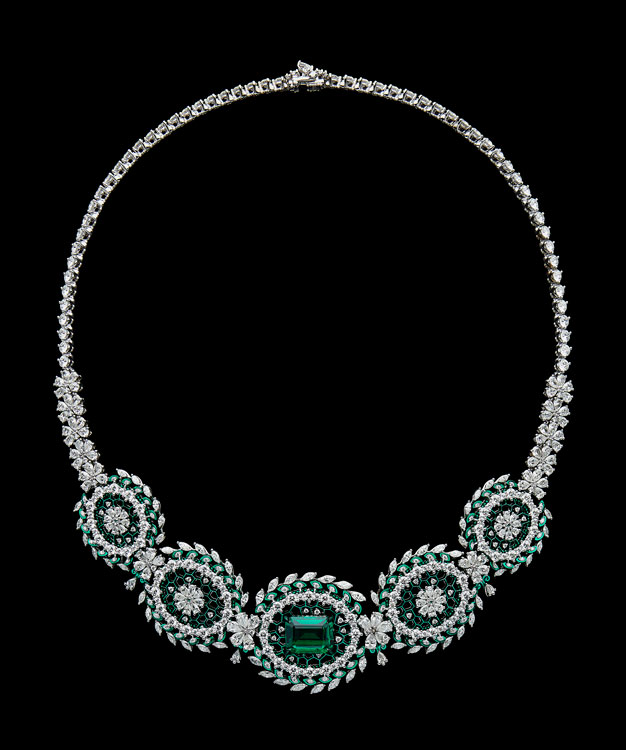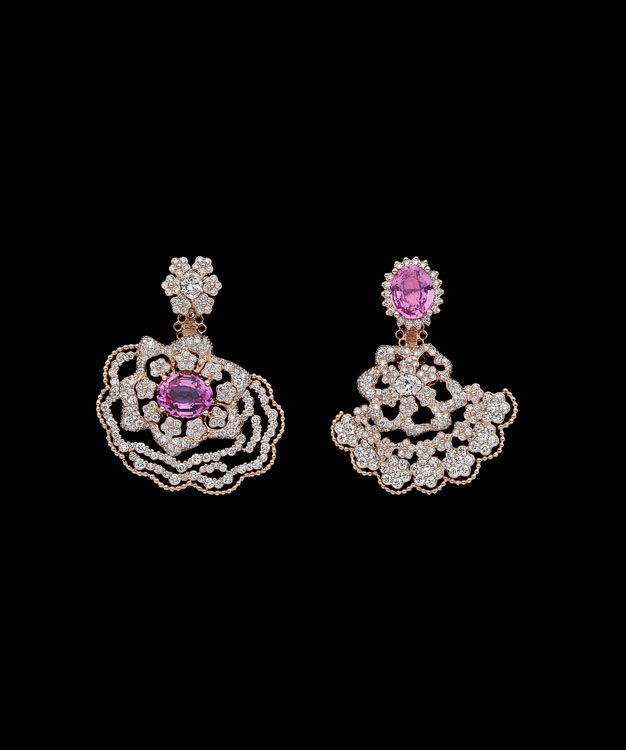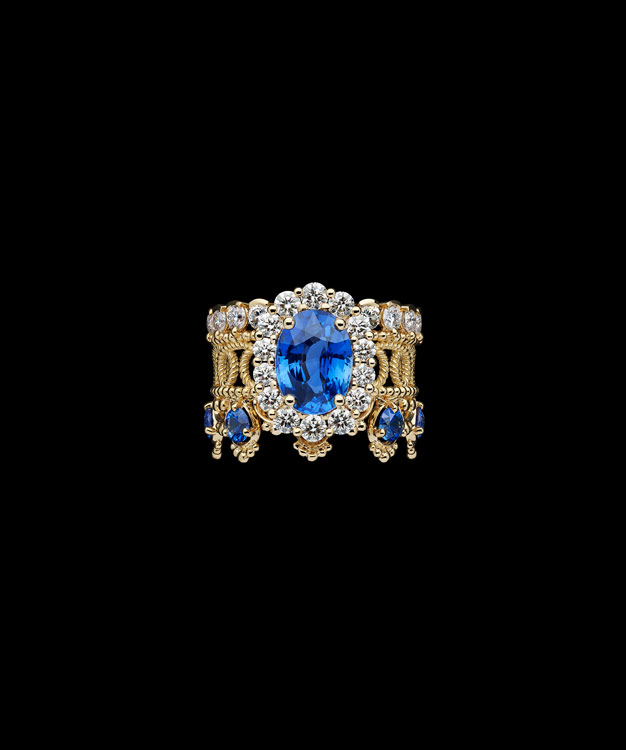 Observe the finesse and lightness of material, with mounts so airy they are all but invisible. Coloured gemstones reveal shimmering hues in jewellery that boldly play with asymmetry and transformability.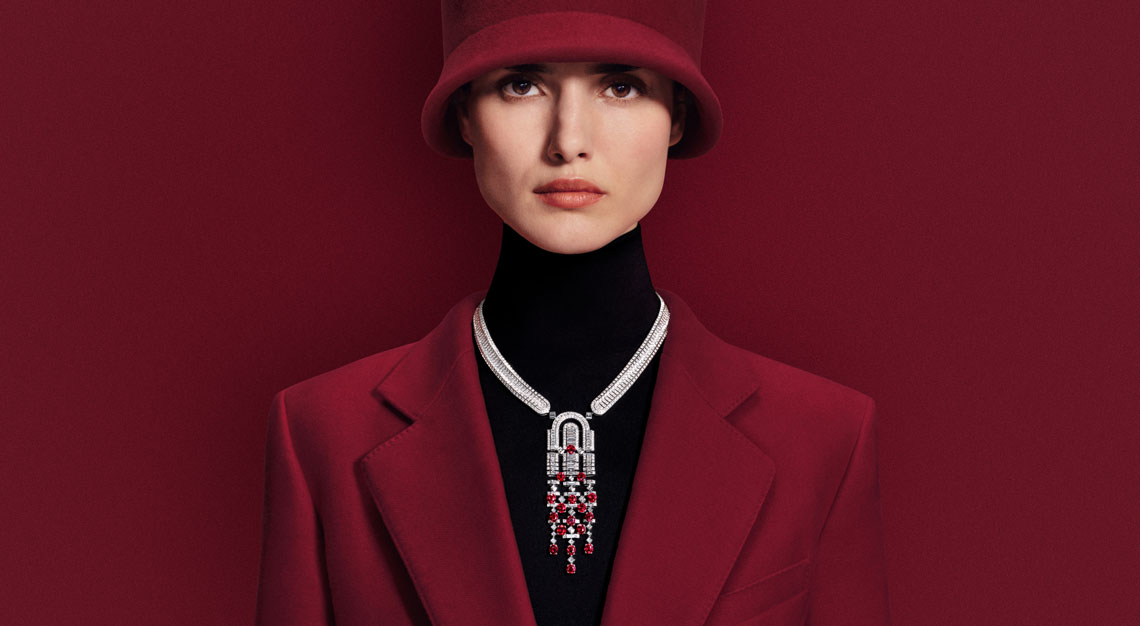 Boucheron Histoire de Style – Like A Queen
Rewriting the conventions of high jewellery, Boucheron's latest Histoire de Style collection turns its attention to the maison's enduring relationship with the British royalty. For more than 100 years, it has crafted tiaras, brooches, clips, bracelets, and more for various members of the family. One particular piece, an aquamarine double clip brooch, gifted to Queen Elizabeth II on her 18th birthday stood out to Boucheron Creative Director Claire Choisne.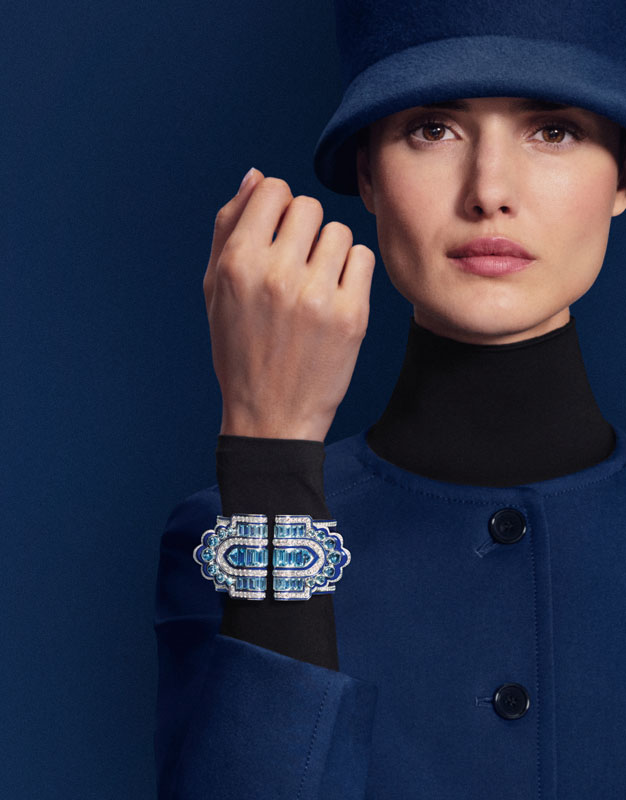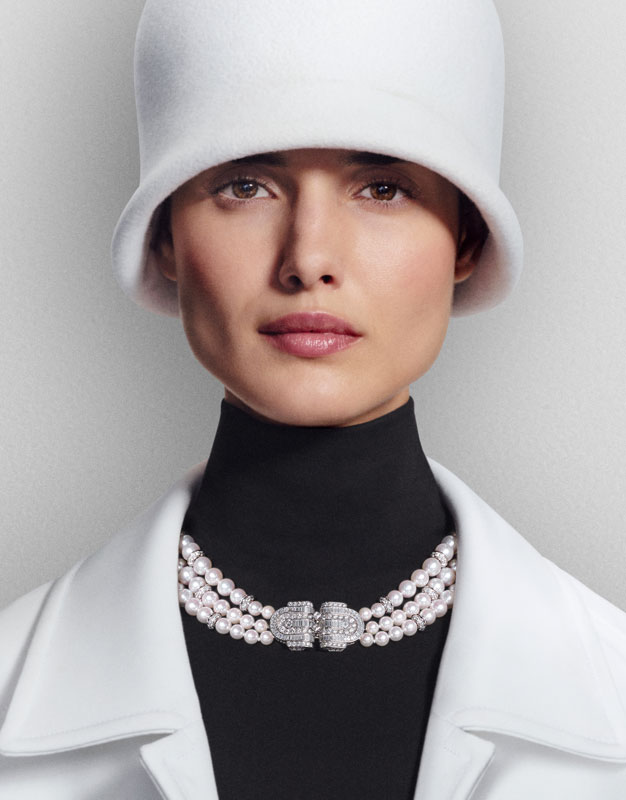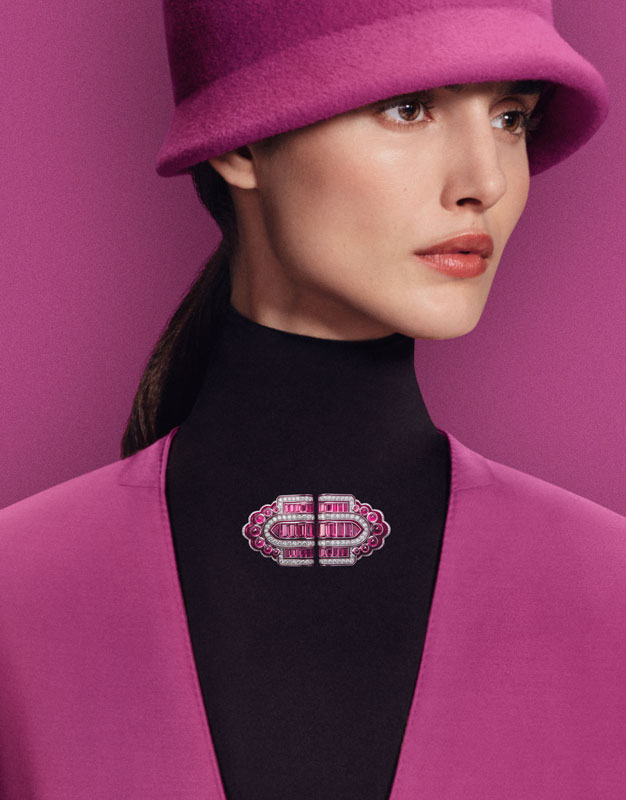 Fascinated by the juxtaposition between the geometry of its Art Deco design and the soft and light blue hue of the aquamarines, Choisne created Histoire de Style – Like A Queen, offering her unique view on jewels for modern day royalty. That historical brooch inspired a collection of bracelets, rings, earrings, necklaces, pendants, and chokers, all of which are brimming with a contemporary spirit.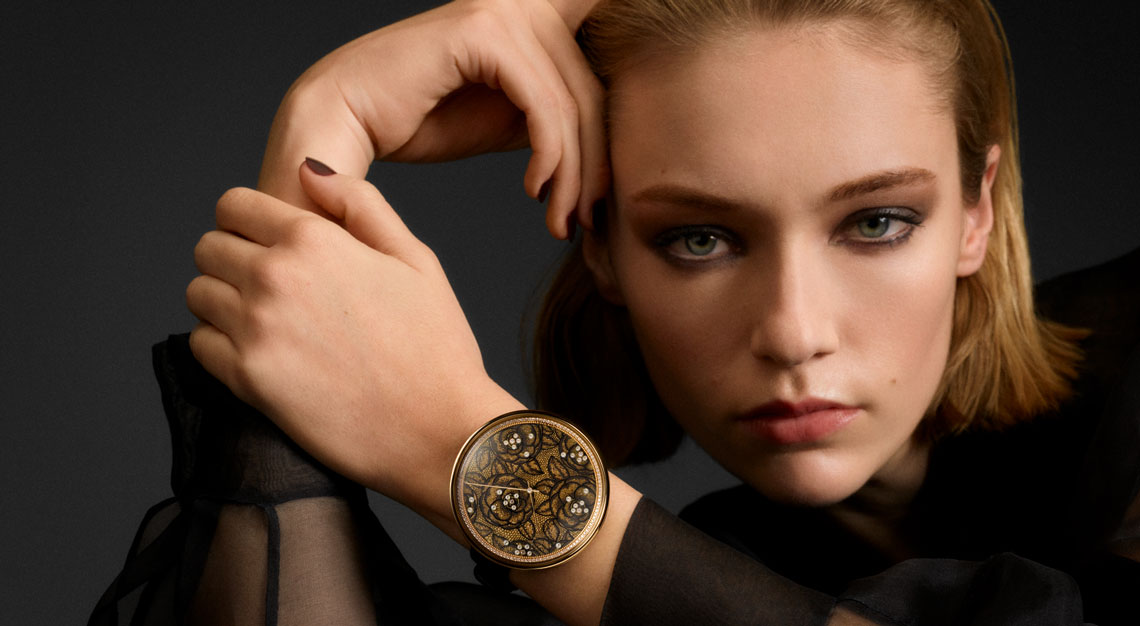 Chanel Mademoiselle Privé Pique-Aiguilles
Once again, haute couture inspires haute horlogerie and this time it takes the form of Chanel's latest Mademoiselle Privé collection. During her time as a designer, Gabrielle Chanel kept two tools on her person at all times, a pair of scissors suspended from a ribbon she'd worn like a sautoir, and the humble but indispensable pincushion.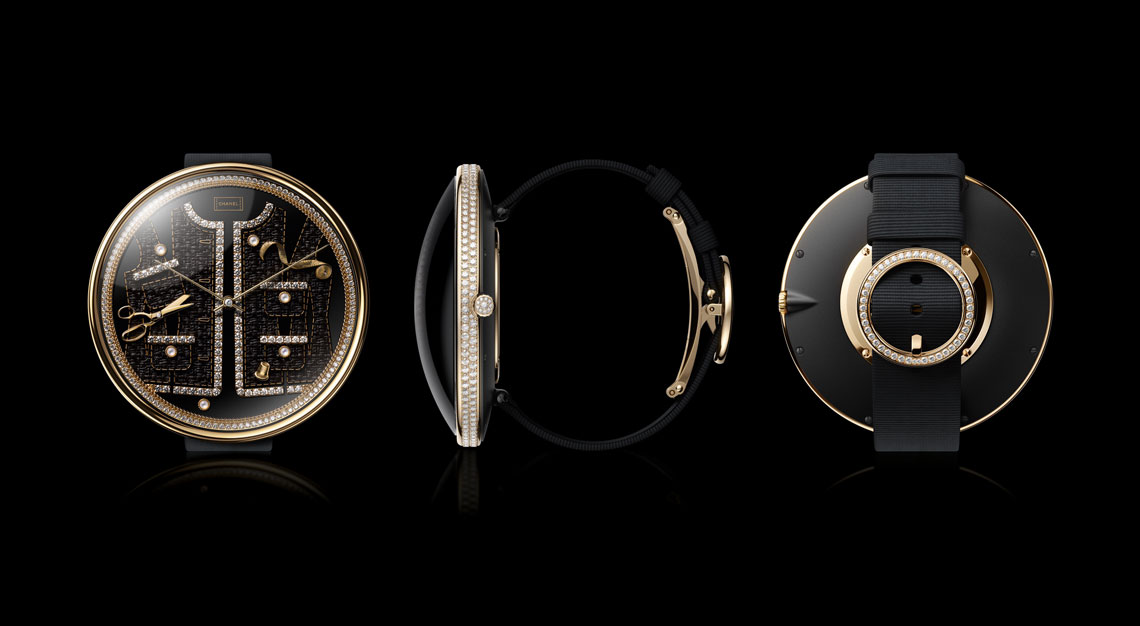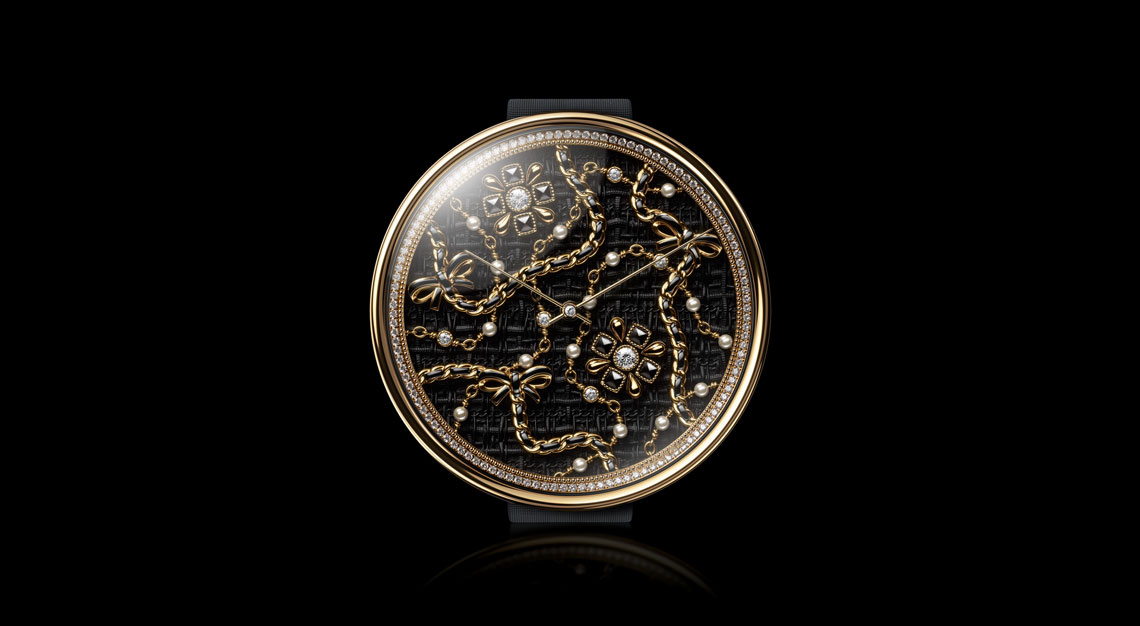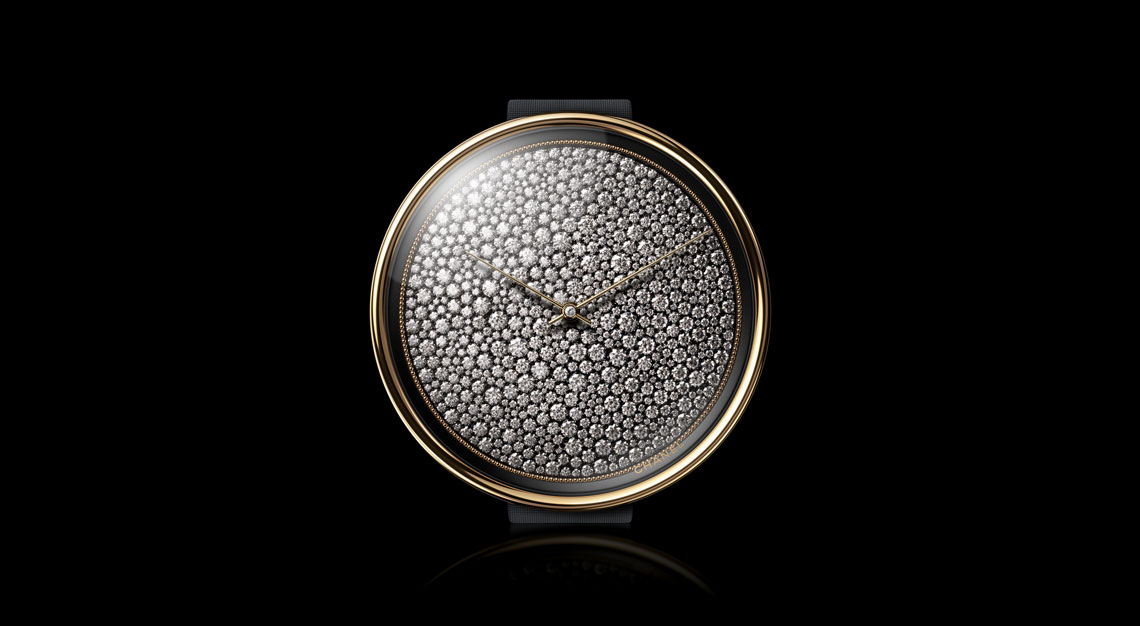 It is the latter which inspires the new Chanel collection, comprising five different interpretations, all of which are deeply connected to the world of fashion. To create five different dials, Chanel invoked its love for tweed, lace, embroidery, and its signature matelassé, using classical métiers d'arts techniques such as engraving, gem- and pearl-setting, grand feu enamel, snow-set diamonds, and more.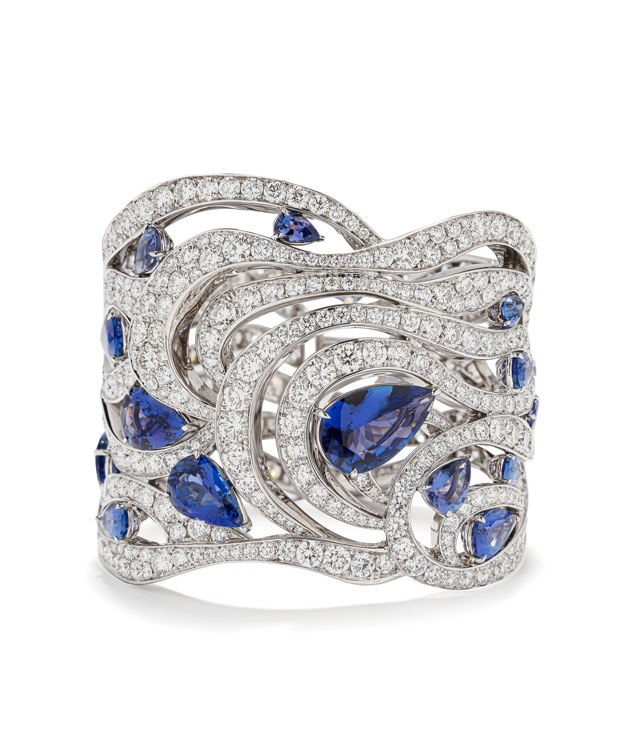 Gismondi 1754 Marea
It was not technically released during Paris Couture Week, but rather, Italy's foremost jewellery event, Vicenzaoro. Still, Italian jeweller Gismondi 1754 joins the high jewellery conversation this spring with its new Marea series. Inspiration for the bracelet and ring set came from the sparkling Ligurian Sea, which hugs some of Italy's most picturesque villages, such as Portofino and Cinque Terre.
This explains the waves of white gold, paved with over round diamonds as they ebb and flow around the cuff. Full and empty spaces take turns to draw the eye, while majestic pear-shaped tanzanites dazzle with their magical blue-violet hue.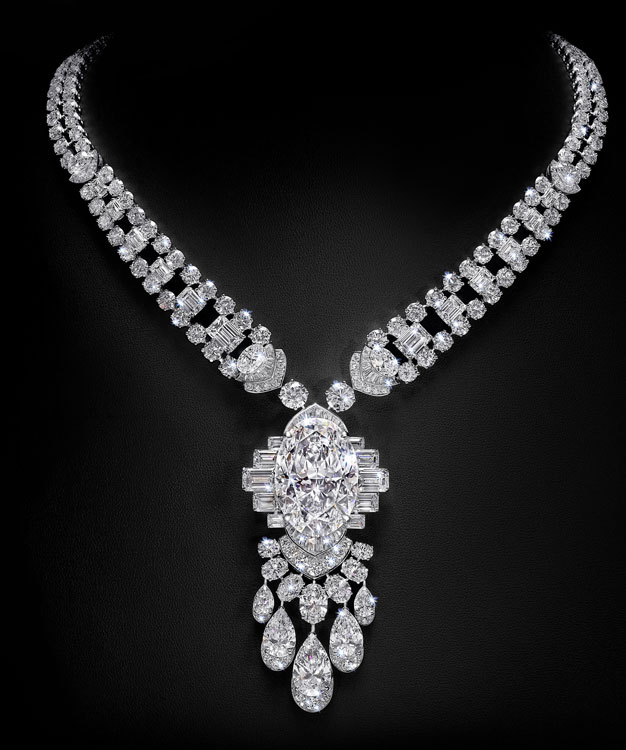 Graff
The star of Graff's latest suite of high jewellery creations this year is this exceptional multi-shape diamond necklace. And the star of this magnificent jewellery piece is an extraordinary and rare 50-carat D Flawless oval diamond which sits perfectly at the centre of the chest. Thanks to Graff's impeccable gem-setting know-how, the stone appears to be floating above the surrounding diamonds, as if there's nothing between them.
This beautiful stone is not alone, of course, as Graff lavishes more than 100 carats of diamonds around it, as well as along the chain. Pear-shape, emerald-cut, more ovals, baguette and classic favourite round cut diamonds complete this stunning design, which shares roots with Graff's 2021 Tribal collection.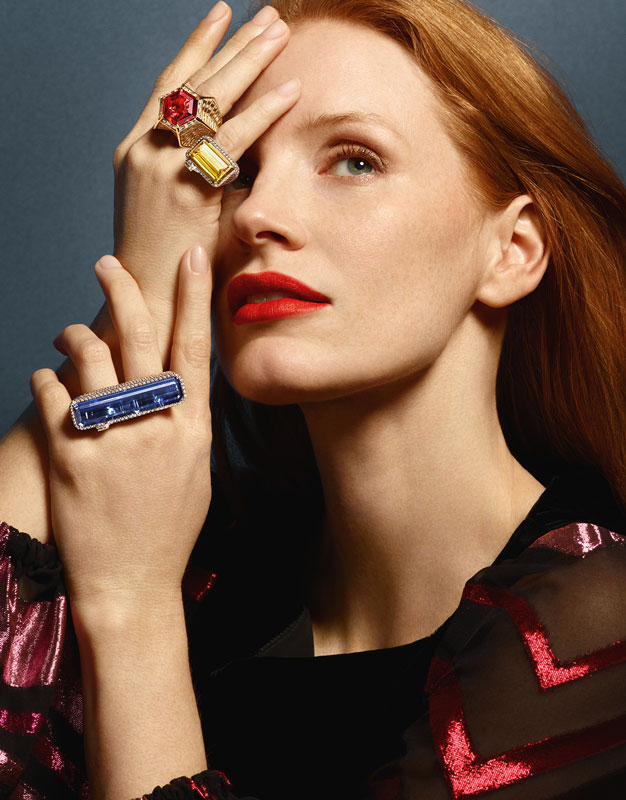 Gucci Hortus Deliciarum
The unique artistry of Gucci high jewellery continues with the Maison's latest additions to the collection, named Hortus Deliciarum. As always, the pieces are imbued with acute attention to detail, exceptional quality, and Gucci's rich heritage in Italian craftsmanship. These new designs delve into mesmerising facets of the natural and animal kingdom, evoking distant, exotic, and magical worlds, while shining a painterly approach to high jewellery creation.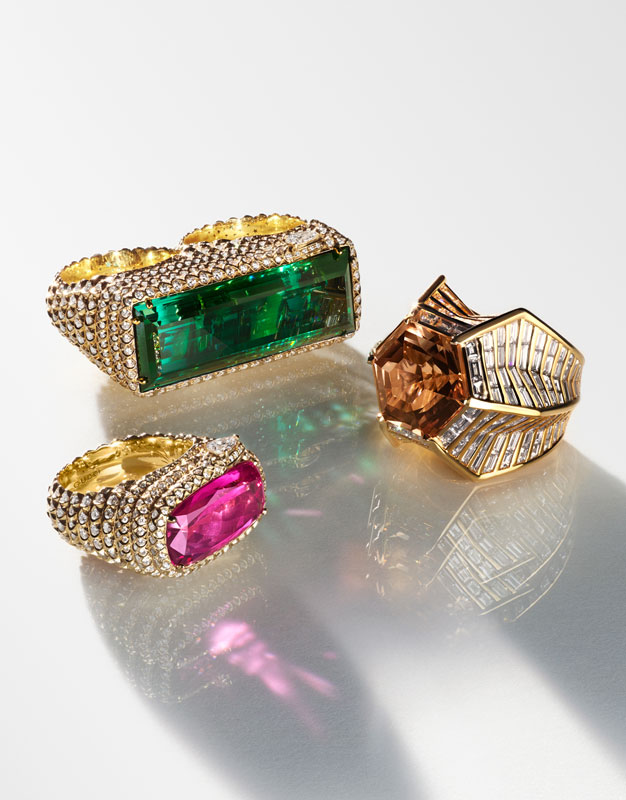 Gucci's distinctive lion and tiger head motifs return to the fore, enlivened with flawless, fancy cut vivid gemstones. A multi-finger ring, the result of 100 hours of meticulous production, features a 38.8 carat green tourmaline centrepiece. A yellow gold cuff is enhanced by an explosion of multi-coloured gemstones. Solitaire rings, a favourite of the Maison, get reimagined with an array of hues resembling the changing colours of the sky.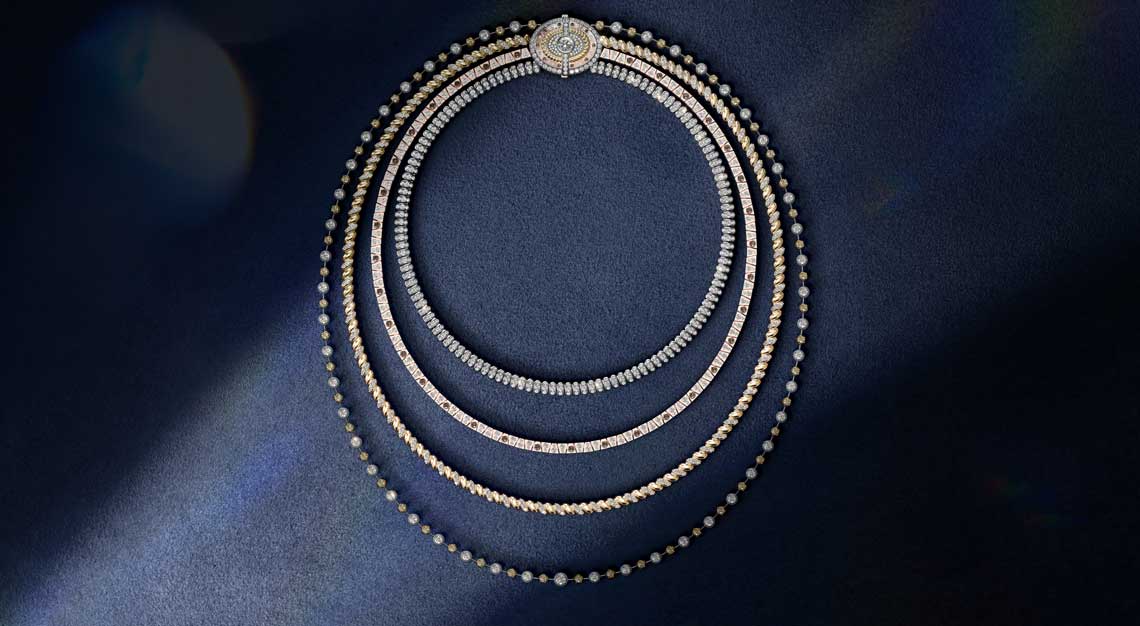 Metamorphosis by De Beers
The diamond giant's new high jewellery collection is inspired by Mother Nature's evolution through the seasons. The first chapter, named Prelude, explores the cyclical rhythm of time, capturing the change of the seasons within nine one-of-a-kind designs. Four of the nine pieces are also transformable, further emphasising its creative theme.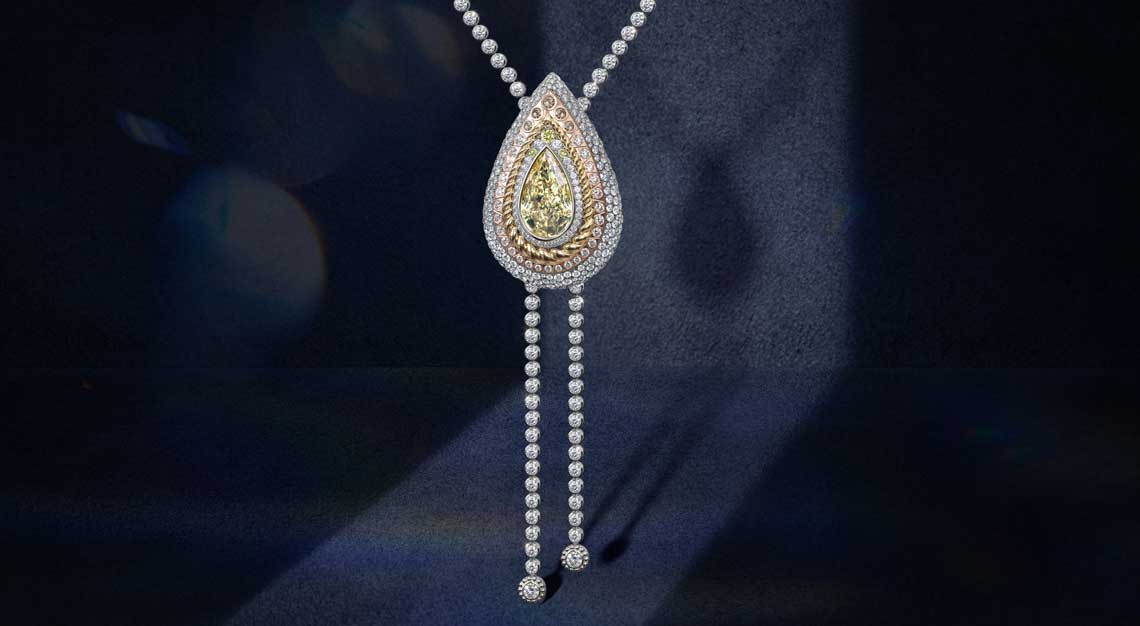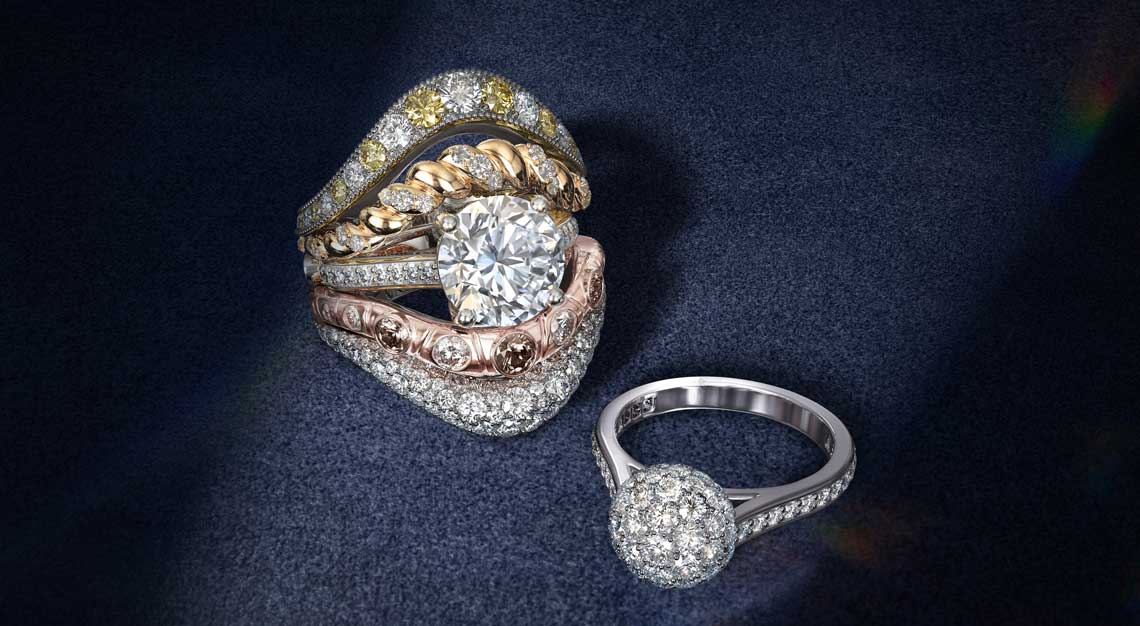 Beginning with rough diamonds, De Beers worked to realise the full potential of the stones, transforming them into exceptional high jewellery. Prelude showcases an array of expert goldsmithing and diamond-setting techniques, including serti neige (snow setting), fil couteau (knife-edge) and perlage (gold beading).
Louis Vuitton Spirit Chapter II
Featuring 30 unique pieces that pulse with a distinctive graphic energy, this is the latest and final chapter of Louis Vuitton's Spirit collection, first introduced in June 2022. These jewels emanate the strength of the Louis Vuitton woman, and are set across four universes that reflect the values of the house: Liberty, Destiny, Fantasy, and Radiance.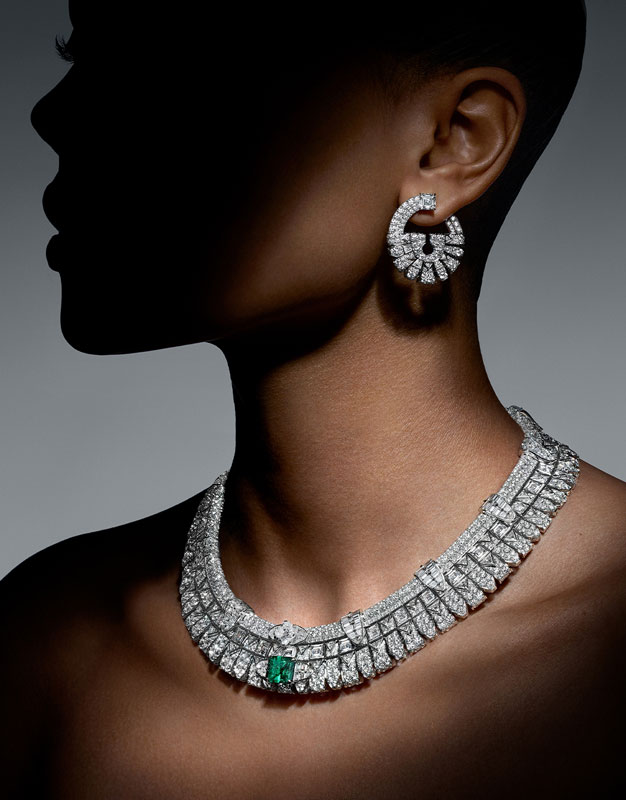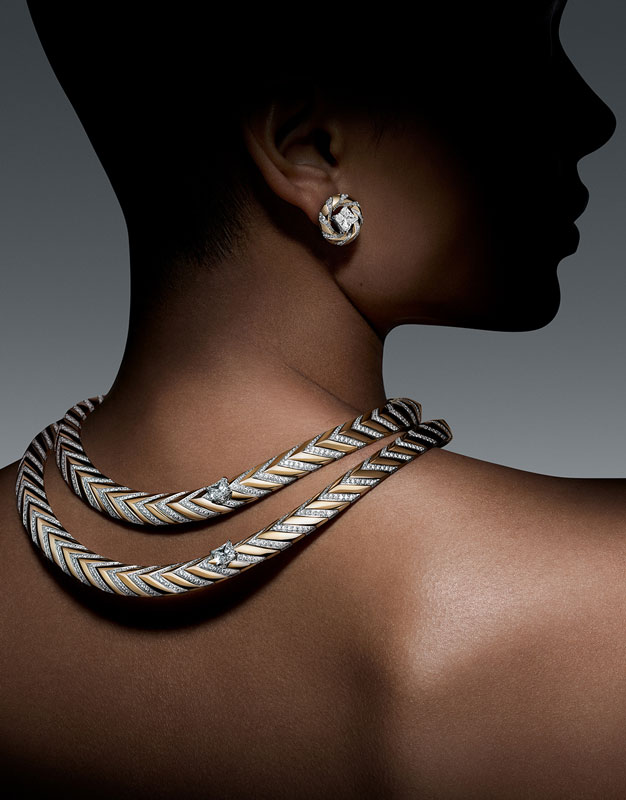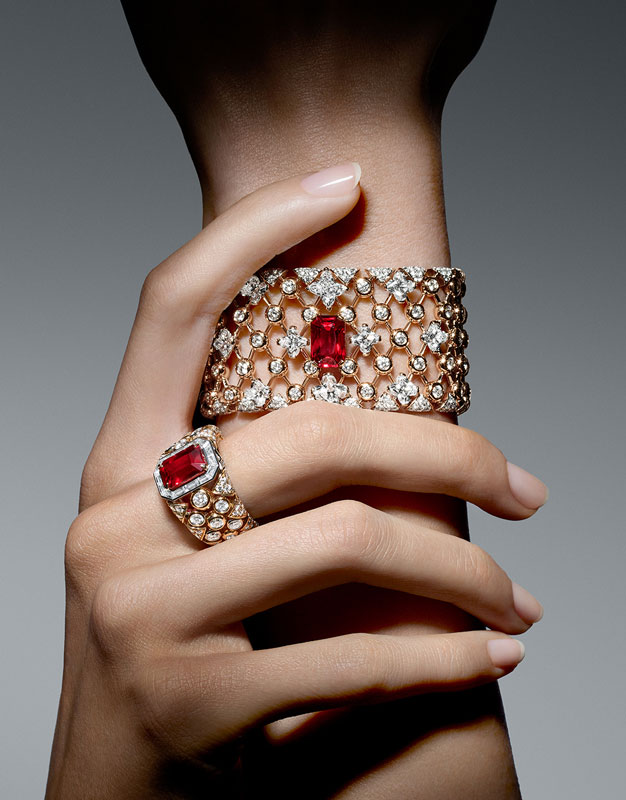 Expect to see the Damier pattern juxtaposed with V-shapes, overlaid with diamond-set hinge motifs from the Maison's iconic trunks. Rubies also made a big appearance in the collection, with a single necklace festooned with 34 of the red stones which took the Maison three years to source.
Interlaced Vs and chevrons embrace LV Monogram Star cut diamonds, and graphical pyramids, triangles, and more V signatures help create a necklace of armour to shield and empower its wearer, and fuse with her spirit.