Luxury serviced residences are a dime a dozen in the capital of Malaysia, and Yoo8 has set its eyes to be number one by engaging Kempinski to manage the property
Mixed-use developments are a hot property trend these days, and it's easy to see why. After all, in a time when land availability grows increasingly scarce, the high-density nature of a mixed-development can help minimise urban sprawl and offer greater convenience by combining retail spaces, spas, serviced residences and even luxury hotels and office units within a single building. It's proving to be a popular choice with luxury brands, too, as many have begun expanding their services within these types of properties – two such examples include the Orient Express Hotel at Bangkok's King Power Mahanakhon and Manila's Shangri-la at the Fort.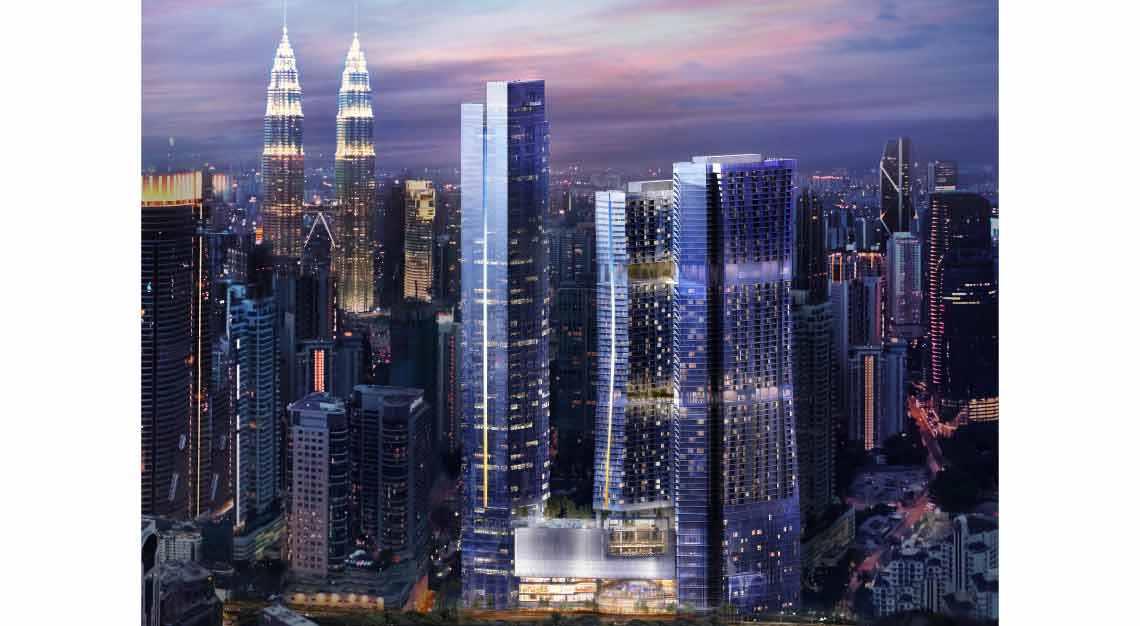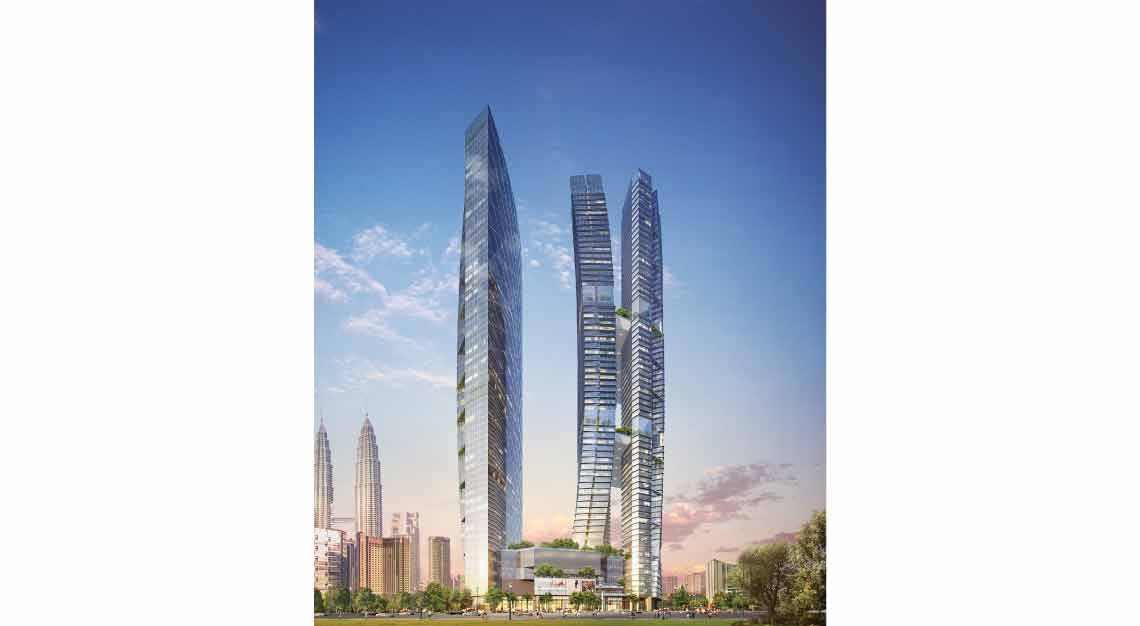 Now joining that rank is 8 Conlay, the latest, up-and-coming mixed-used development in the heart of Kuala Lumpur. The inaugural brainchild by KSK Land Sdn Bhd, 8 Conlay will, upon its completion, be the world's tallest spiralled twin residential towers. It sounds like a mouthful, but 8 Conlay has earned its stripes. In addition to hosting a nine-storey retail space, 8 Conlay will also be home to Malaysia's very first Kempinski Hotel – the 8 Conlay Kempinski Hotel Kuala Lumpur – and Yoo8 serviced by Kempinski, the property's branded residences component.
A collaborative effort between two major brands – Yoo and Kempinski – Yoo8 joins a fast-growing list of branded residences in Malaysia, and will, as evidenced by its name, offer a range of services by Kempinski.
Currently, 498 apartments – ranging from one- to three-bedroom units – occupy the 56 storeys within tower B at 8 Conlay, with more planned for tower A in the months to come. Starting at a modest 65sqm and going up to a cosy 124sqm, Yoo8 is slightly smaller than a number of other luxury serviced residences in the Malaysian capital. But what it lacks in space, it makes up for with unobstructed views of the city centre – a feature you'll find in most units.
In partnership with Yoo, an international design studio founded by John Hitchcox and Philippe Starck, the apartments will be decorated by Kelly Hoppen, one of the world's most celebrated interior designers. Her designs revolve around two concepts: Spring and Urban, both of which are rather apt considering the weather's fairly pleasant all year round in Kuala Lumpur, and the residence is right smack in the urban concrete jungle.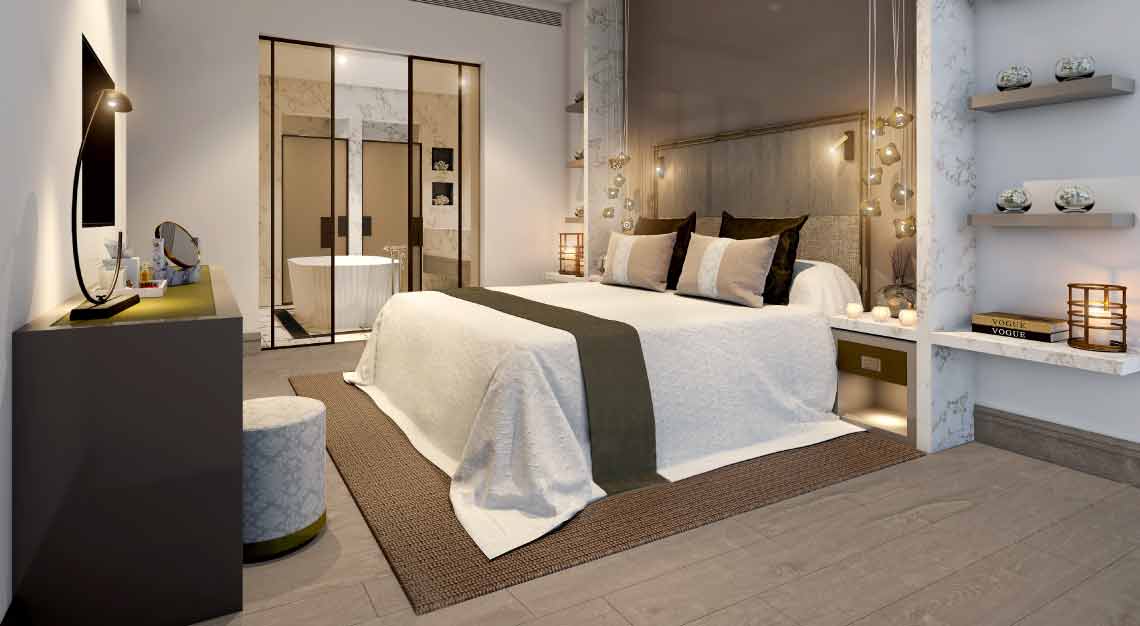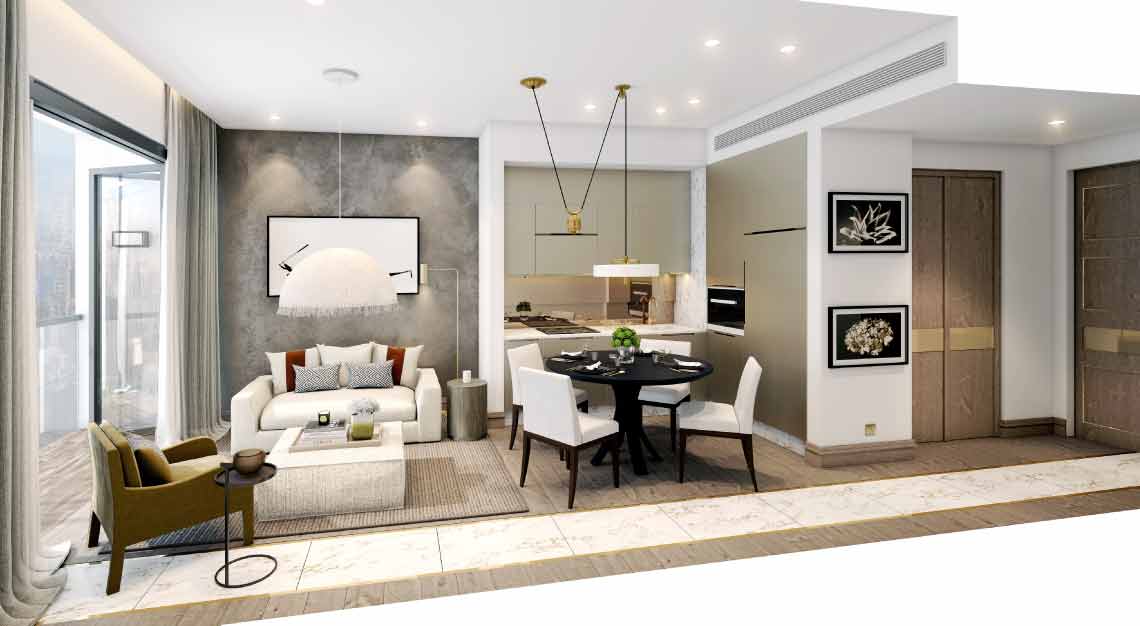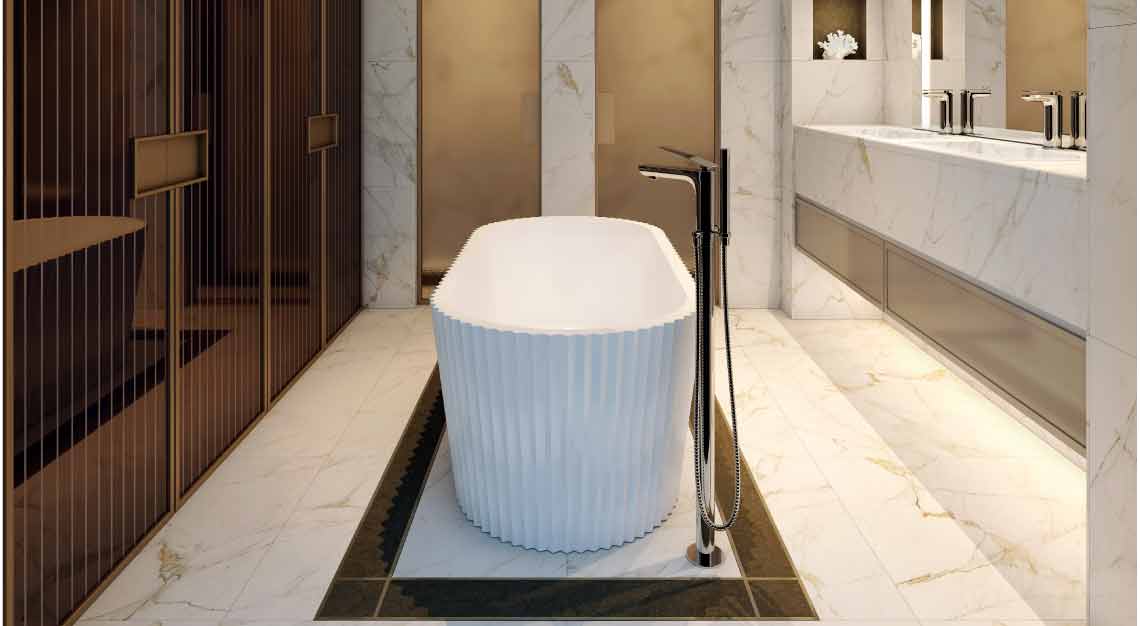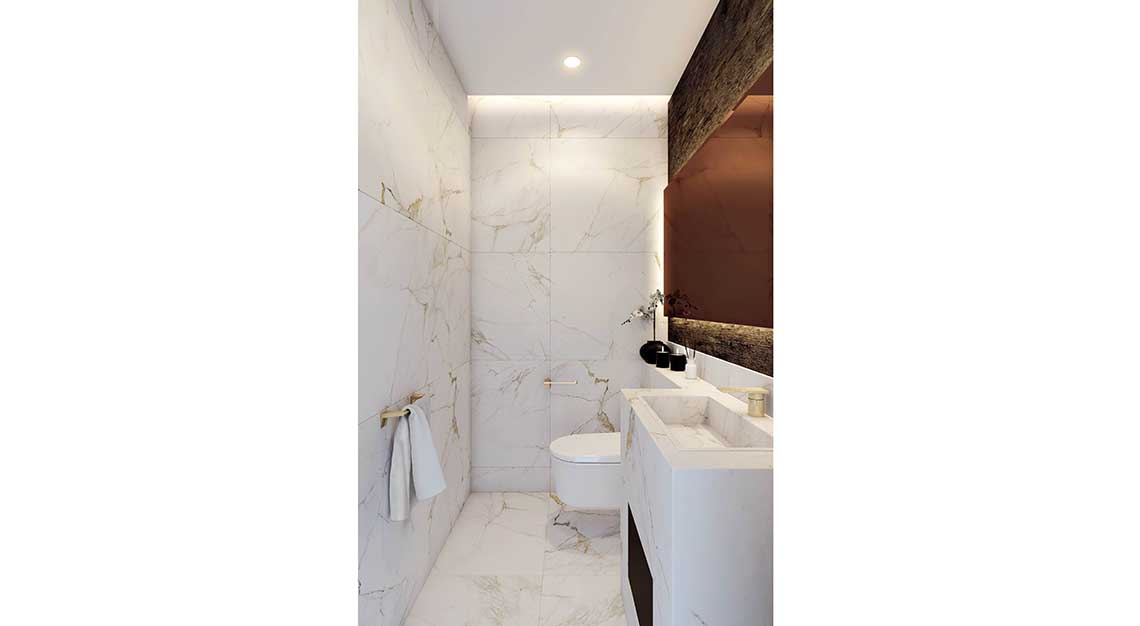 Spring
It's all about neutrality in this green-focused concept. You'll find a mix of weathered surfaces, unbleached fabrics, deep-pile carpets and milky white glass coming together to evoke a sense of calm and harmony. Evoking the vibe of an upmarket country retreat, the living room highlights organic textures in natural hues, while bronze details and stylish finishes make up the compact powder. The master bedroom is kept free of distractions, save for the clustered pendant lighting hanging from above. The ensuite bathroom is full of delightful surprises, including the Origami bathtub – Hoppen's very own creation.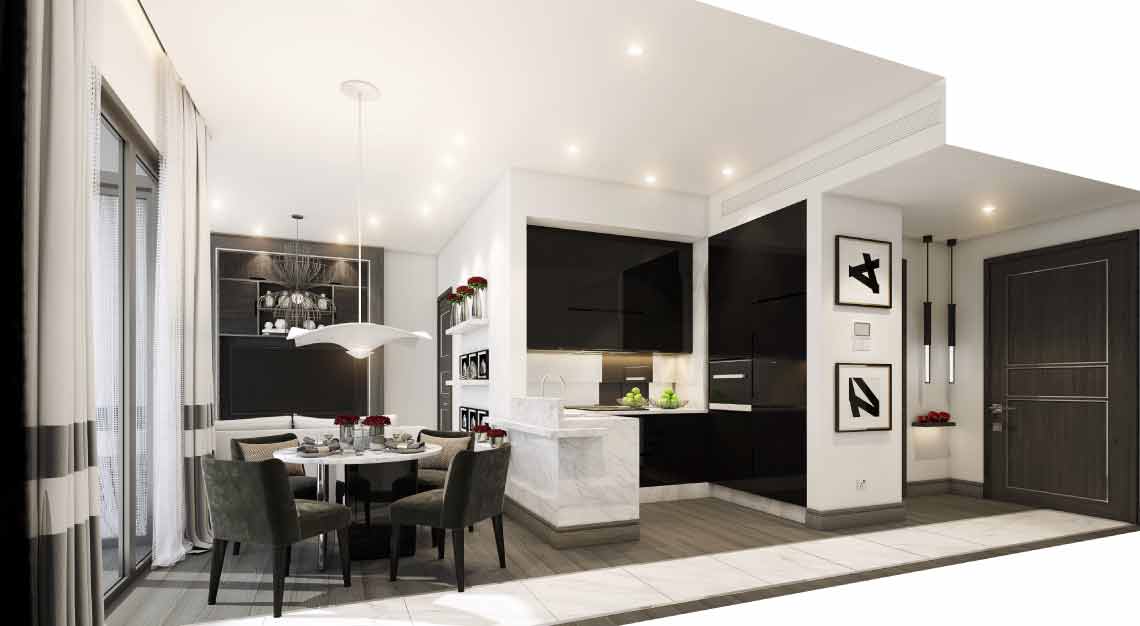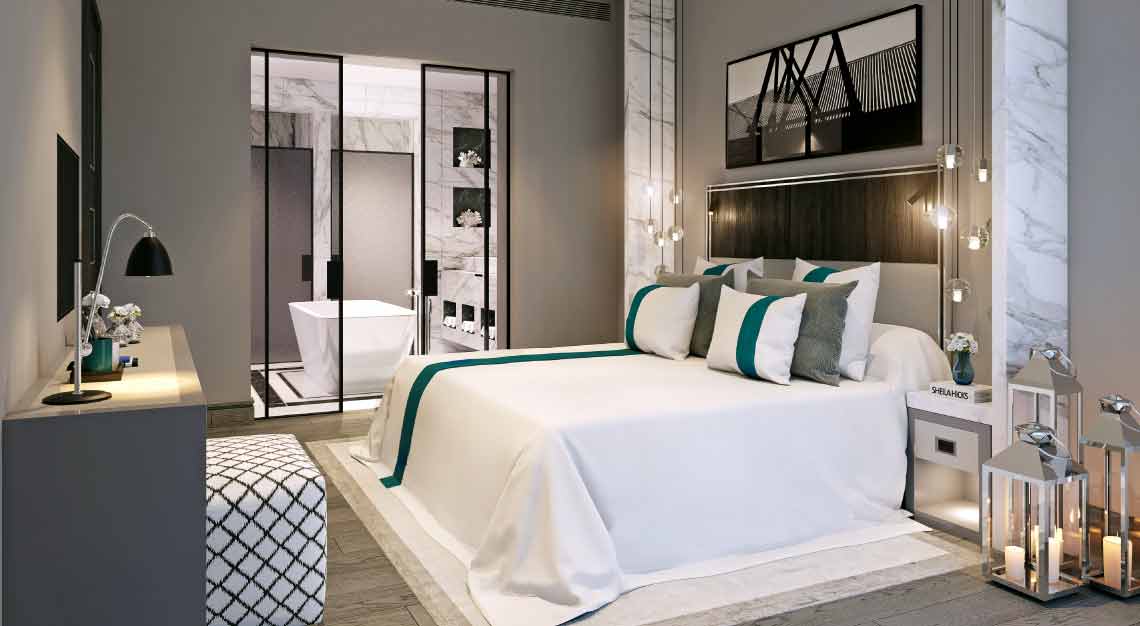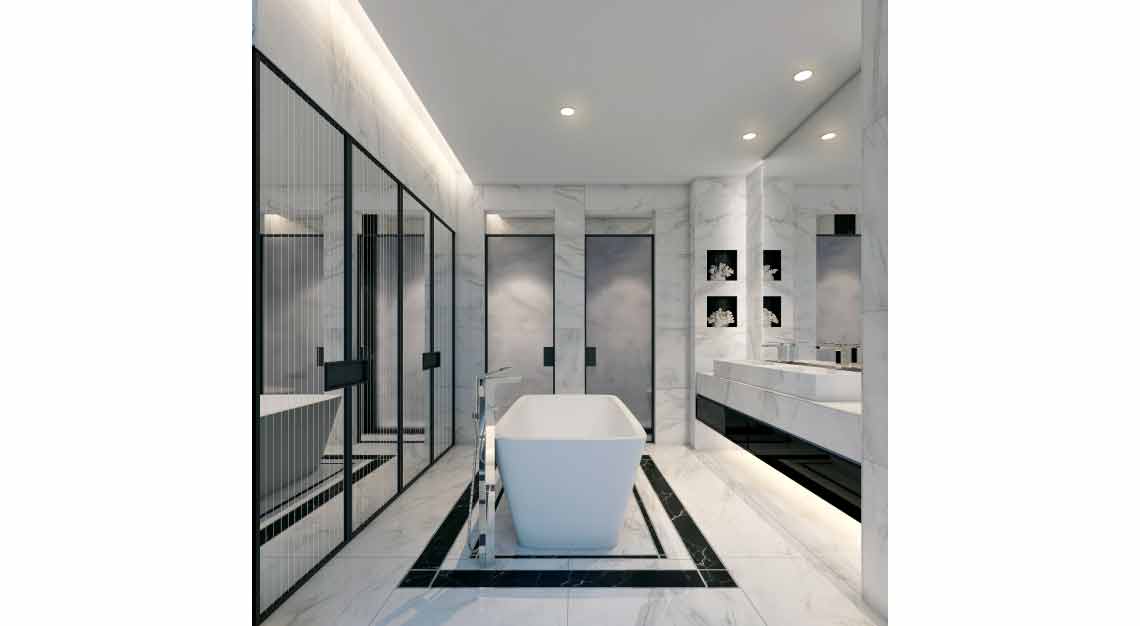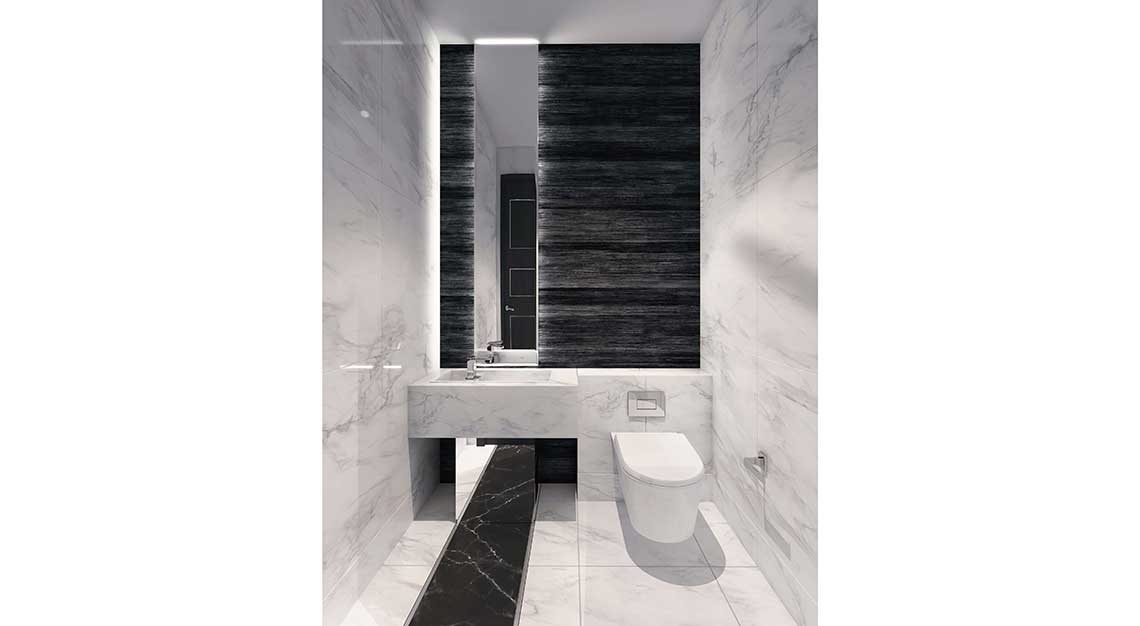 Urban
Urban, on the other hand, is designed to bring out the best of fuss-free cosmopolitan living by spotlighting linear muted tones, ambient lighting, repeated motifs and chic materials such as taupe stone, dark timber flooring and specialist plaster finishes and fabrics.
Alluring greens add a pop of colour to the warm brown tones in the master bedroom, while a dramatic black-and-white theme sets the tone for the suite's powder room. Hidden behind sepia-tinted sliding doors, the elegant master bathroom is all about clean lines and geometric details. The space is played up with an emphasis on veined marble, strategically placed lighting and a rectangular statement tub — the latter of which is no doubt the star of the space.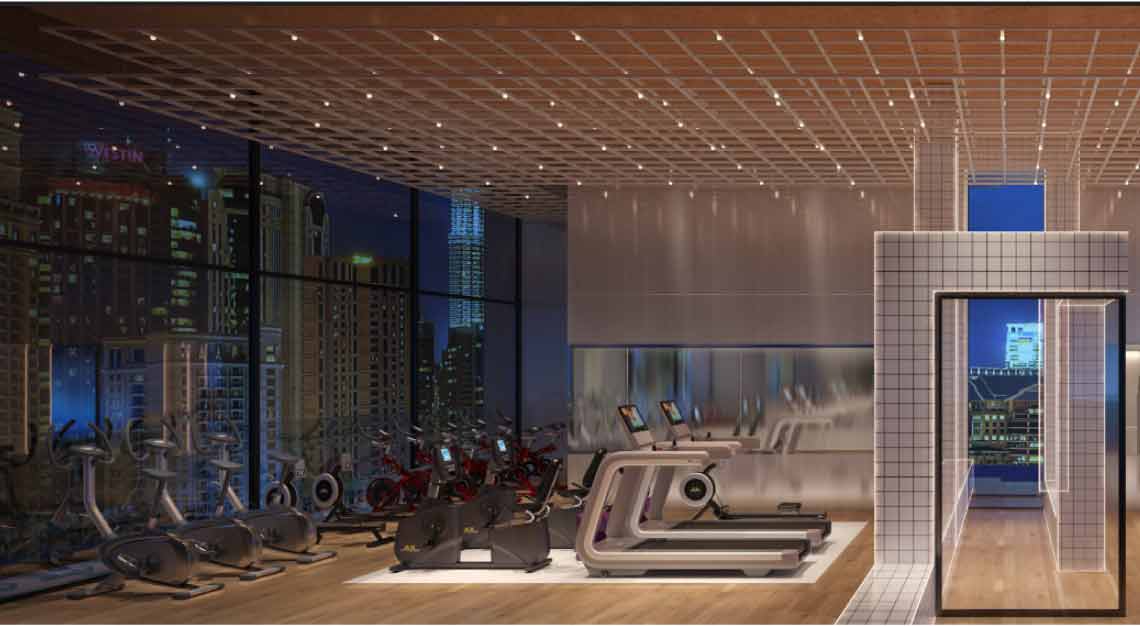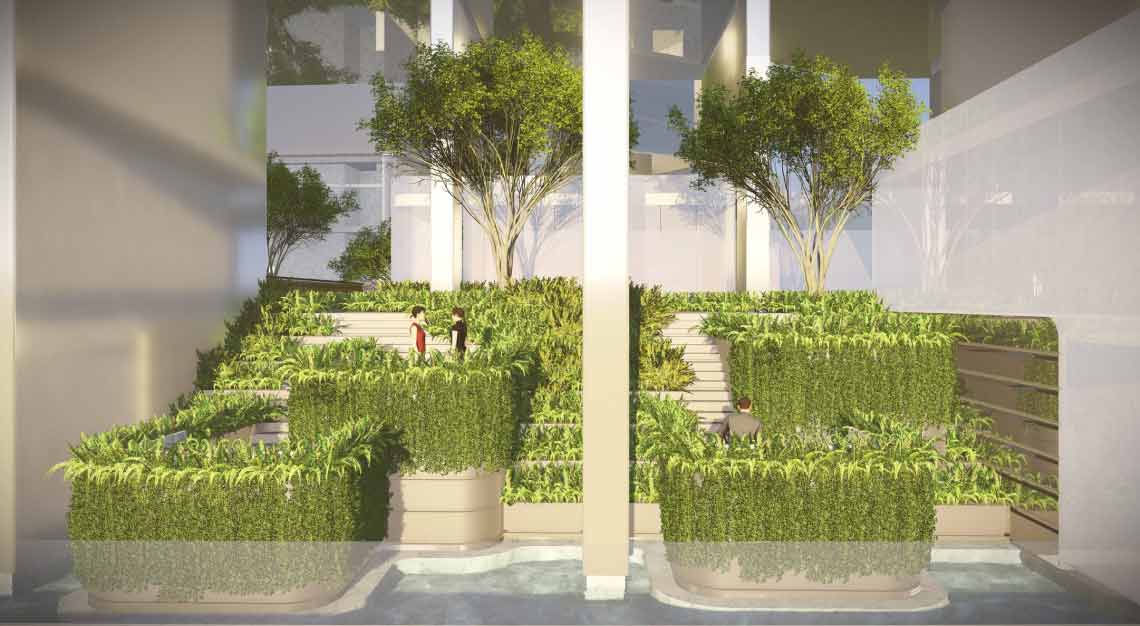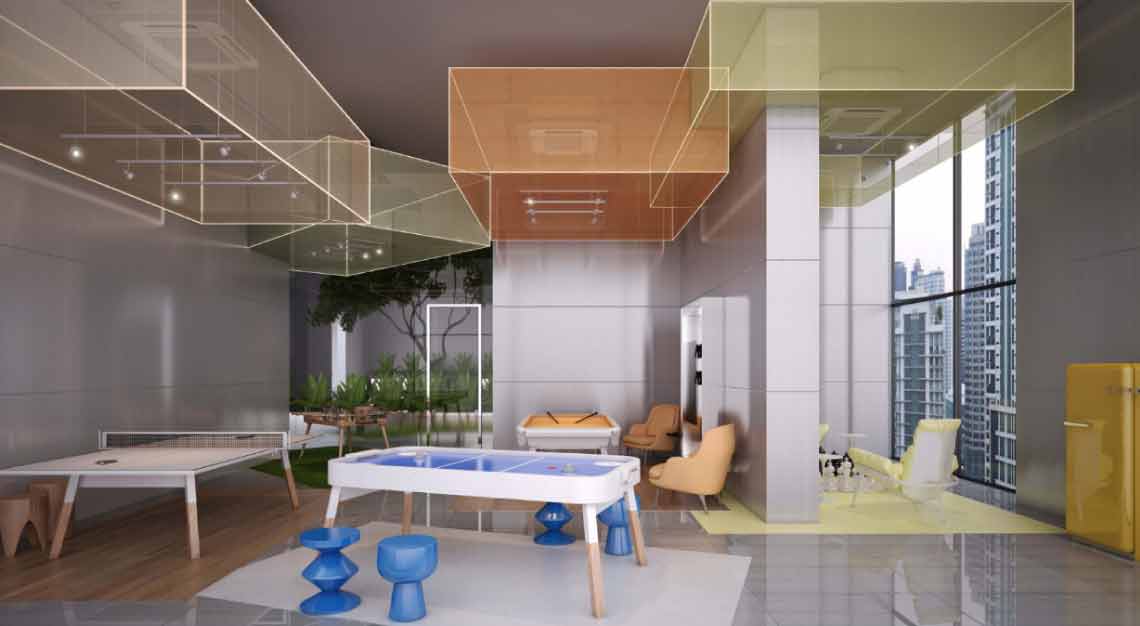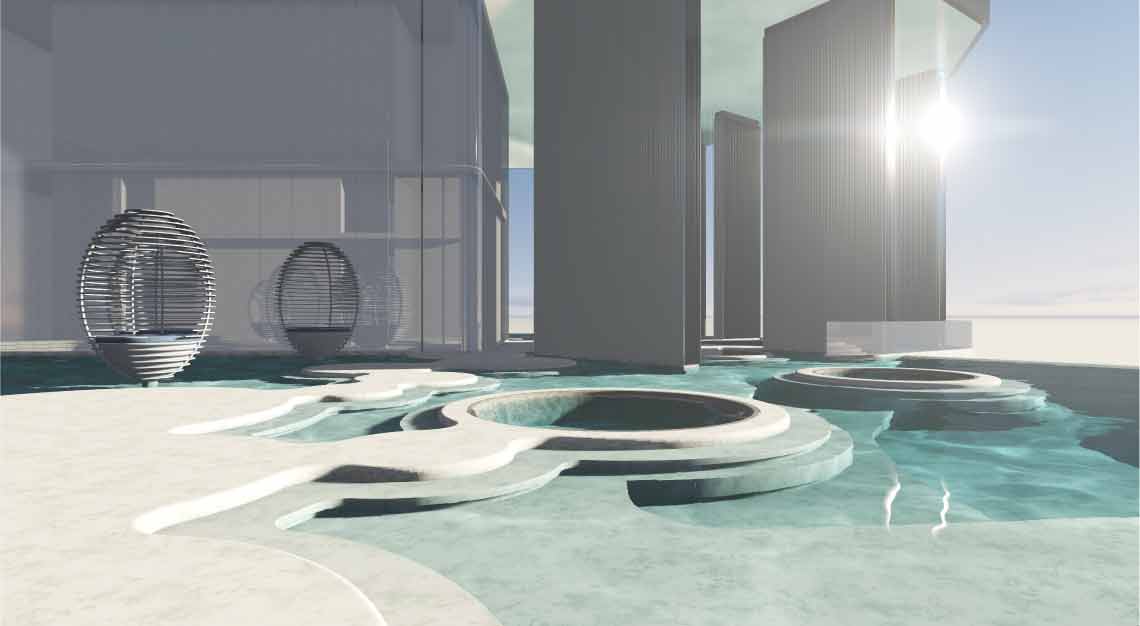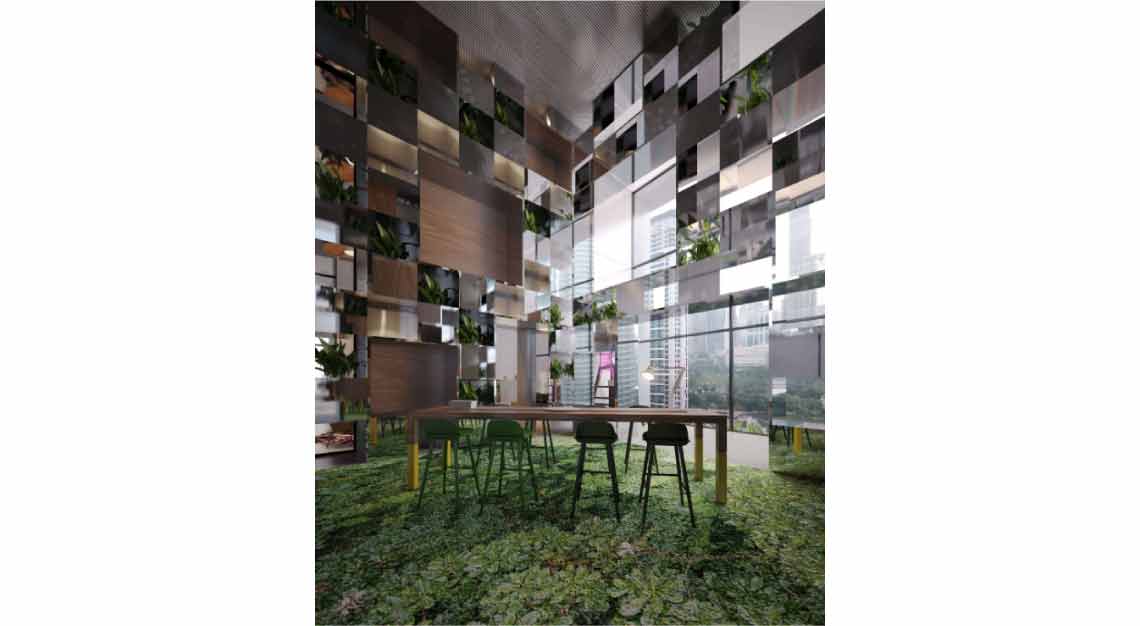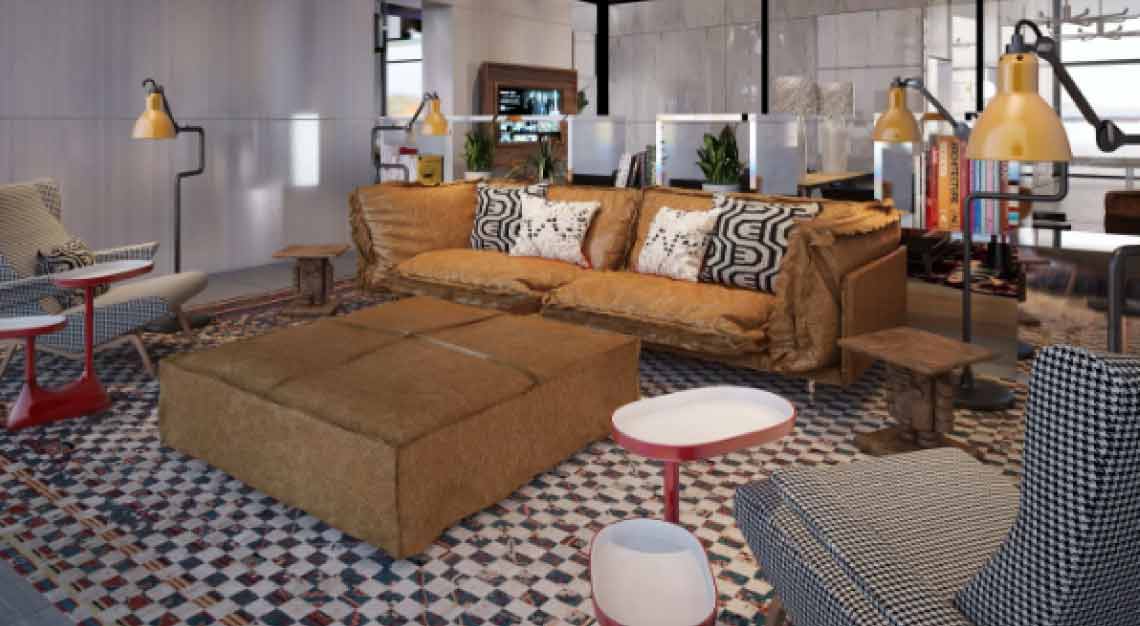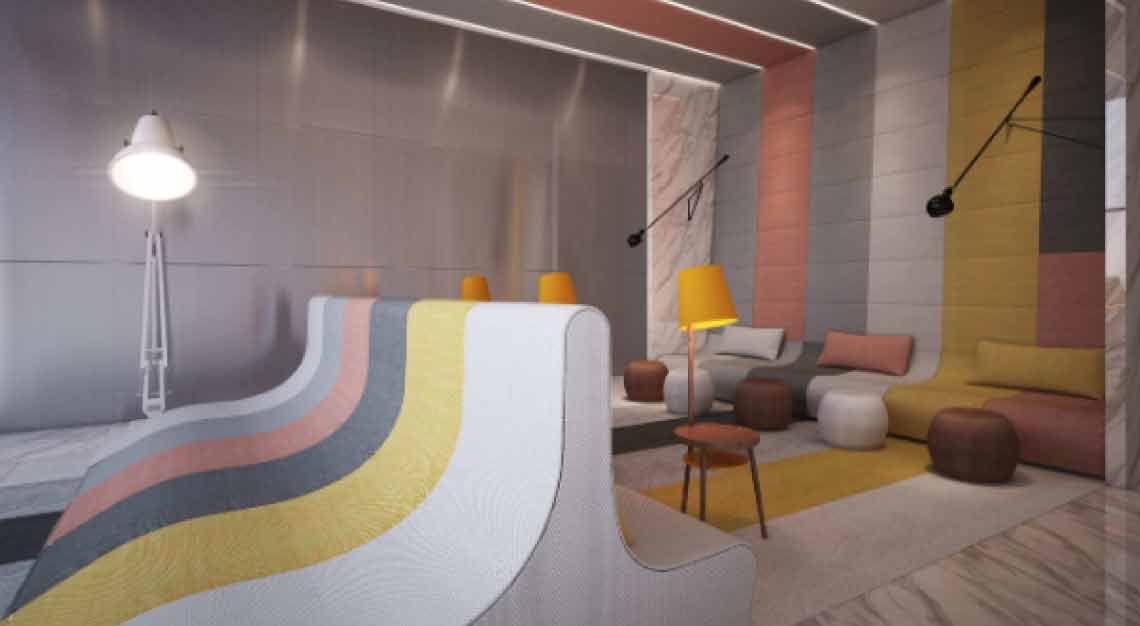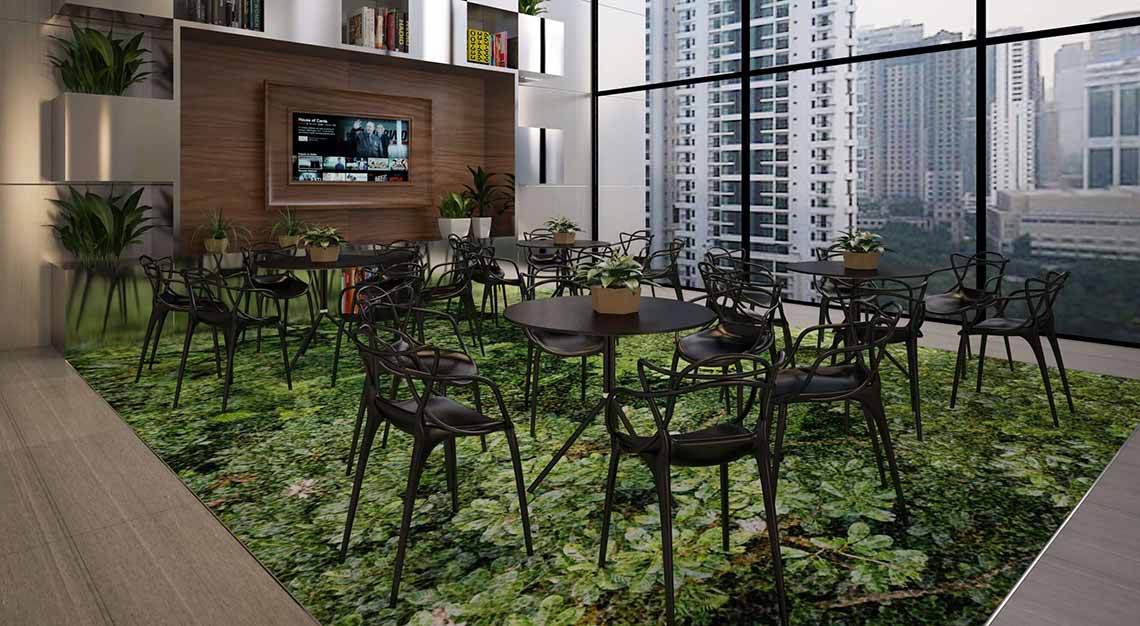 Enviable Amenities
Yoo8 serviced by Kempinski is more than just a series of lavish suites. You can unwind at the water lounge on level 26, which contains a series of ripple pools inspired by Malaysia's lush rainforests, pod-like cabanas and a 25m lap pool. Alternatively, head up to level 44 for a breath of fresh air at the Green Refuge, a multi-tiered park that resembles Balinese rice terraces and holds an elevated jogging path, resting nooks and unrivalled city views. Other social facilities include a library, multi-purpose room, lounge and games area for when rainy days hit.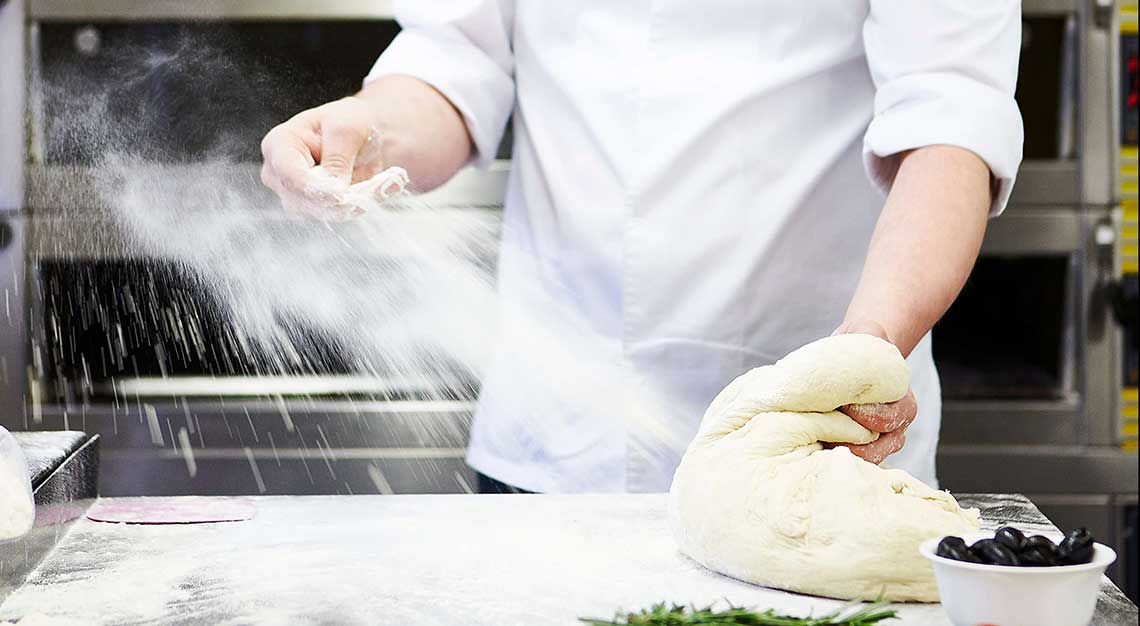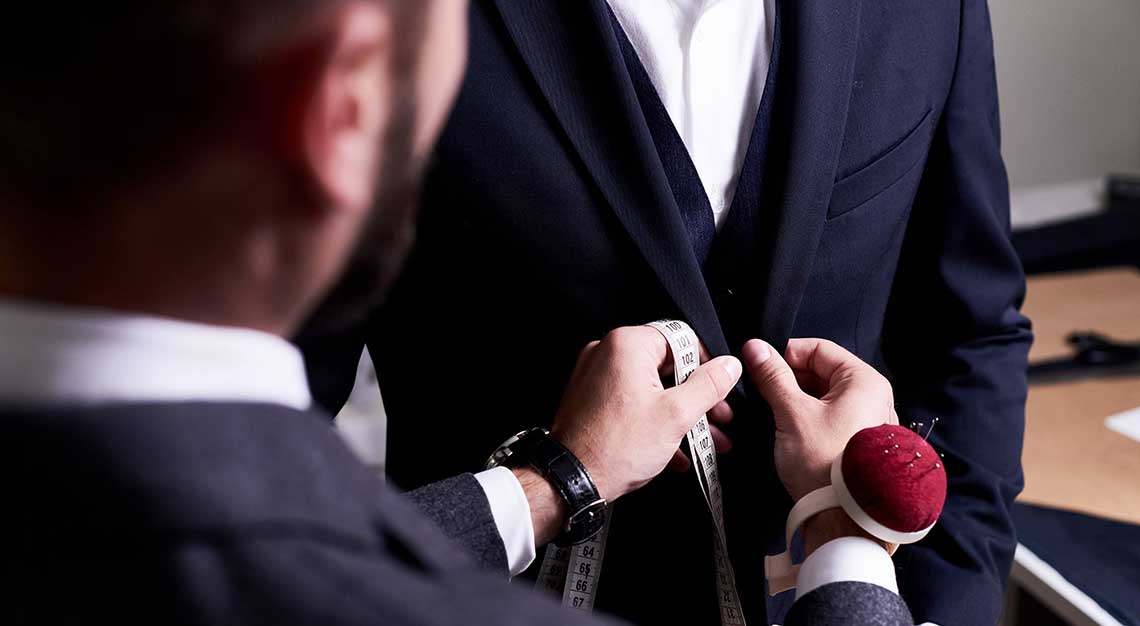 Lady In Red, At Your Service
The Kempinski brand is renowned for its exceptional service, so it's really no surprise that this is one of the key selling points at Yoo8. Jetsetters and the well-heeled will be familiar with Kempinski's iconic Lady in Red. Think of her as your personal concierge, one who'll see to your dry-cleaning, restaurant reservations and even transport arrangements. In addition to valet, doorman and shuttle bus services, Kempinski offers butler and housekeeping, private chefs and a tailoring service among others for an additional charge. The list is fairly extensive, perfect for those whose only reason to lift a finger is to dial for concierge.
Perks, For Those Who Need More Reason
Each purchased unit comes with the Kempinski Discovery Platinum membership card, which offers rewards within the 8 Conlay Kempinski Hotel Kuala Lumpur and its 35 Global Hotel Alliance brands. One of the membership's key features is the Local Experience, which allows you experience the various cultures within each hotel destination as you travel. You'll also be privy to exclusive member-only offers that include preferential rates on Kempinski.com, room upgrades during check-ins and guaranteed room availability 48 hours prior to arrival.
The suites within Yoo8 serviced by Kempinski can be purchased through List Sotheby's International Realty, Singapore.
Yoo8 serviced by Kempinski
8 Jalan Conlay
Kuala Lumpur
50450 Kuala Lumpur
Malaysia