Kudadoo Maldives Private Island is the country's first-ever all-inclusive resort. But does it make the cut?
As dusk descends, I lie on the day bed on the patio of my residence, reflecting on my past few nights at Kudadoo Maldives Private Island. What should one expect when one pays US$3,800 (S$5,300) a night at an all-inclusive private island in The Maldives? It's said to be the country's first, and given its price point – not to mention its positioning as a five-star resort – the bar is exceedingly high. Can it deliver on all fronts?
And more importantly, would there be such a thing as an unreasonable request from a highly demanding guest, particularly if you're there on a honeymoon? I mull over these questions as a light breeze rocks the day bed back and forth. The air is warm, with an oceanic tang, and the stars are dancing in the cloudless sky.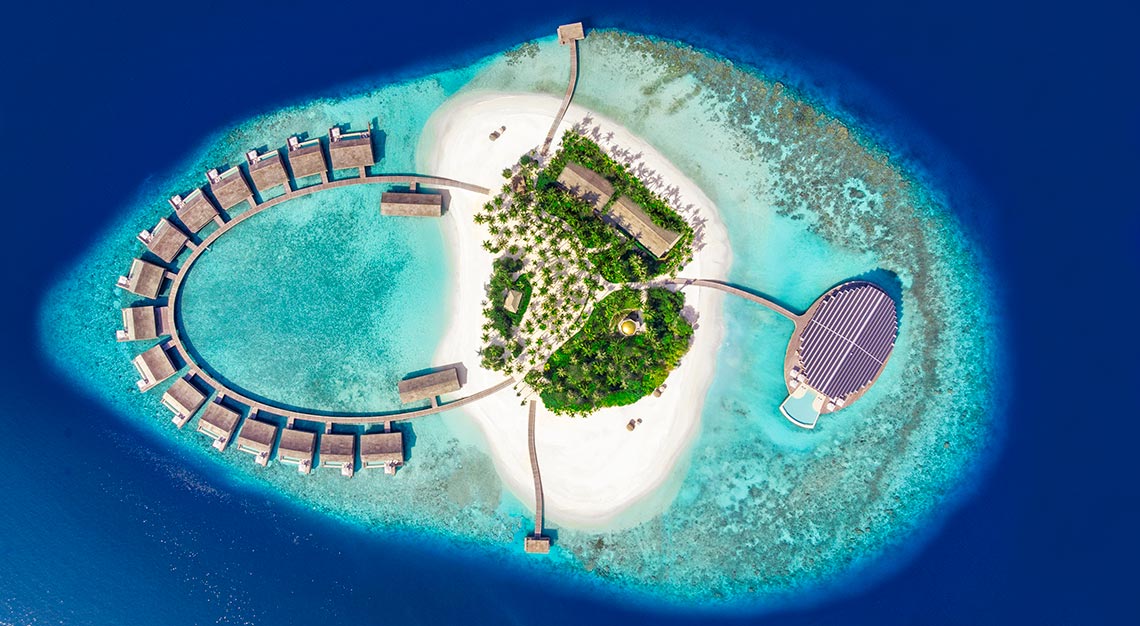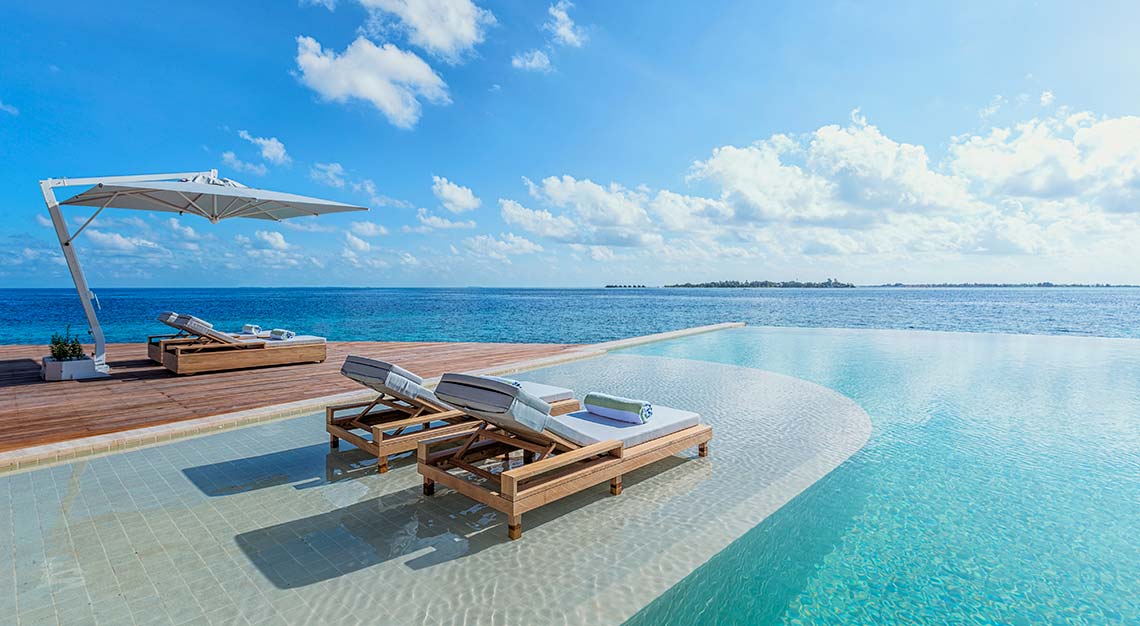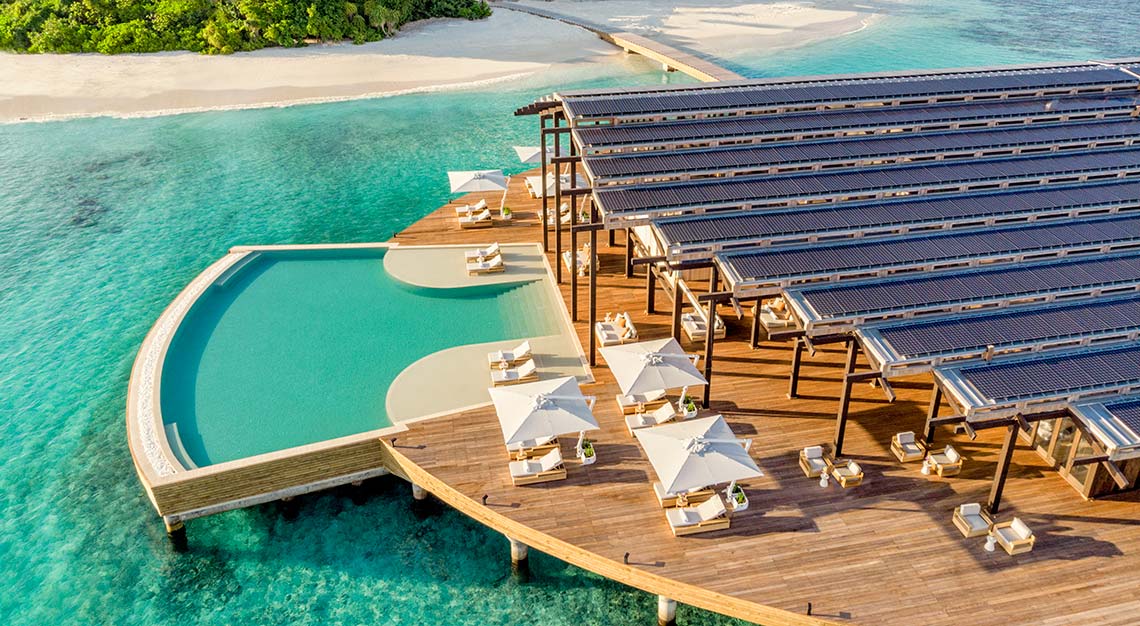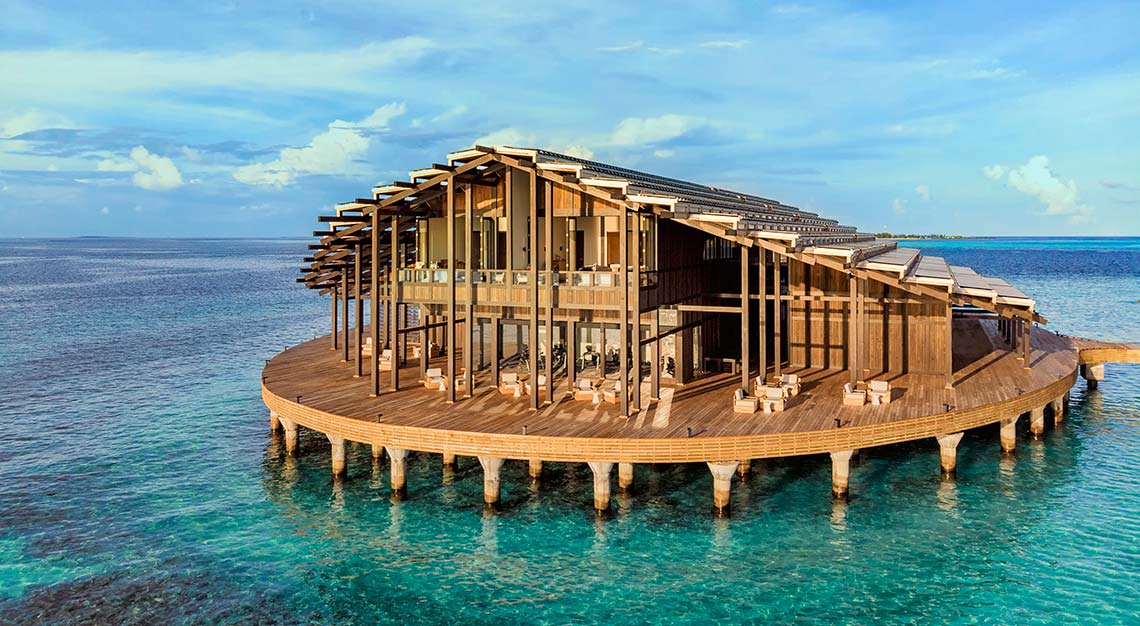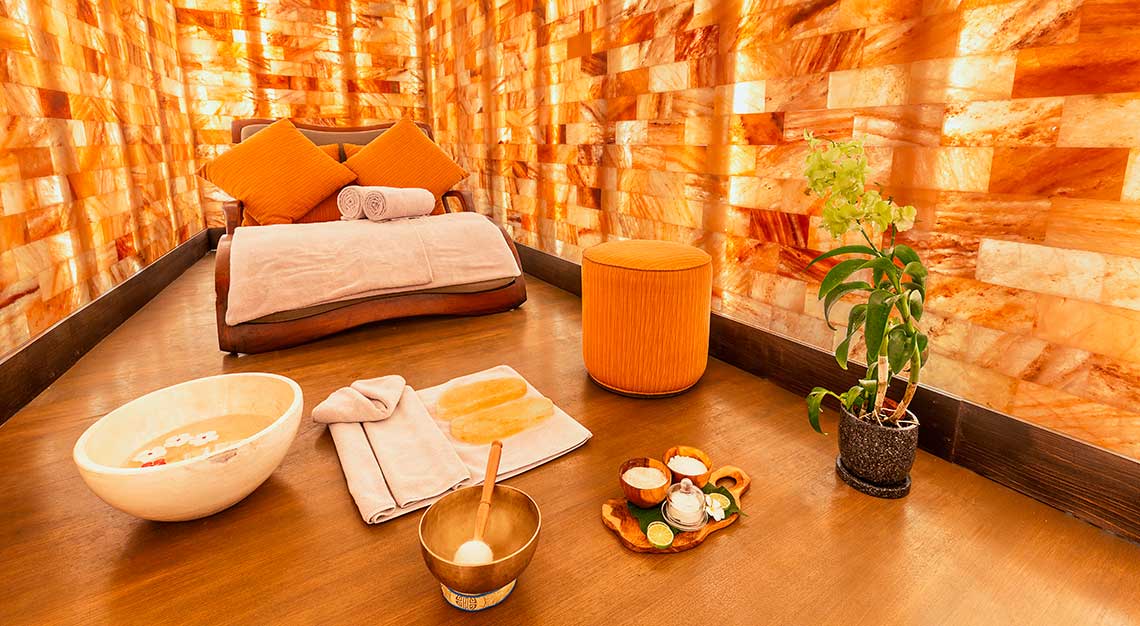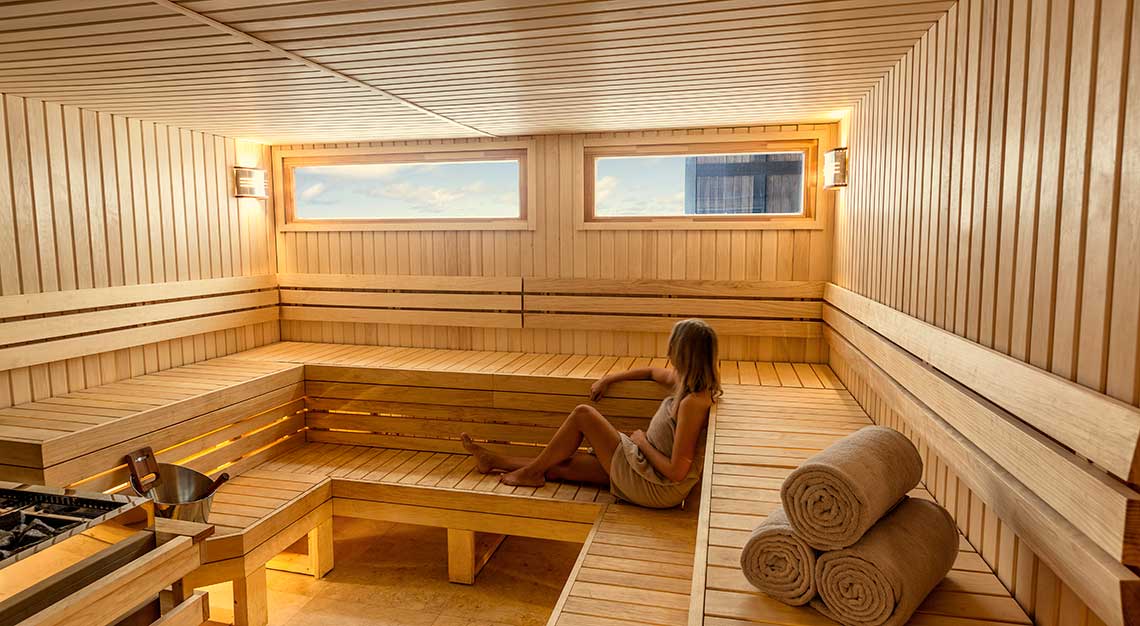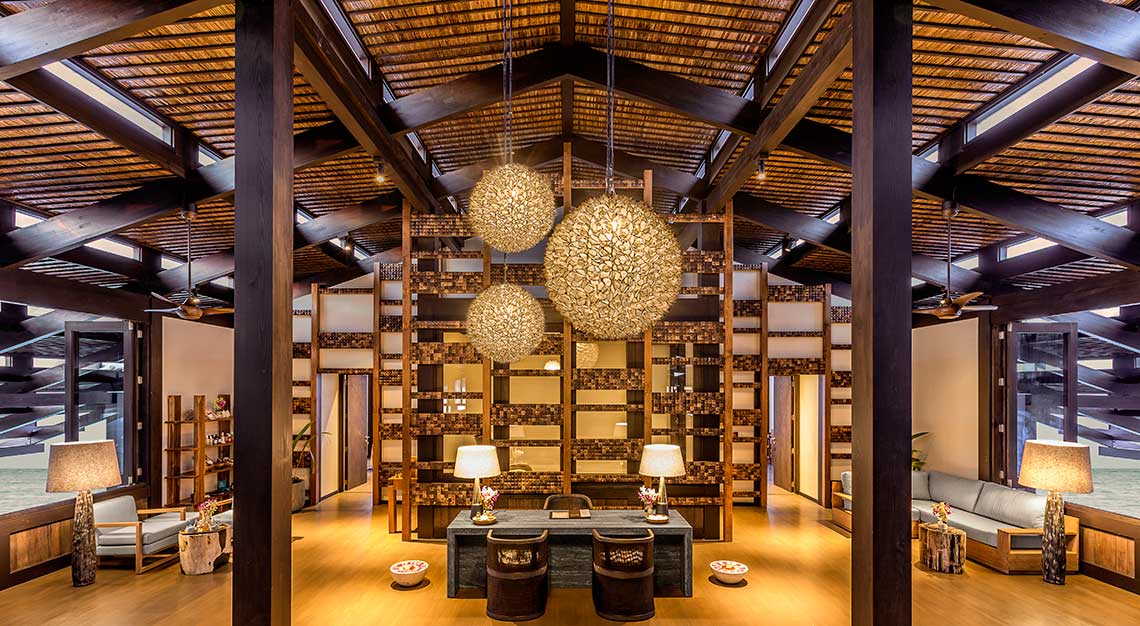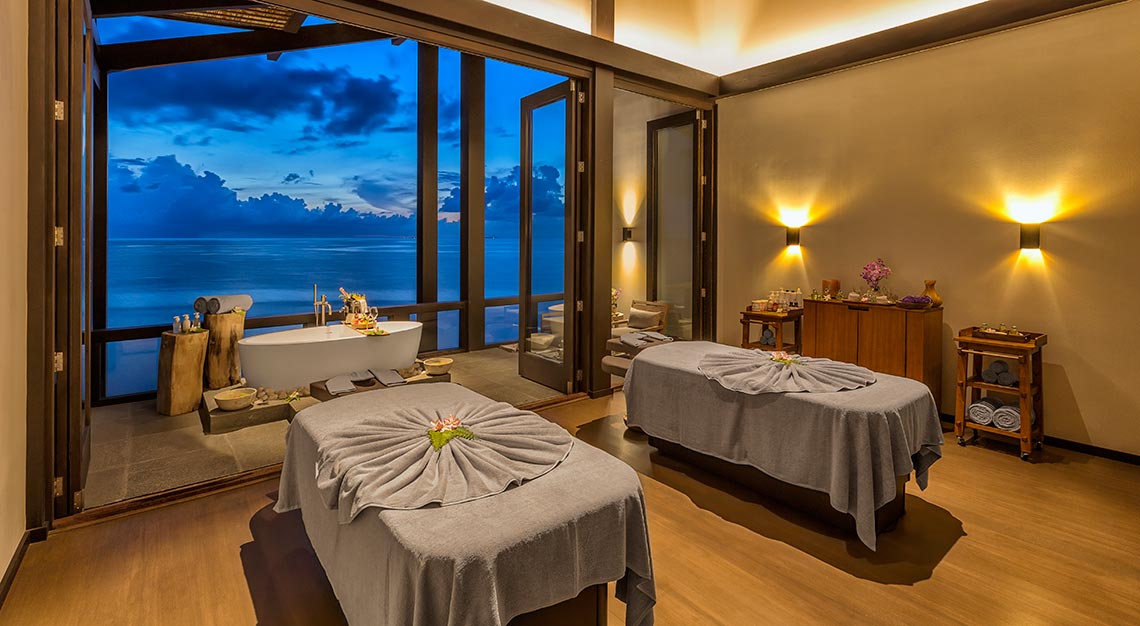 To say that my trip has left me feeling at odds would be an understatement. On one hand, Kudadoo feels more like a private residence than a resort. In addition to the 15 overwater villas – no undersea residence, though, Conrad still lays claim to that piece of the pie –, there is a two-storey reception that houses the spa, games room, restaurant and gym. Stepping onto the jetty feels just like coming home.
On the other hand, my pre-arrival experience was far from that, and unfortunately, I reside in 'the-journey-is-as-important-as-the-destination' camp. The resort's transit lounge, in a separate building 10 minutes away from the international airport, felt like an air-conditioned holding pen. It lacked a private shower facility and bathroom, both of which are important should you be catching a 'red-eye' back home.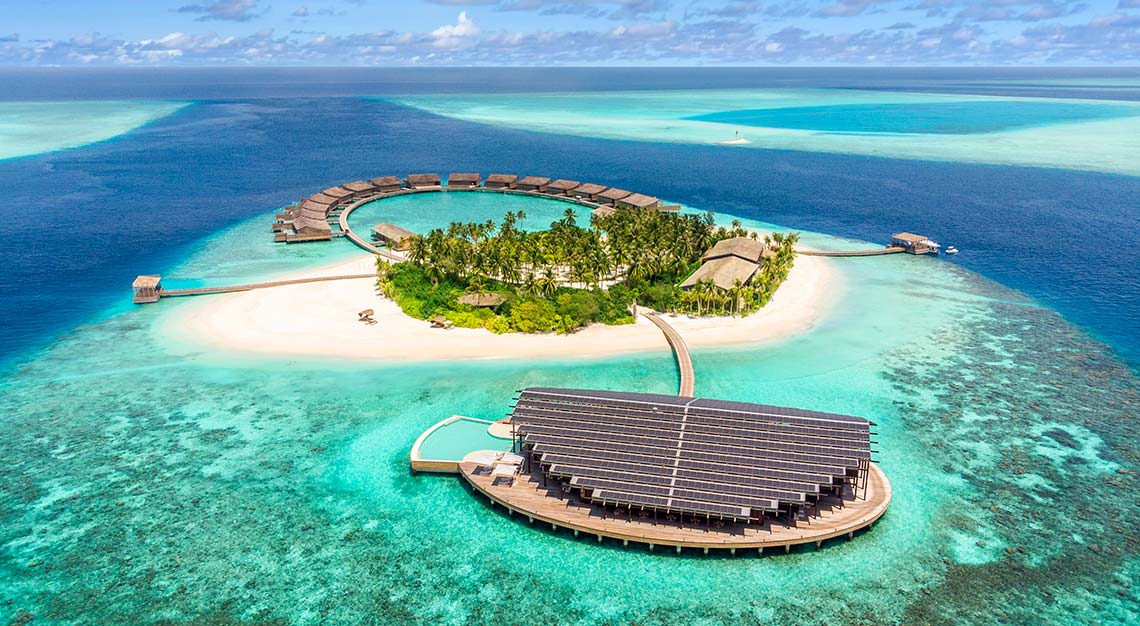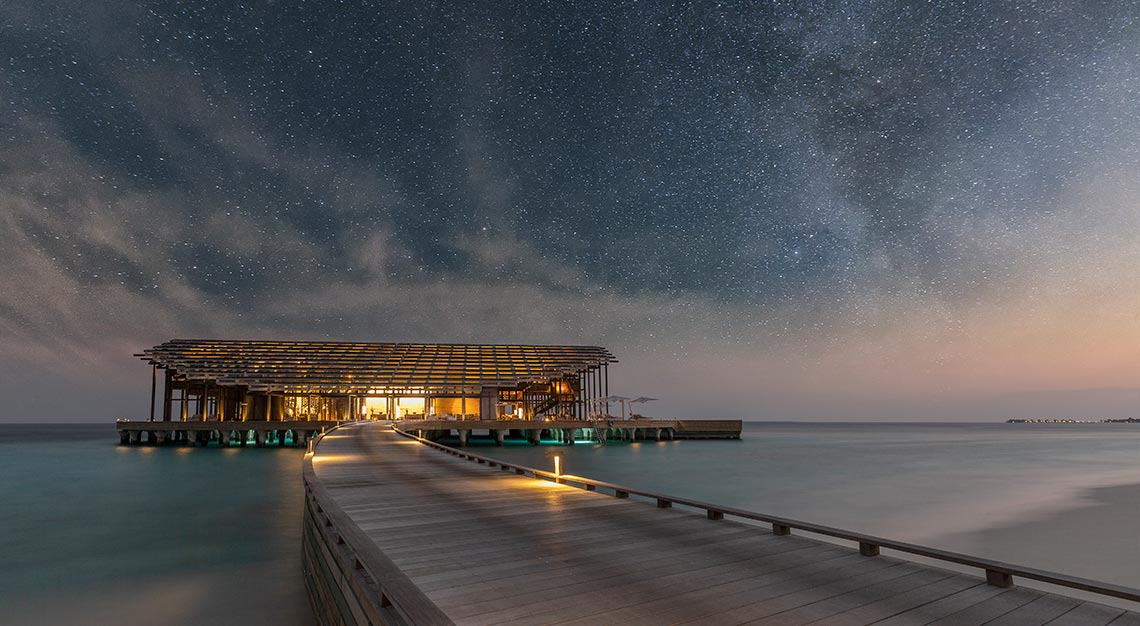 Kudadoo's lounge also shared the same space – and offered the same refreshments – as its sister property, Hurawalhi resort. A day curtain separated them, but that was all. This may come across as nit picking, but you have the right to expect better when you're paying top dollar (it's one of, if not, the most expensive resort in the country). The good news is that the construction of a new transit terminal is currently underway, and each resort will have its own lounge and separate facilities in due course. Perhaps it would be wise to wait it out for a while more then.
Surprisingly, I didn't receive a care pack before I boarded my flight to the island. The provision of water, wet wipes and ear plugs – a norm for other international luxury resort chains – would have made the seaplane journey more bearable. I spotted a Kudadoo-branded seaplane, but to my dismay, it was used purely for branding purposes. Airline staff also repeatedly told me that I was flying to Kuredu Island, despite my protests that this was not my destination.
The trip was off to a less than auspicious start. I was left confused, frazzled, and slightly irritated.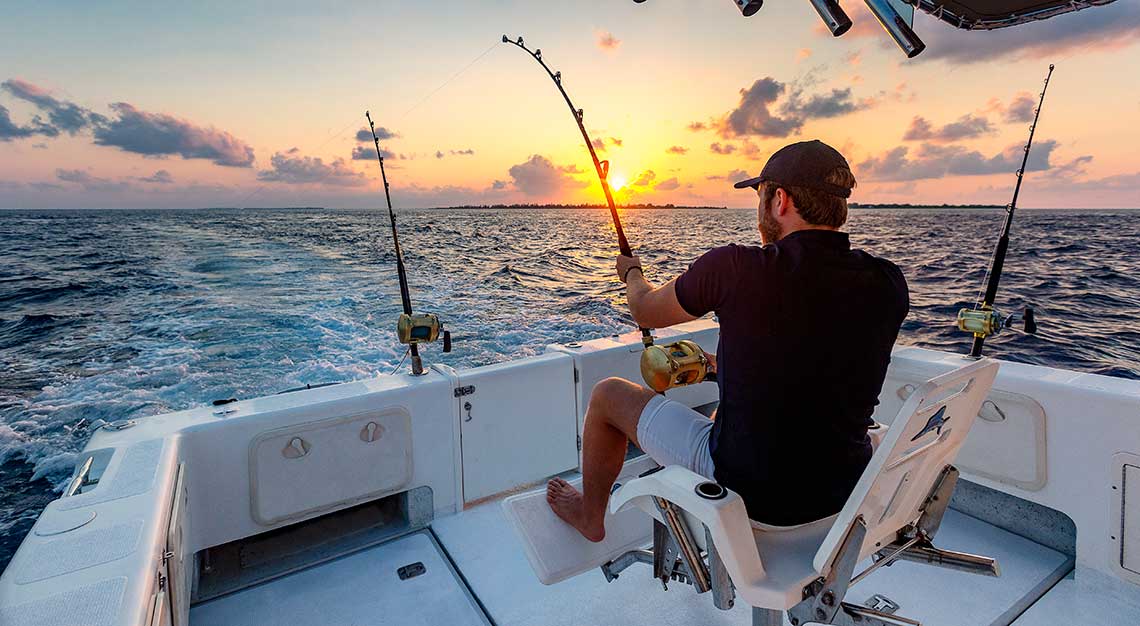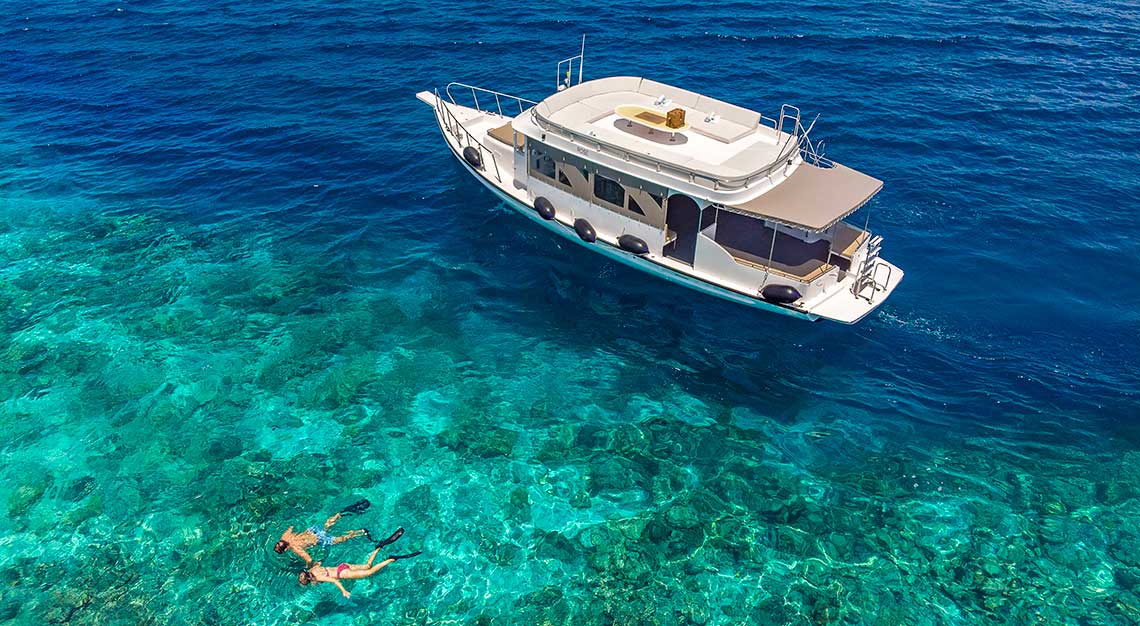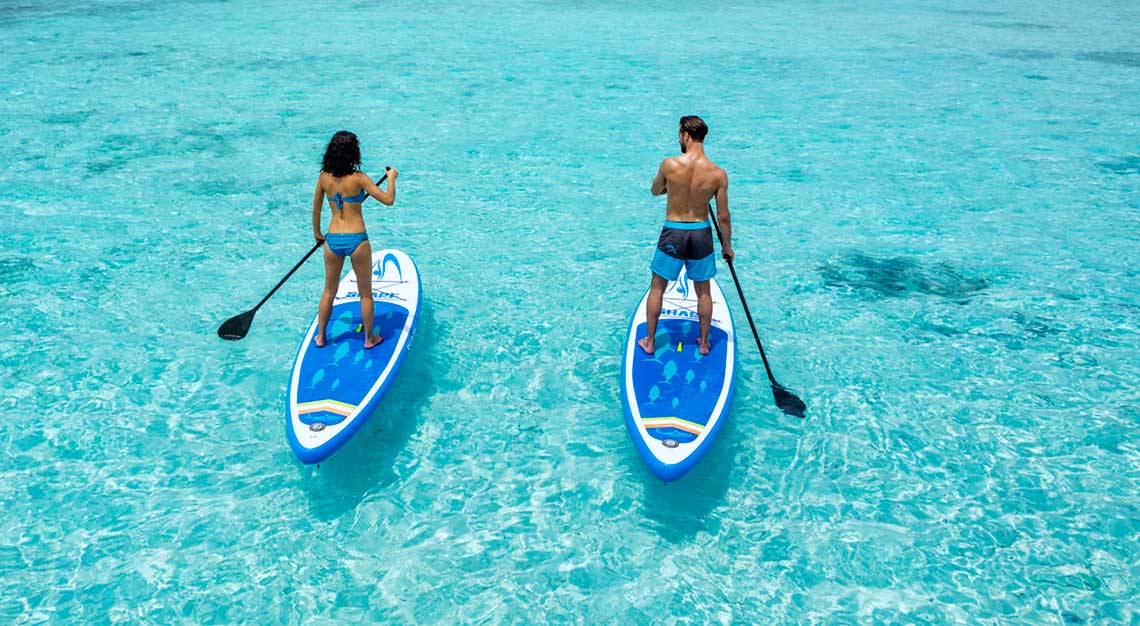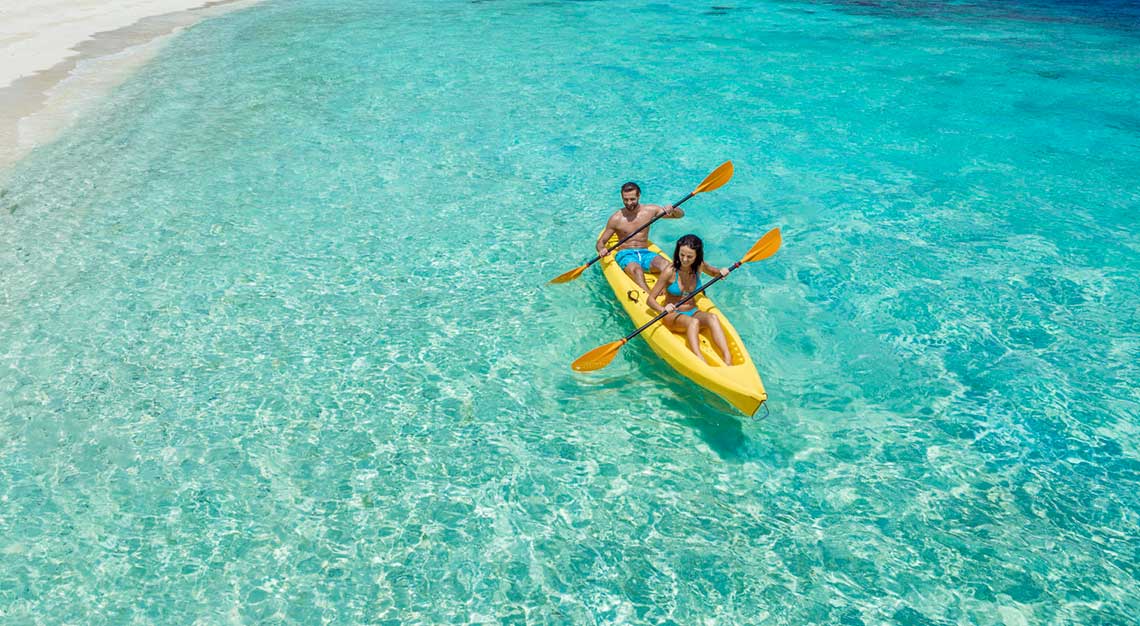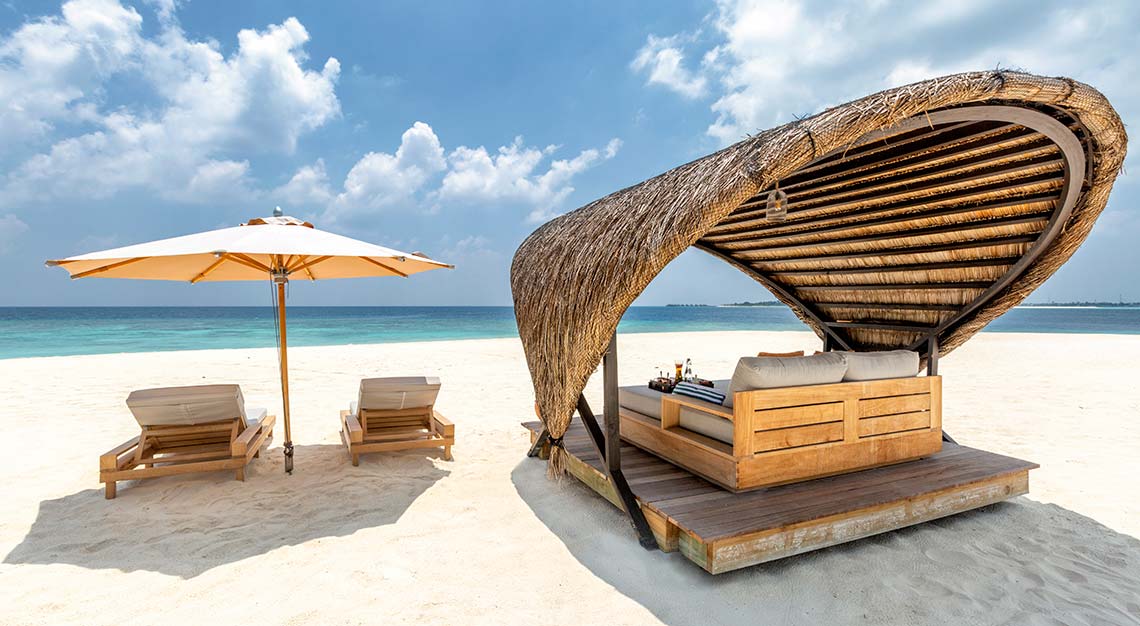 Things thankfully take a turn for the better when I'm picked up from Kuredu Island. It mostly has to do with Ishaaq, my butler. I remember him from my previous visit to Anantara Kihavah (which has a gorgeous stargazing observatory) in 2016, where he was tasked with looking after me. This feels like a reunion of sorts, and I'm hopeful that the tide is finally beginning to turn in my favour.
And it does.
Upon reaching Kudadoo Island, Ishaaq takes me to my residence via buggy, stopping to point out marine life in shallow waters. Along the way, he explains the facilities available, including what to do if I feel peckish. The resort offers dining around the clock, adhering to Kudadoo's motto: 'Anything, Anytime, Anywhere'.
Have I already mentioned that this is an all-inclusive resort?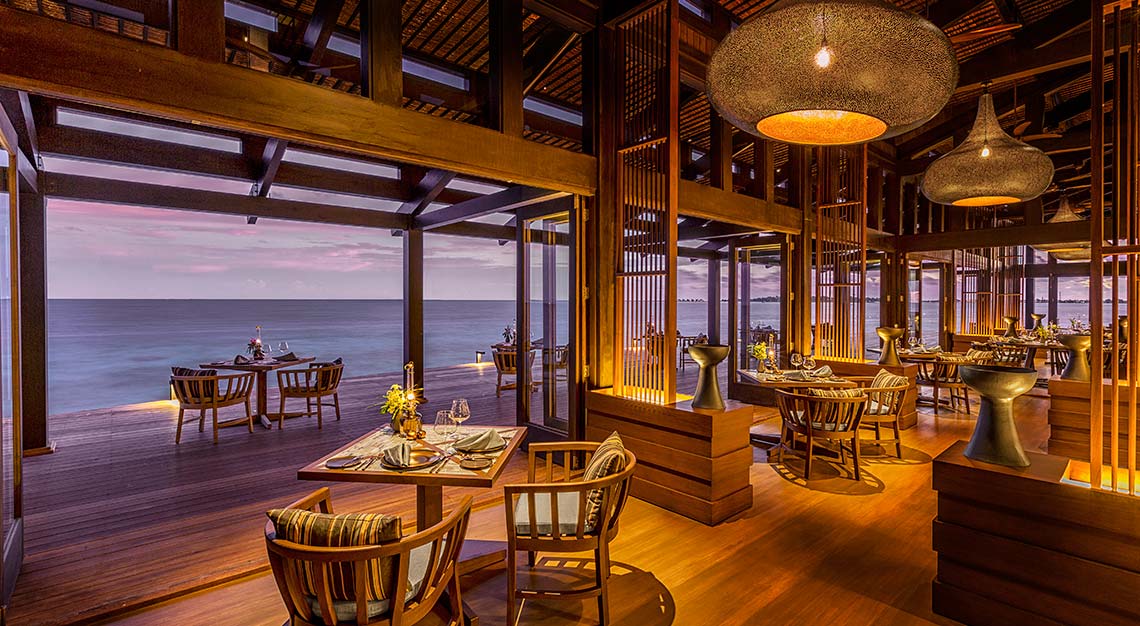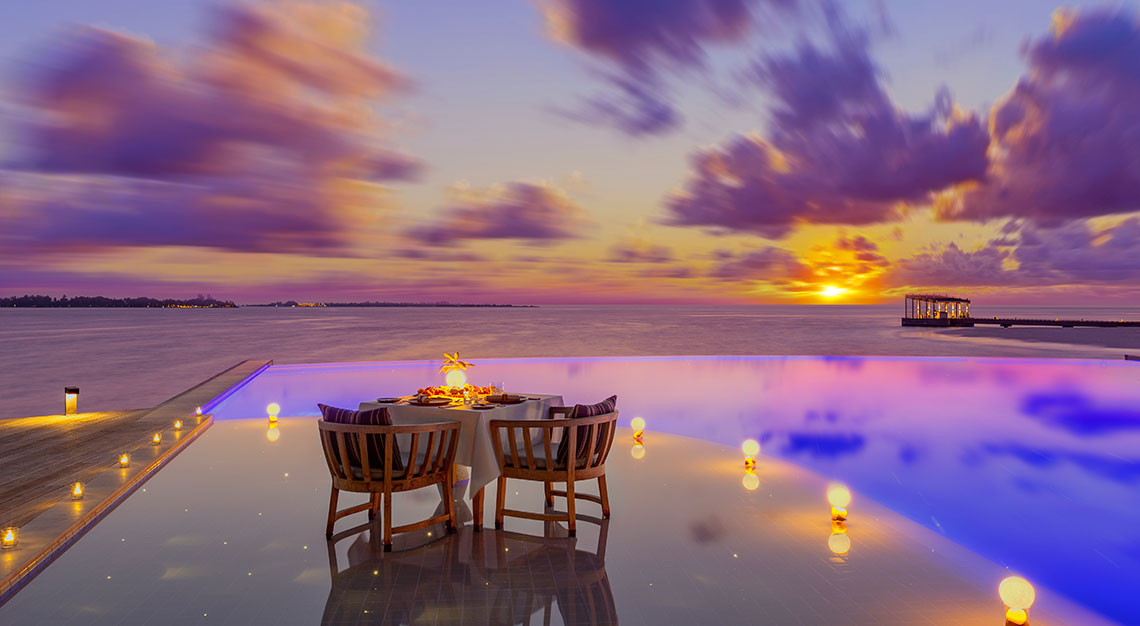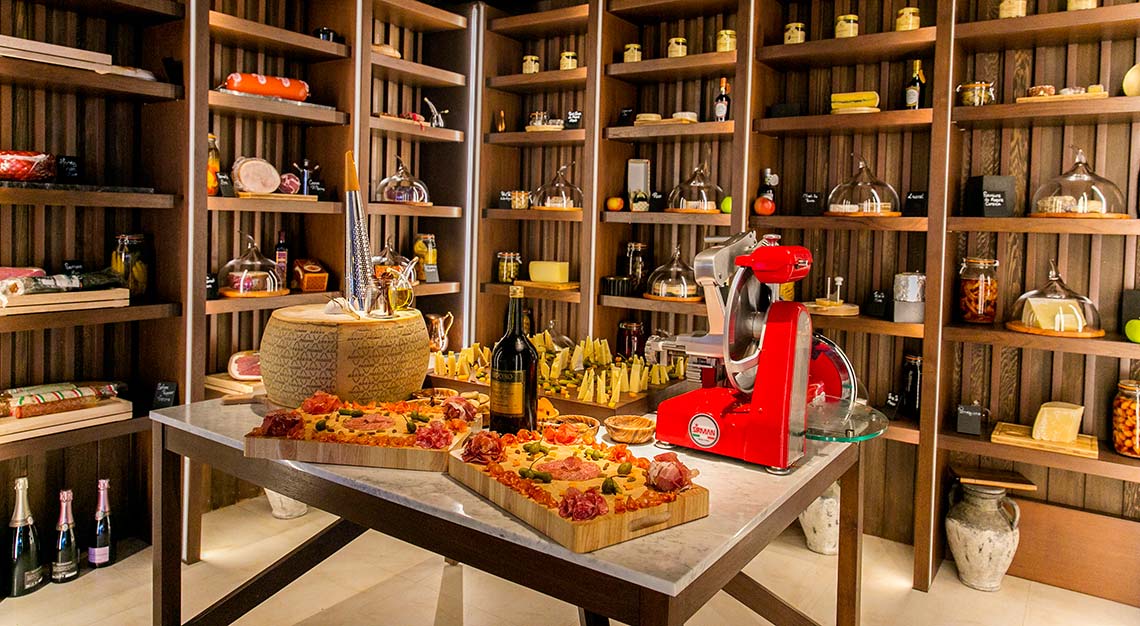 Not only will your butler gladly arrange a session of wine appreciation, he'll even suggest the appropriate composition of the accompanying cheese and fruit platters; the walk-in cheese room has over 35 varieties and cold cuts, while the wine cellar is stocked with more than 80 different labels.
With only one restaurant on the island, every dish that leaves its kitchen has to be perfect. While the dishes did their best to satisfy, the menu failed to excite, and it leaves you wondering whether or not you're getting your money's worth.
The Chef's Special dinner left me feeling particularly bewildered. Each dish had extreme hits and misses. The lobster tail was mushy, while its accompanying pea soup was heavenly. The steak was way over-seasoned (I scraped the visible salt crystals to the side), but the thrice-fried fries were delish. A dry sponge cake masqueraded as a chocolate brownie, although I enjoyed the chocolate mousse piping to the side of it. How could one meal confuse me to this extent?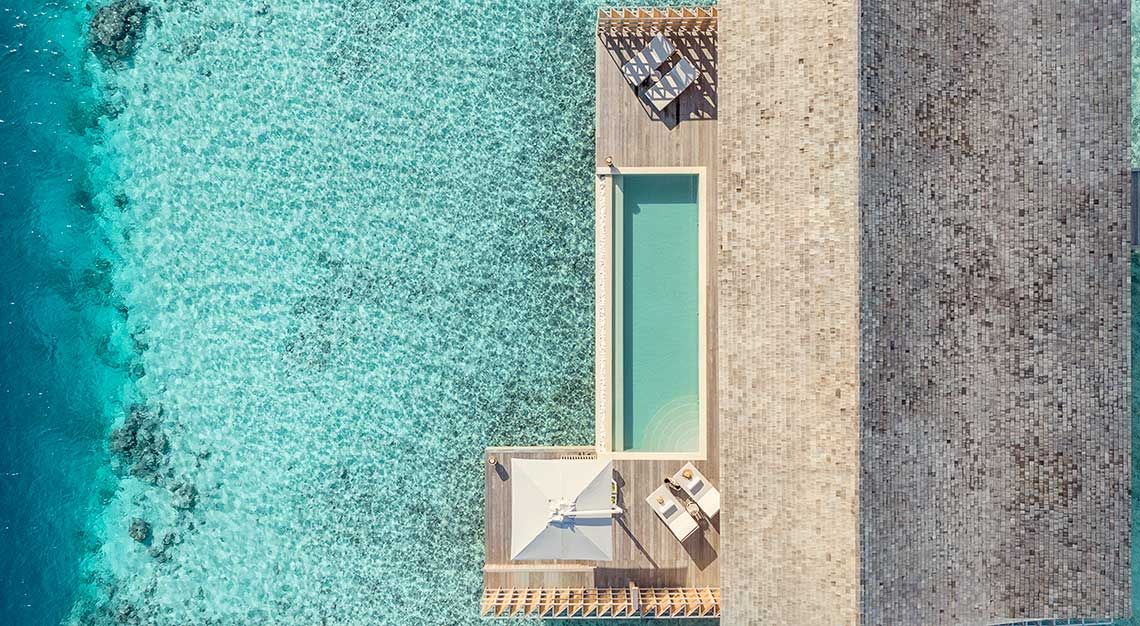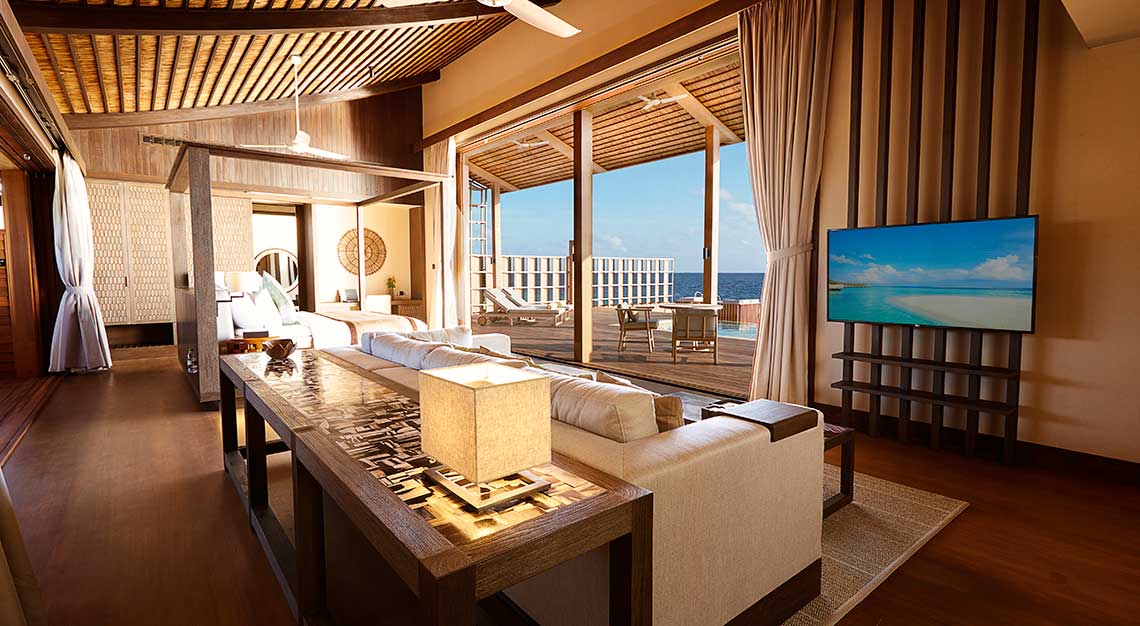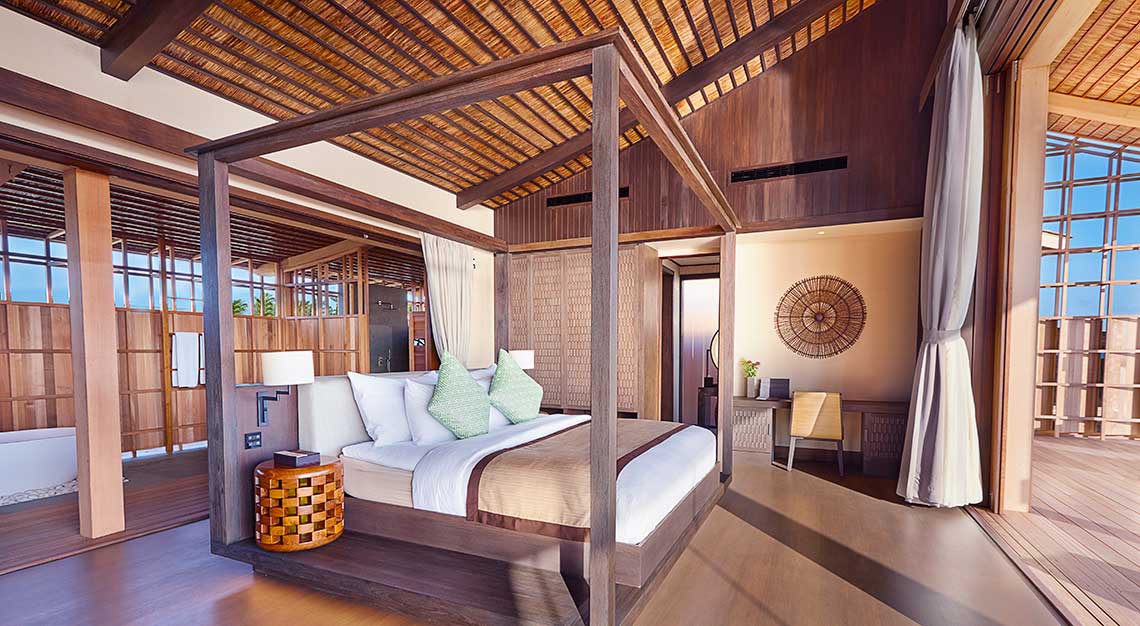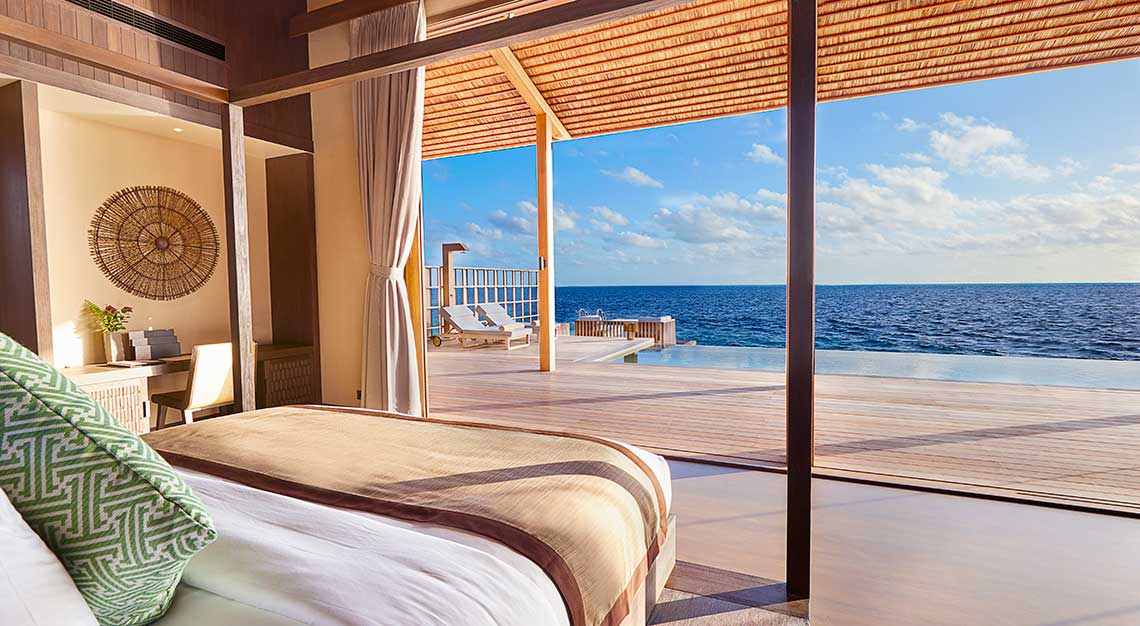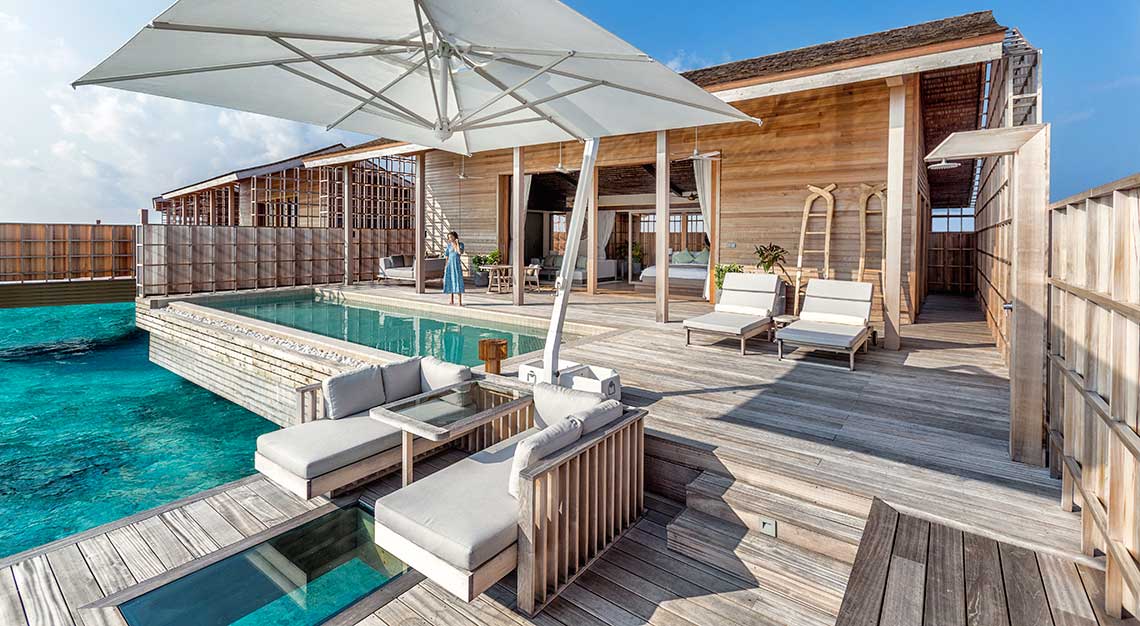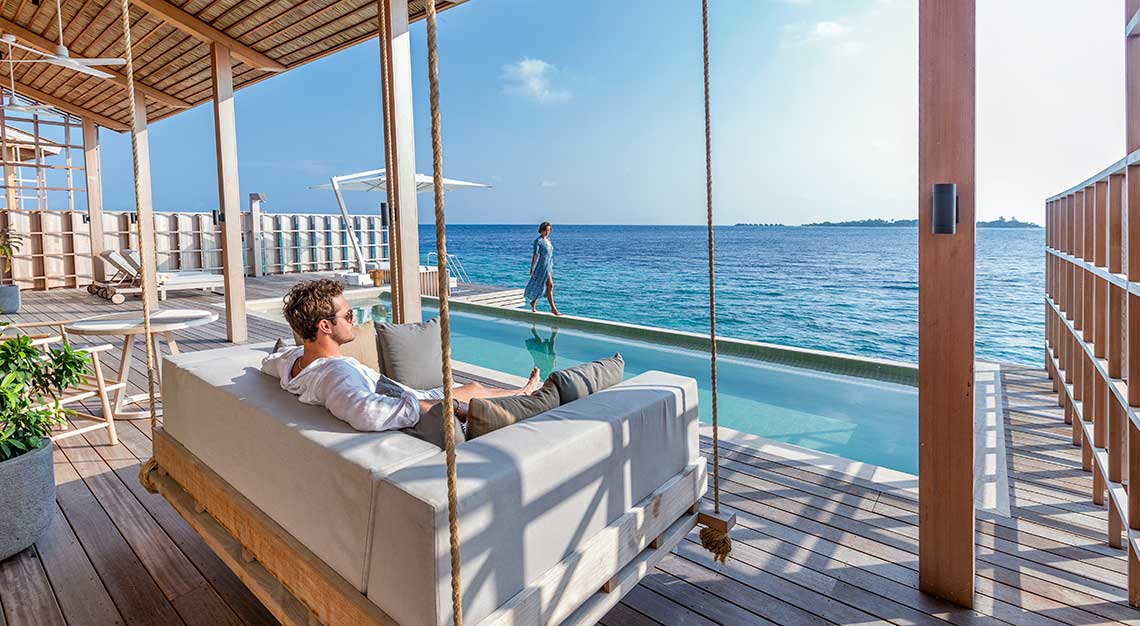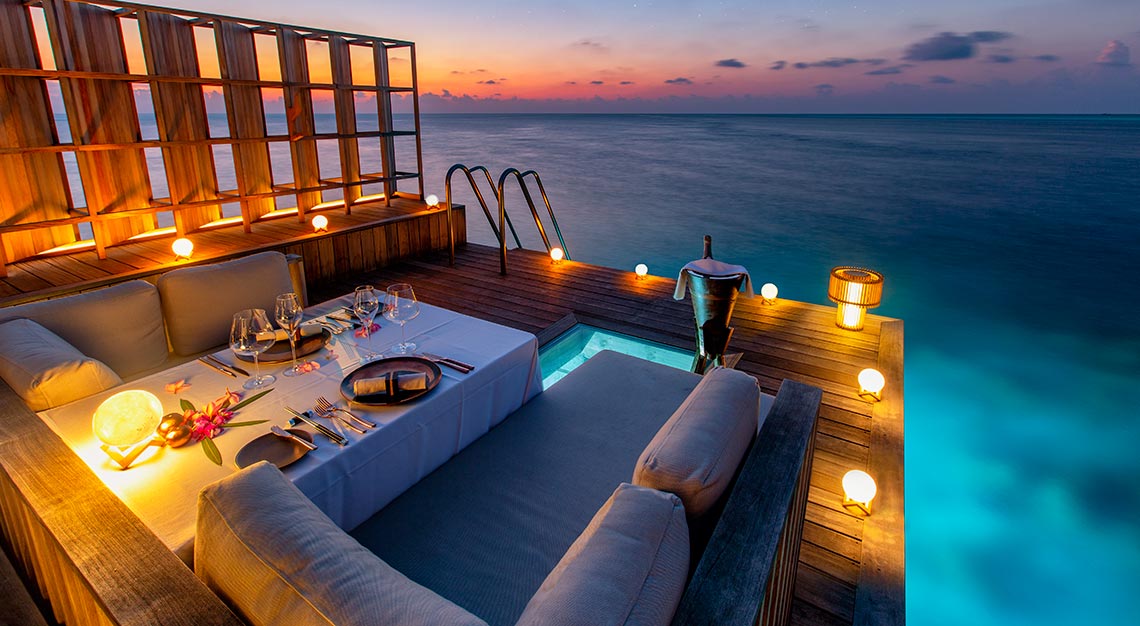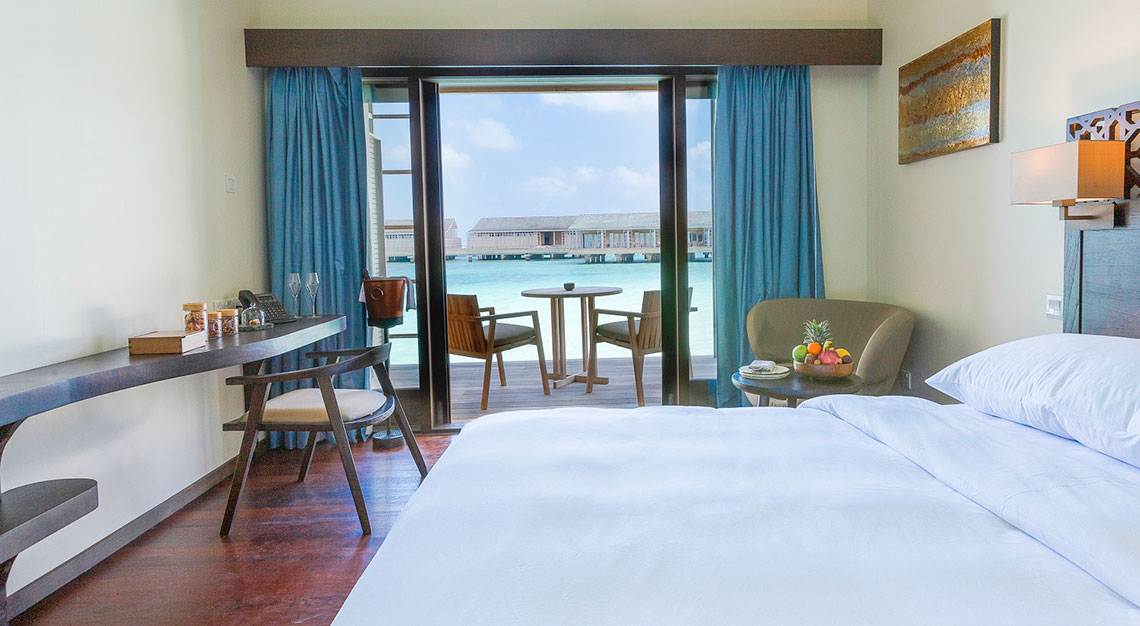 All is forgiven, though not necessarily forgotten, once I return to my residence. Designed by Yuji Yamazaki Architecture, the residences evoke the spirit of a modern Japanese home with the use of granite stones, smooth pebbles and unpolished cedar wood. You'll enjoy faint whiffs of cedar every now and then. The scent gets more pronounced when it rains, making unwelcome weather in The Maldives somewhat more bearable.
As there aren't any nearby resorts, you'll enjoy an undisrupted panoramic view of the sea, with nary a speedboat in sight. While the shower has been tucked into a corner behind the villa, you're welcome to bring your set of toiletries to the outdoor rain shower. And don't worry about reserving the 'best villa'. They are all of the same size – save for the two two-bedroom residences. You only have to decide if you prefer watching the sunrise or the sunset when in situ.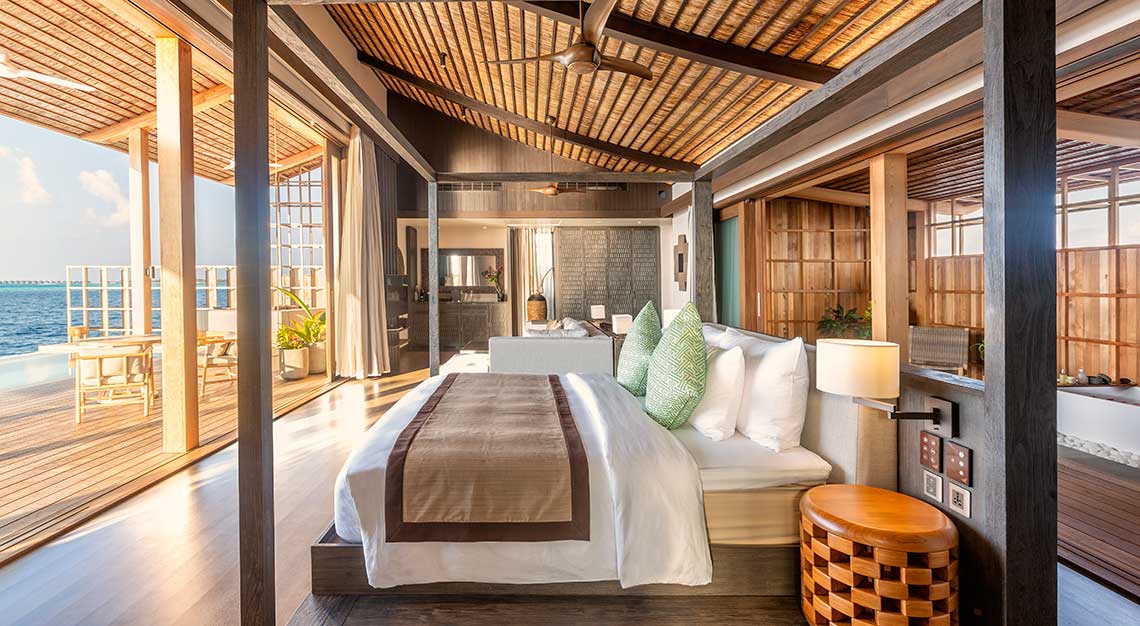 Views aside, the ingenuity is the way in which Yamazaki, a New York-based designer, designed the residence so that it's always kept breezy. Pull the sliding doors apart and you'll enjoy a constant flow of natural air throughout. The angled wooden panels allow you to look beyond the confines of your residence, while ensuring privacy between neighbours. And the villa is kept eco-friendly; part the sliding doors and the smart home system immediately shuts off the air conditioning. And you won't find any form of plastic here; all amenities – from mouthwash right down to face toners and after-sun gel – are stored in glass bottles.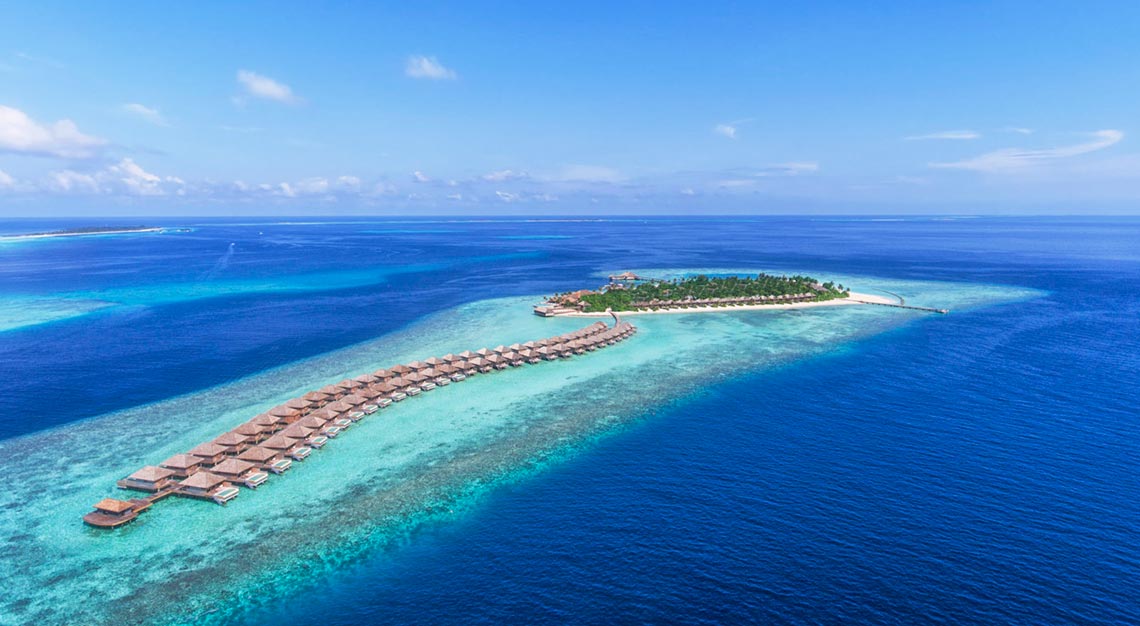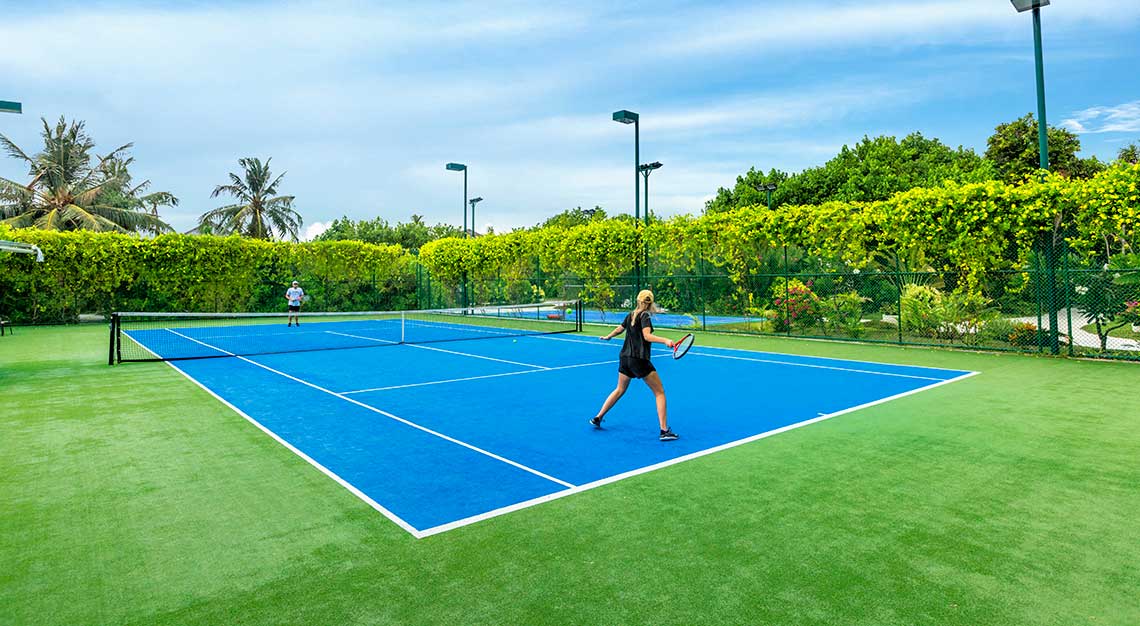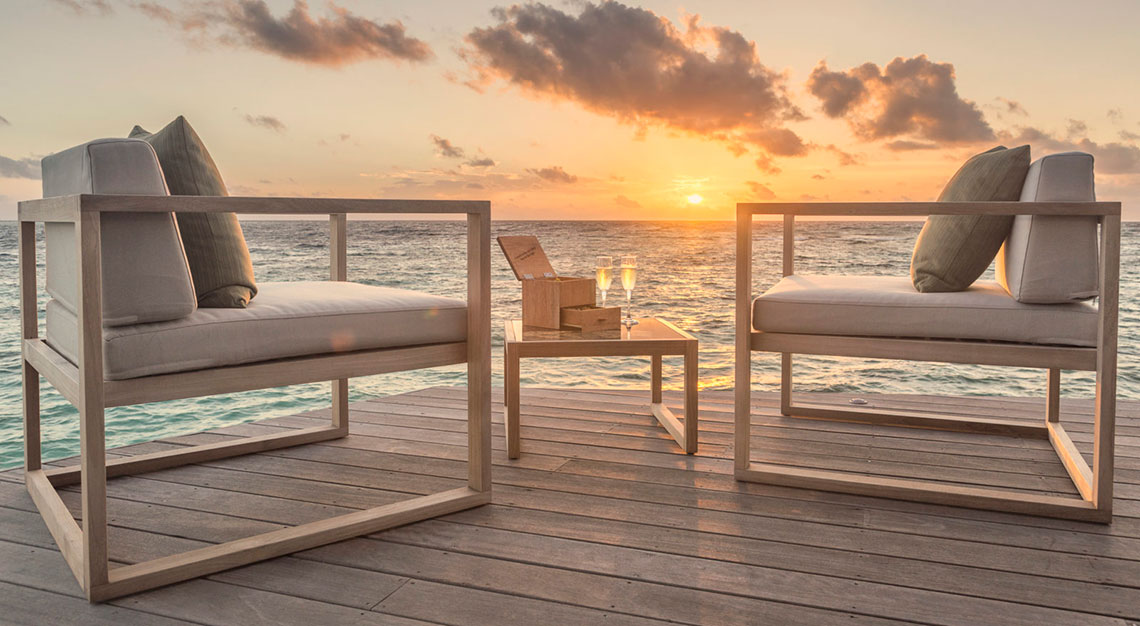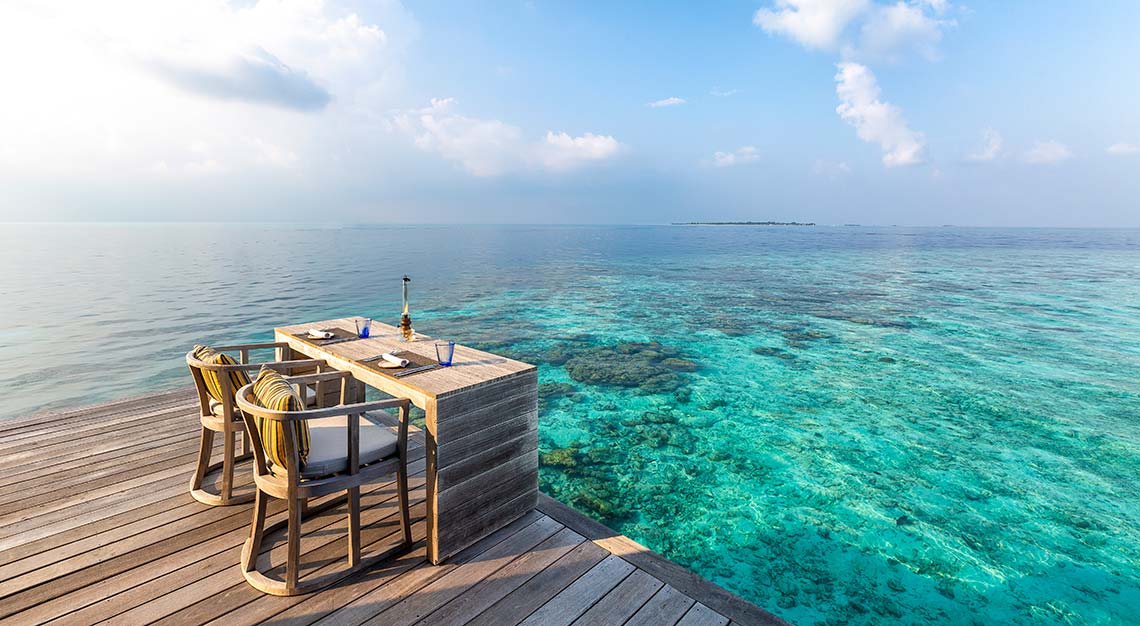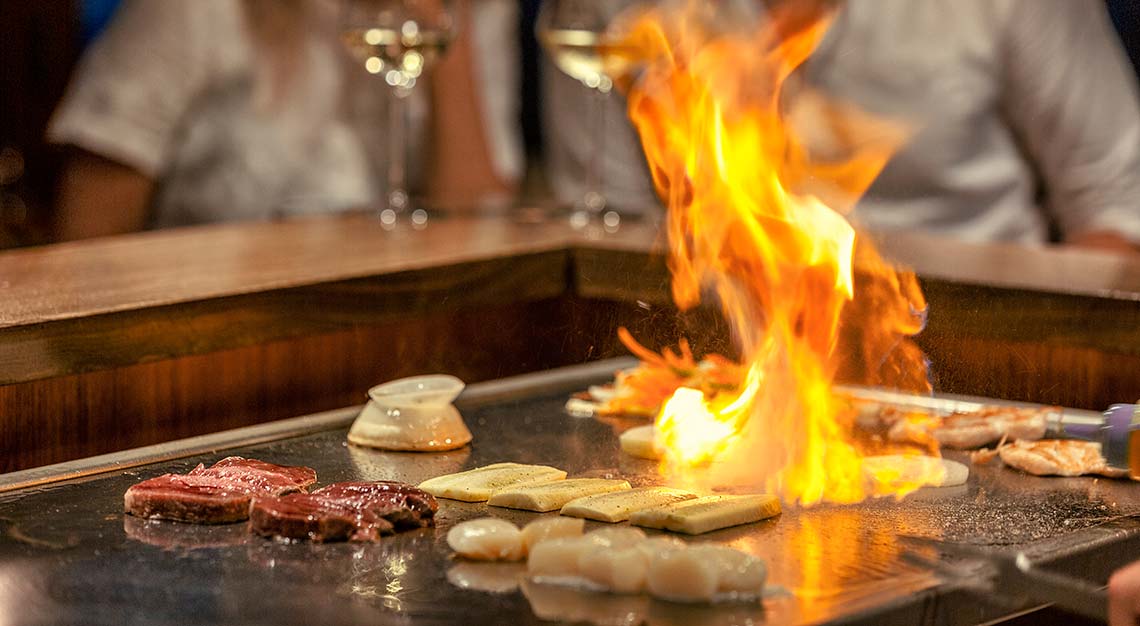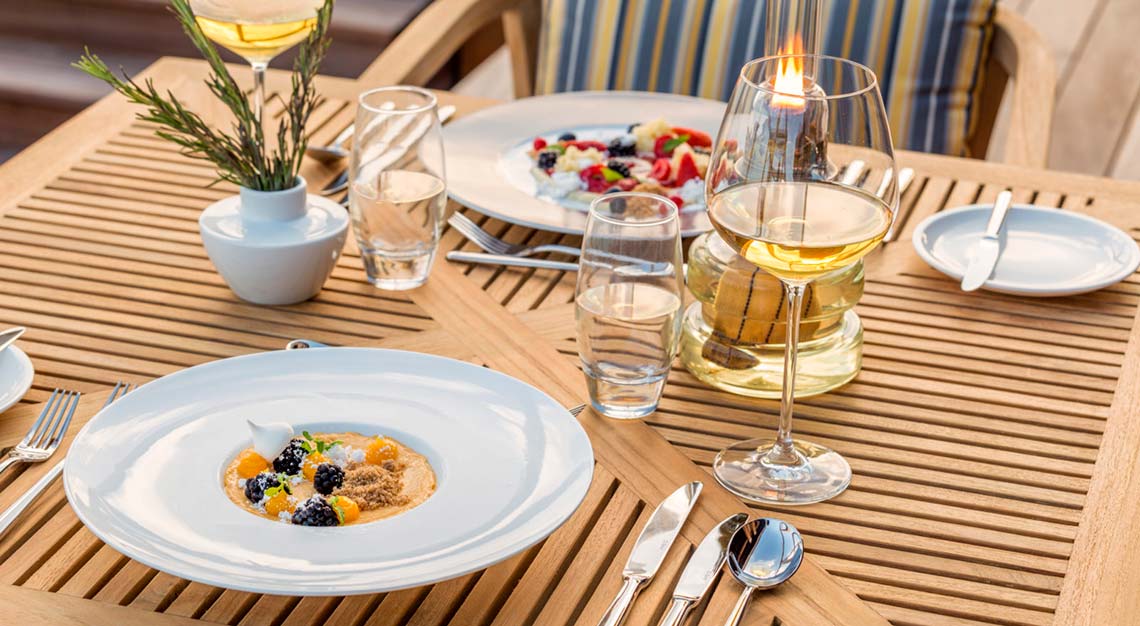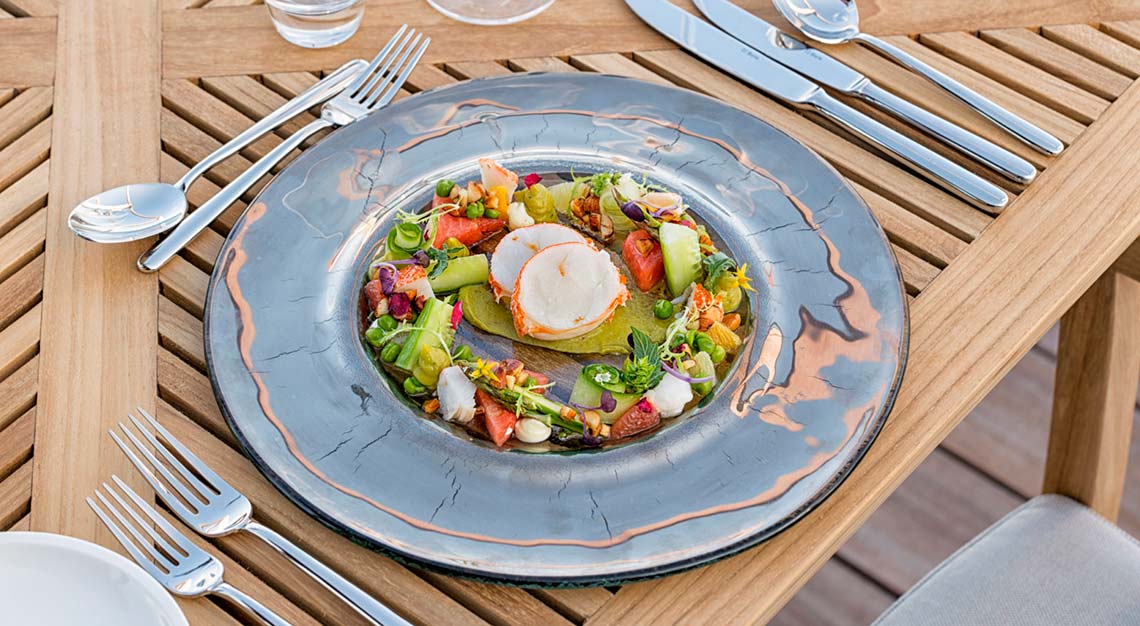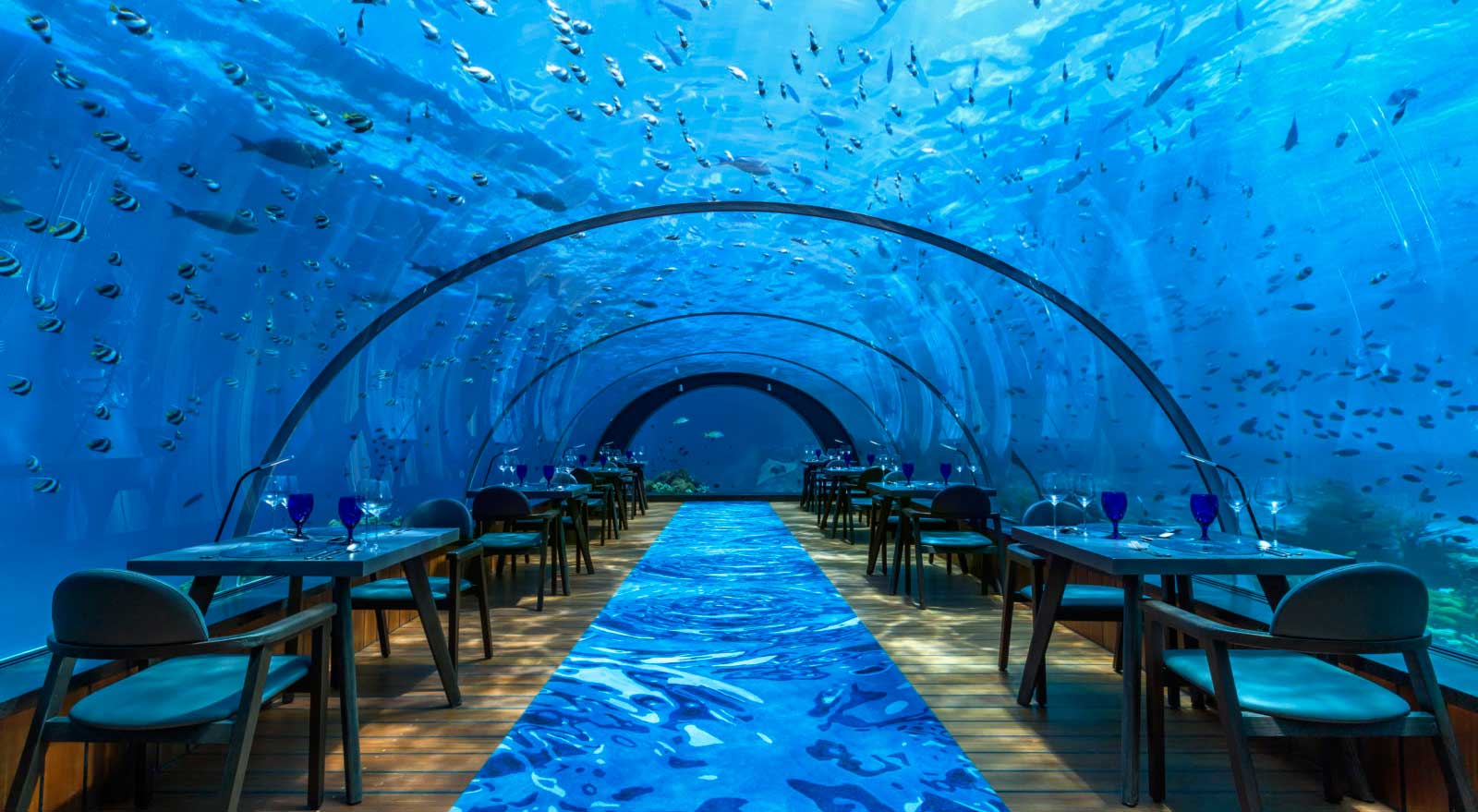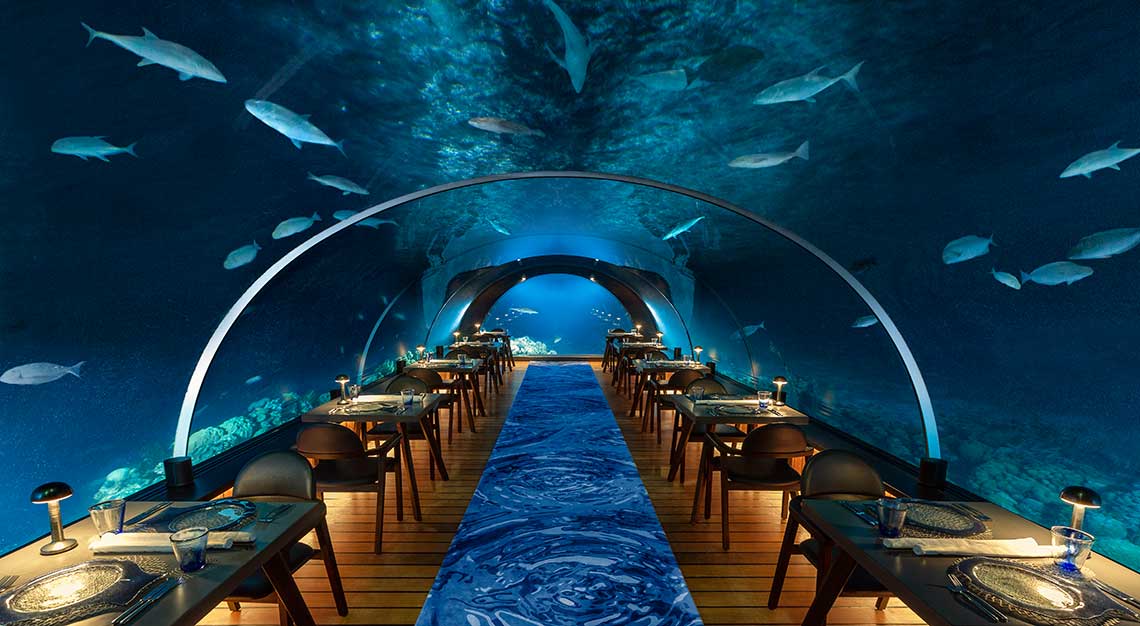 Thinking of how to fill your time? Your butler, who's on speed dial, will be only too happy to assist. Arrange for a full-day, in-residence spa treatment, or better yet, give the water activities a go. You can do whatever you want, for as long as you want, and if there's one place that leaves you spoilt for choice, this would be it. Guests on Kudadoo are also encouraged to visit its sister islands, including the adults-only Hurawalhi resort, a three-minute ride away. The badminton, futsal and tennis courts are at your disposal, as is the games room, which offers retro arcade games such as air hockey, pinball and Pacman. Those with cabin fever can also opt to have meals on Hurawalhi at no extra charge, unless you opt to dine at the famed 5.8 undersea restaurant, which is priced separately.
With an abundance of options at your fingertips, you won't be faulted for making last-minute changes or requests. Ishaaq quietly took care of every aspect of my trip, from the booking of restaurants and arranging for boat transfers, to staying up one night to ensure that I returned safely to my residence.
All too soon, I have to bid Kudadoo – and Ishaaq – farewell. The island has left a mark on me. The missteps can definitely be overcome and improved upon, and I wouldn't be surprised if returning guests choose to stay for a week or longer.
This story is part of our Most Expensive Mondays column. View the rest of the stories here.