In this year's Best of the Best 2020 awards, we recognise the brands that have pushed boundaries in design and innovation, and those that have made significant contributions to alleviate the pandemic. Here are the best six within the travel category
When are you travelling next? It's a million-dollar question that none of us have answers to. Common responses typically include: it depends on government regulations, how things are panning out in the host country, and only when it's safe to do so.
Given that most aren't travel-deprived enough to throw caution to the wind and hop on a flight anytime soon, domestic travel has become more relevant than before. While Indonesia and Malaysia present myriad exciting destinations to explore, options are restricted in Singapore.
Thankfully, hotels and resorts in the Lion City are up to the task of hosting those with cabin fever, offering a compelling array of staycation options. Be it luxury resorts on Sentosa Island, five-star hotels in the city or boutique hotels in heritage shophouses, each offers guests hyper-localised experiences. There are Peranakan pattern-making workshops; heritage, art and garden tours; floral styling and dim sum making, to name a few.
But staying at home – while leaving work and other worries at the door – can be equally luxurious. Hotels are selling room scents, shower amenities and even bed linen, allowing guests to recreate a vacation at home.
Of course, the industry doesn't just have an eye on inbound tourists. To keep future guests engaged, hotels and tourism boards are offering virtual activities including yoga, pasta making, walking tours and visits to museums and attractions. There are also winery visits, hikes and safaris. It's interesting to note that some experiences are conducted live, which means you'll get to ask the host questions for the duration of your 'journey'.
While these can't compare to experiencing the real deal, one thing's for sure: we'll be deliberating long and hard about where our next destination will be and we'll be savouring every moment – including packing, going through immigration, and getting our passport stamped – as we count down to the day we can all fly again.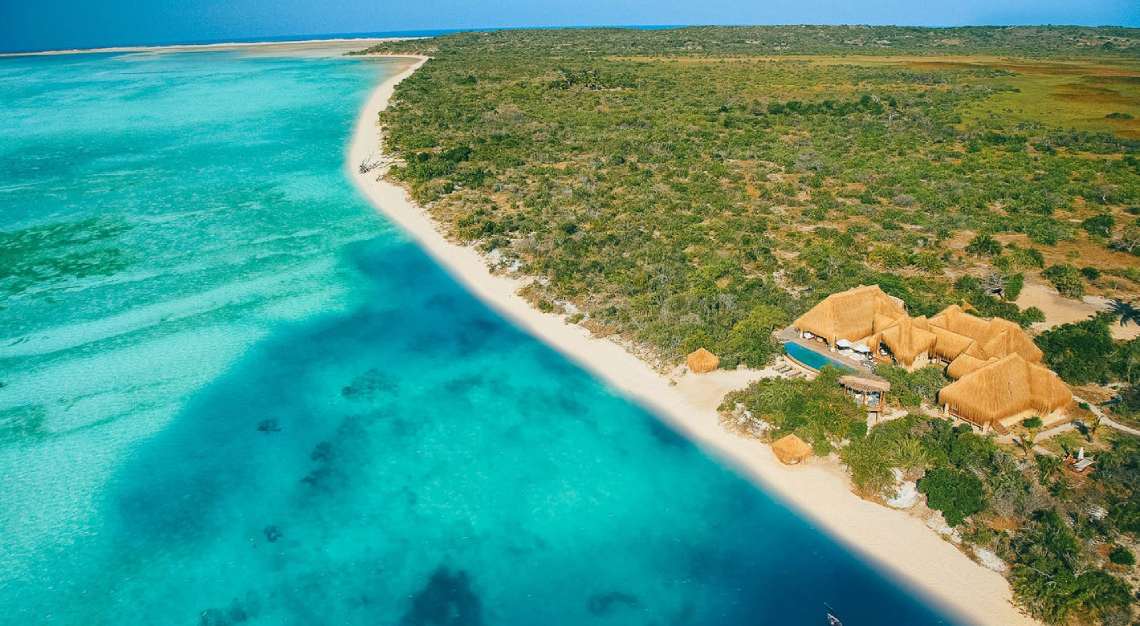 Best under-the-radar beach: Benguerra Island, Mozambique
In the '50s and '60s, the Bazaruto Archipelago off Mozambique's southern coast was the hot spot for expat colonials. Indeed, the evocative remnants of the mid-century hotel on nearby Santa Carolina Island are the only lingering evidence of what once was – and what's evoked in Bob Dylan's Mozambique. That hotel might be in ruins, but what drew visitors in the first place remains: untrafficked, largely undeveloped swathes of white sand beaches and turquoise water, matching or even bettering the Maldives on the other side of the Indian Ocean, especially at sundown while bobbing on the calm sea in a dhow, a traditional fishing boat.
The two main islands, Bazaruto and Benguerra, have been home to luxury properties including Anantara, &Beyond and Azura. But this year sees the arrival of Kisawa Sanctuary, which is likely to put Benguerra on multiple must-see lists.
A passion project of VistaJet scion Nina Flohr, Kisawa comprises 12 beachfront bungalows nestled at the edge of a 300-hectare stretch of forest and sand dunes. One-, two- and three-bedroom residences are available, each offering direct access to the private beach. Space isn't a constraint here, with the entry-level, one-bedroom bungalow occupying a quarter of the 4,000sqm plot of land it sits on.
Given that the island is located within the marine reserve of the Bazaruto Archipelago National Park, guests can expect to view a diversity of marine life as they snorkel, scuba dive or head out for whale watching and deep-sea fishing. On land, tourists can also enjoy dune boarding and horse riding.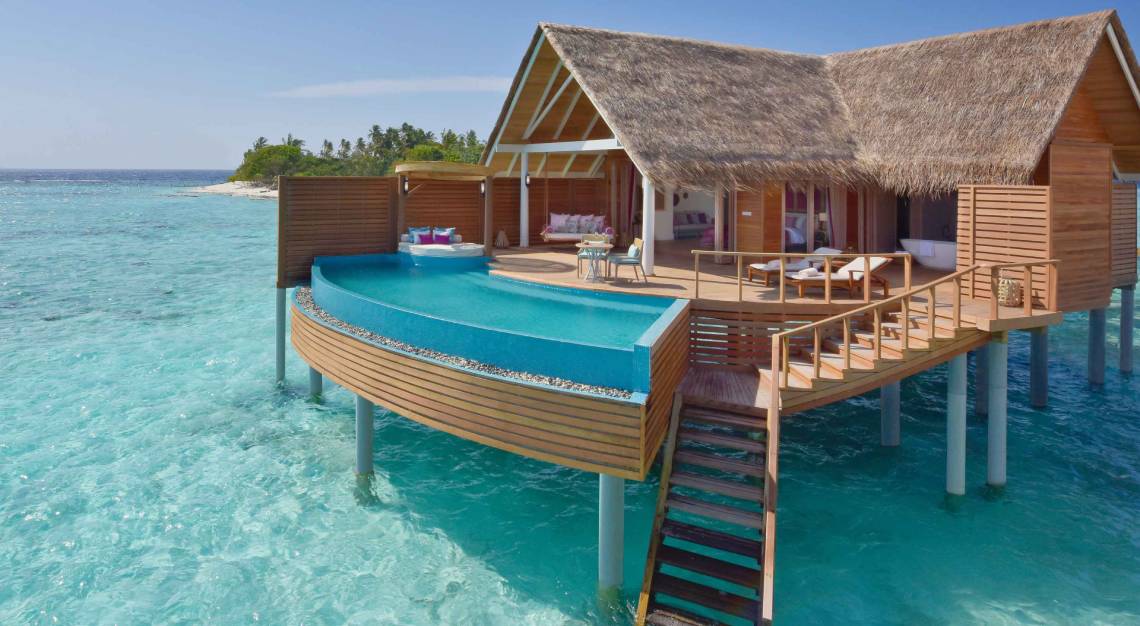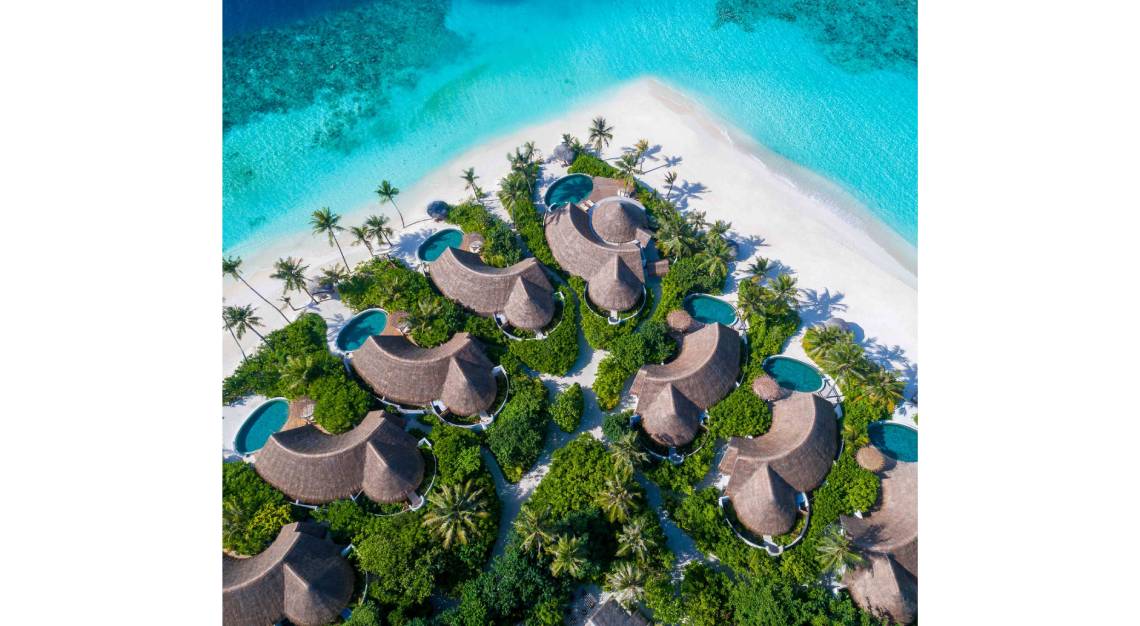 Best private island getaway: Milaidhoo, Maldives
It's not the steak we sell, it's the sizzle. This phrase certainly rings true for the Milaidhoo resort, located in Baa Atoll, a UNESCO biosphere reserve in the Maldives.
After all, life on a Maldivian island resort doesn't differ too much from the next. Apart from unique offerings such as stargazing with a resident astronomer, underwater dining, seeing bioluminescent plankton on the beach or sliding into the sea from your villa, the rest of the activities are by and large the same. Plus, there are only so many water sports one can take part in. But where Milaidhoo truly stands out is the way it adds a creative spin to its packages. When it opened in 2016, the 50-villa resort offered mood-dining vacations. Guests selected from one of the five moods – including Deep Sleep and Sunrise Awakening – they wanted to be in. Each mood came with a suggested list of activities for the day, along with a themed menu, and was served at a specific part of the island. Depending on which you selected, special baths and spa treatments were also thrown in as a surprise.
Its 2020 packages are no less enticing. Take, for example, Vitamin Sea, which sees you absorbing a daily dose of vitamin D from the sun as you enjoy two private scuba diving trips a day. Bucket List rounds up some of the most popular activities guests in the Maldives request for – such as deep-sea fishing and sunset dolphin cruising – and is great for those who'd like to try everything once. Then, there's Love Story, which outlines a classic romantic vacation in the Maldives. Guests who opt for this are treated to champagne breakfasts, a flower-petal bath, private picnic lunch, sunset cruise and dinner on the beach.
While such services are available at each resort, Milaidhoo's expertise is in knowing what to include in its packages and how to curate a truly memorable experience.
Want to travel with peace of mind? Guests can make an exclusive buy- out of Milaidhoo. Like all resorts in the Maldives, it occupies an entire island, functioning somewhat like a quarantine bubble. Of course, this is a much fancier one, and one where you can relax and be waited on while remaining in the company of family and close friends.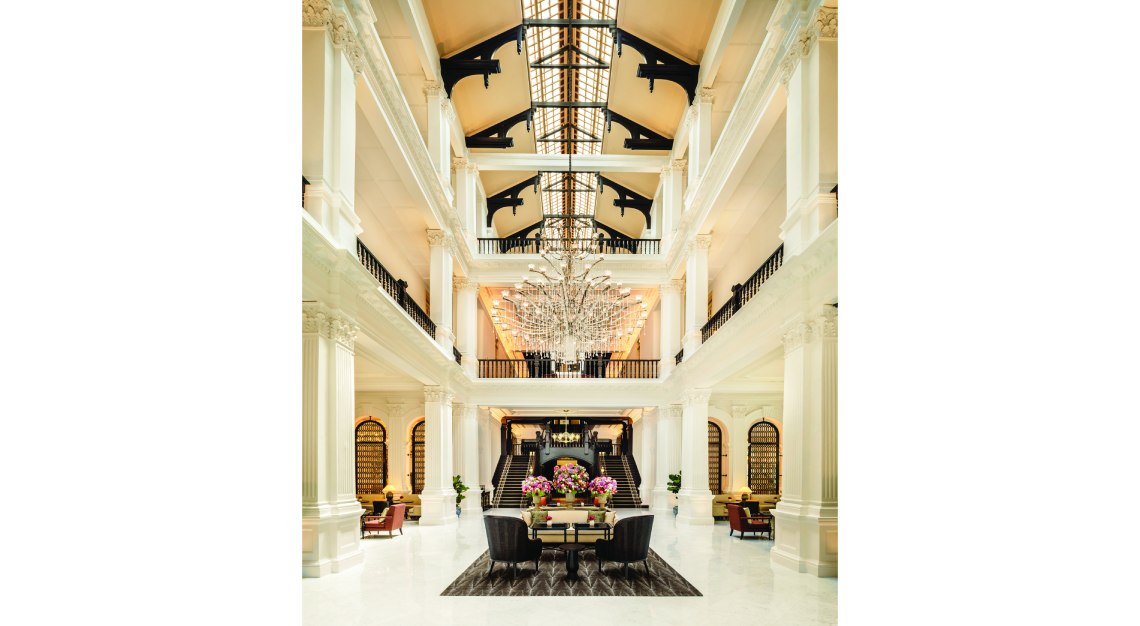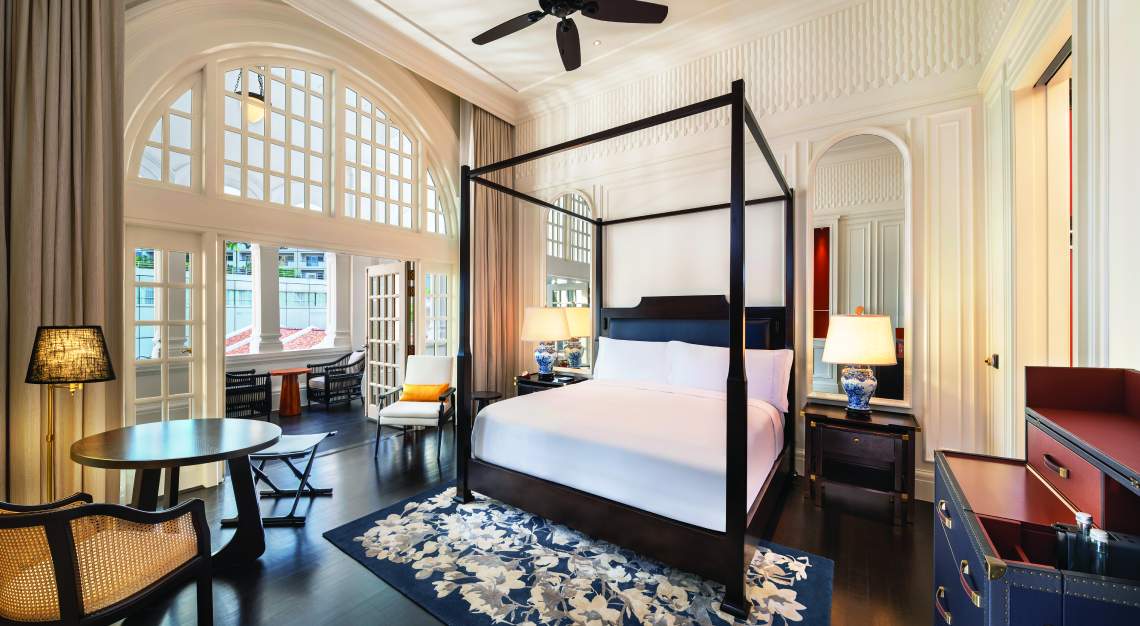 Best hotel restoration: Raffles Singapore
There's much to be said for what is probably the most famous hotel in Singapore, which has hosted the likes of Queen Elizabeth II, author Pico Iyer and artist Carlo Marchiori. And following an extensive restoration process, words simply don't do the hotel justice – a personal inspection is in order. On the outside, it looks the same. The iconic Raffles doormen – distinguishable by their white turban and Gieves and Hawkes military uniform – greet you as your car pulls up. But take a step in and you'll notice the difference immediately. There's no front desk for check-in; this process is instead handled in-suite by a dedicated butler, who'll be at your service throughout the duration of your stay.
This is just one of the numerous changes put in place by world-famous interior designer Alexandra Champalimaud, who was selected to restore the entire property. After nearly a two-year closure, the 132-year-old grand dame has been given a new lease of life, without losing its old-world charm. While the all-suite hotel now boasts modern furnishings, its soft, oriental touches – like floral-patterned lamps and Peranakan-styled tiles – remain.
When you step within its manicured gardens, it almost feels like an oasis of calm, despite the fact that the hotel sits in the heart of the city. With extensive soundproofing in place, guests can enjoy the best of city life outside the hotel and return to a peaceful residence when the evening draws to a close.
Where repeat visits are concerned – be it as an in-house guest or otherwise – Raffles has pulled out all the stops. There's a new Raffles Spa along with an impressive line-up of restaurants by chefs Alain Ducasse, Anne-Sophie Pic and Jereme Leung.
For those looking to enjoy a quintessential Raffles stay, don't forget to visit the Grand Lobby for a classic afternoon tea experience and the Long Bar for a Singapore Sling.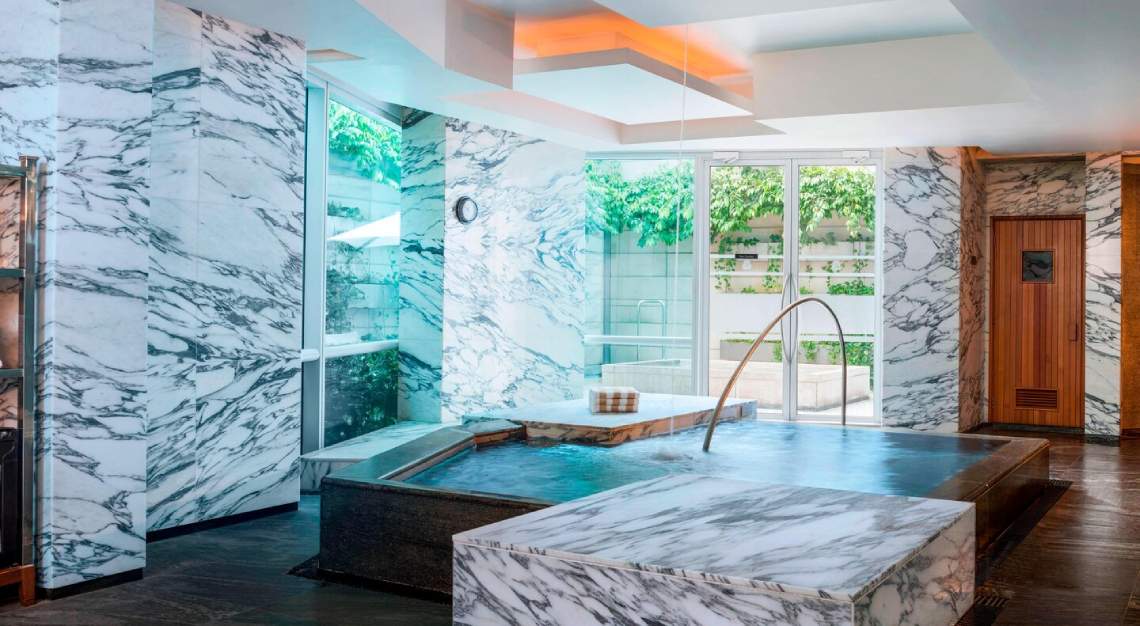 Best five-star spa: Remède Spa, The St Regis Singapore
What makes a great day at a spa superb? Treatments and techniques may differ, but if you're reluctant to leave, you know you've hit the jackpot. And that's the way you'll feel about Remède Spa, located within The St Regis Hotel Singapore. To reap the most benefits from the treatment, guests are encouraged to arrive at least 45 minutes earlier to make use of the spa's wet lounge. While you're free to create your spa journey, Remède recommends alternating between hot and cold zones to regulate and improve blood flow.
In the hot zone, you'll find a eucalyptus-scented steam chamber with three compartments, each fixed with temperatures above 45 degrees celsius. Then, there is a hydro-massage pool, cedarwood Finnish sauna and heated natural stone loungers, which use heat to penetrate the skin to soothe muscle and joint aches. In the cool zone, you'll find a rain shower mist, an ice fountain, aqua relaxation path filled with pebbles in various sizes to knead the pressure points on your feet, and a plunge pool. The outdoor day bed is equally welcoming to lounge on with a glass of fruit-infused water in hand.
Its best-kept secret, however, is the fact that non-hotel guests can purchase a day pass (S$90) to use the facilities. But perhaps this is one of those things to keep firmly under your hat, or at the most to share only with your nearest and dearest.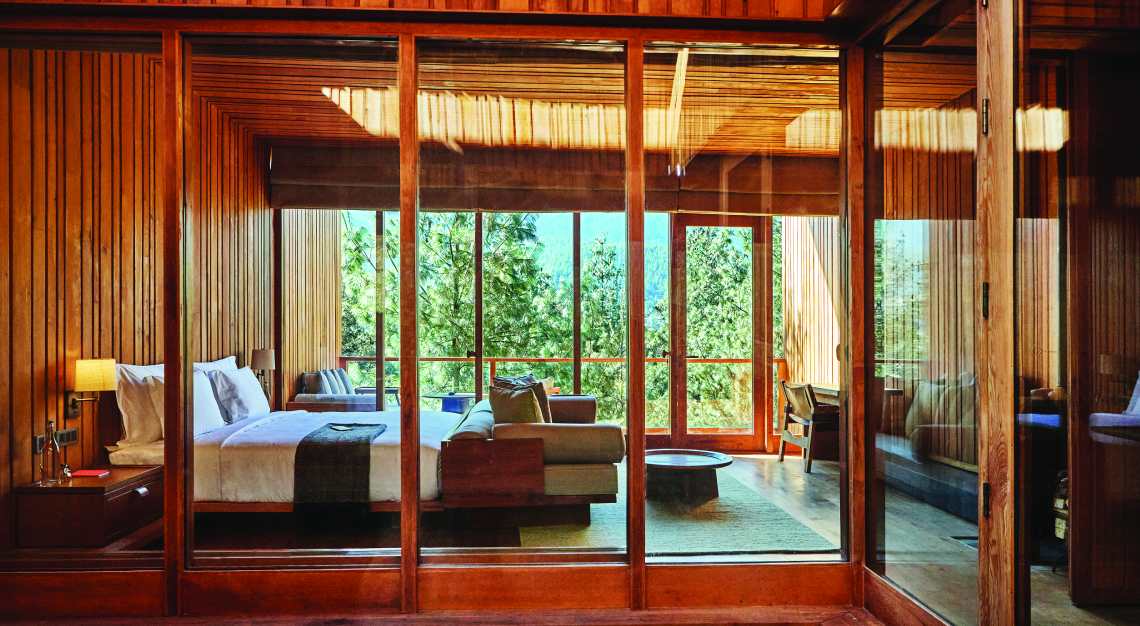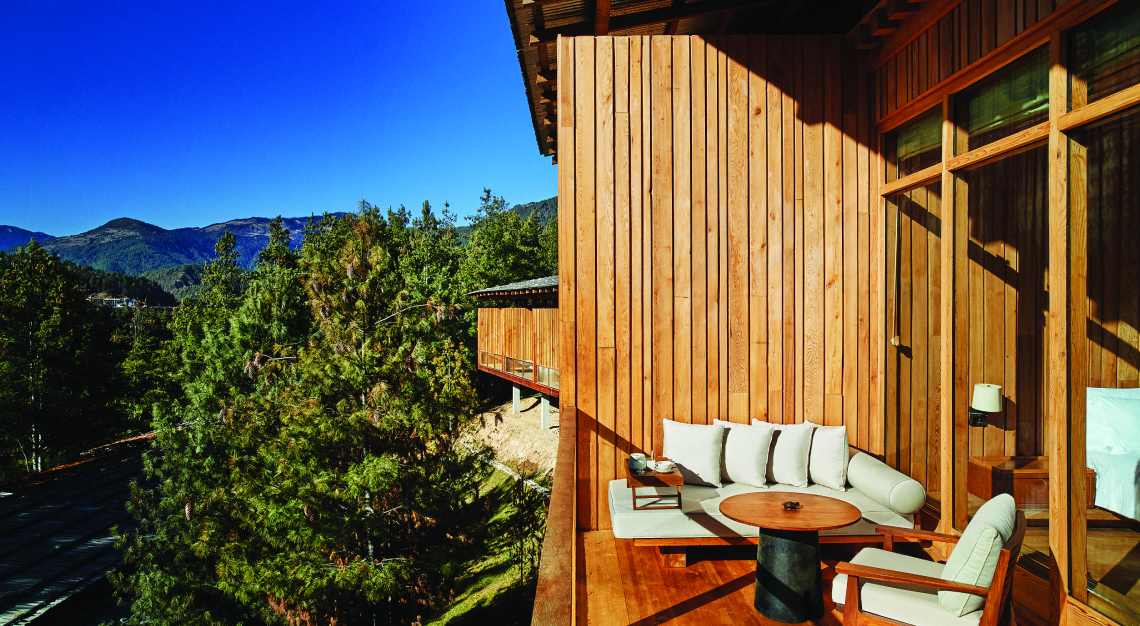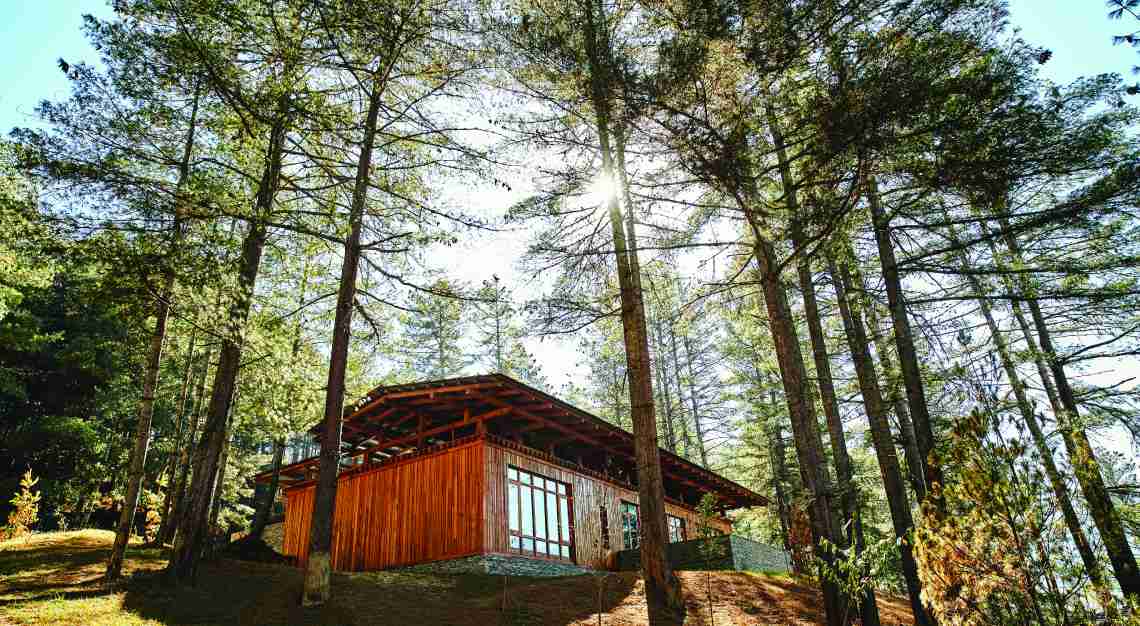 Best resort to regain inner peace: Six Senses Bhutan
Four years. Five lodges. Six Senses.
With the opening of its latest property, Bumthang, in March, the hotel group completed its most ambitious project yet: a network of spa-infused lodges dotted throughout the Himalayan kingdom of Bhutan. Where better for wellness-minded travellers to dawdle than at this Buddhist nation, whose monarch emphasises gross national happiness over gross national product? Each property follows the standard Six Senses approach to mindful wellness and complements each other as part of a multi-site journey, or Khamsa, across the country's central and western valleys.
Following the openings in Thimphu, Punakha, Paro Valley and Gantgey comes Bumthang. The resort sits on a hillside surrounded by pine trees, with a new sapling planted in the vestibule of each of its eight rooms as a nod to that locale.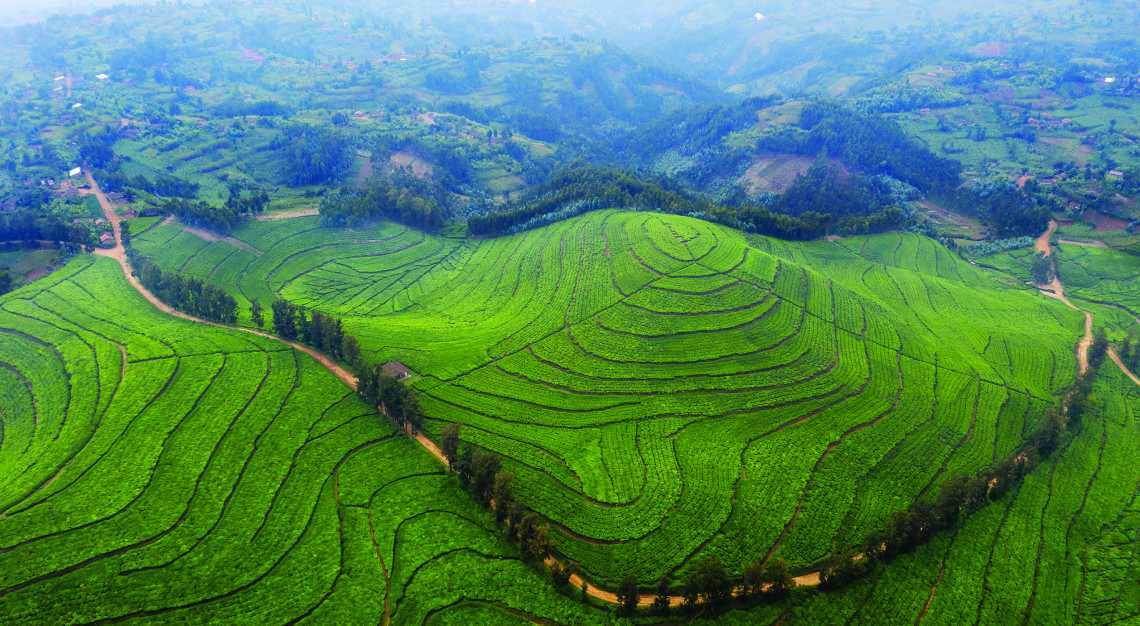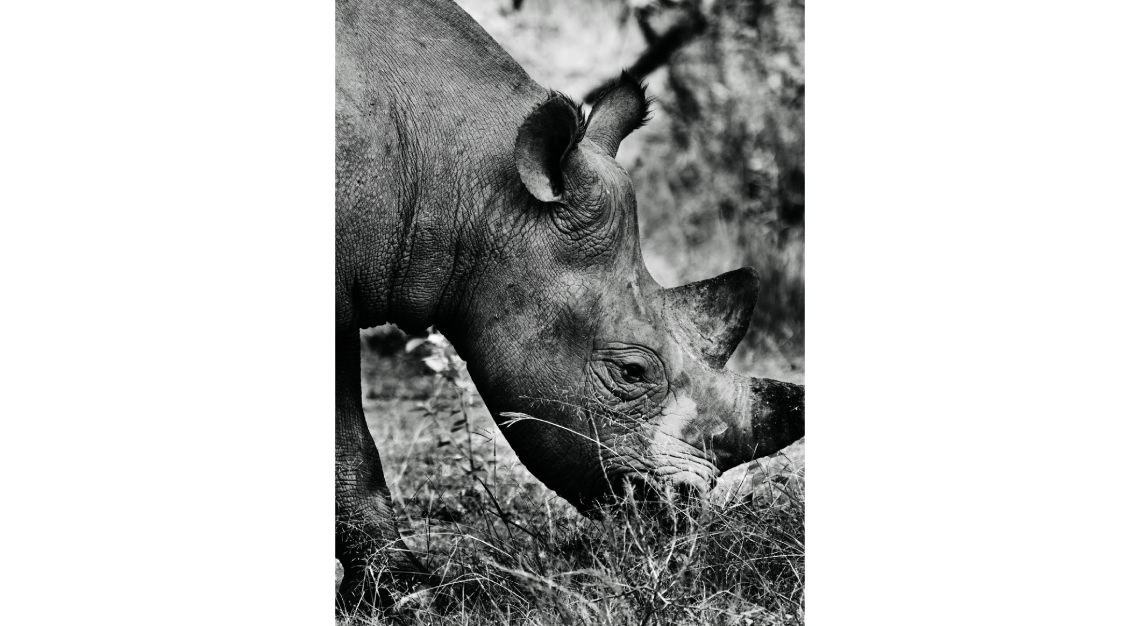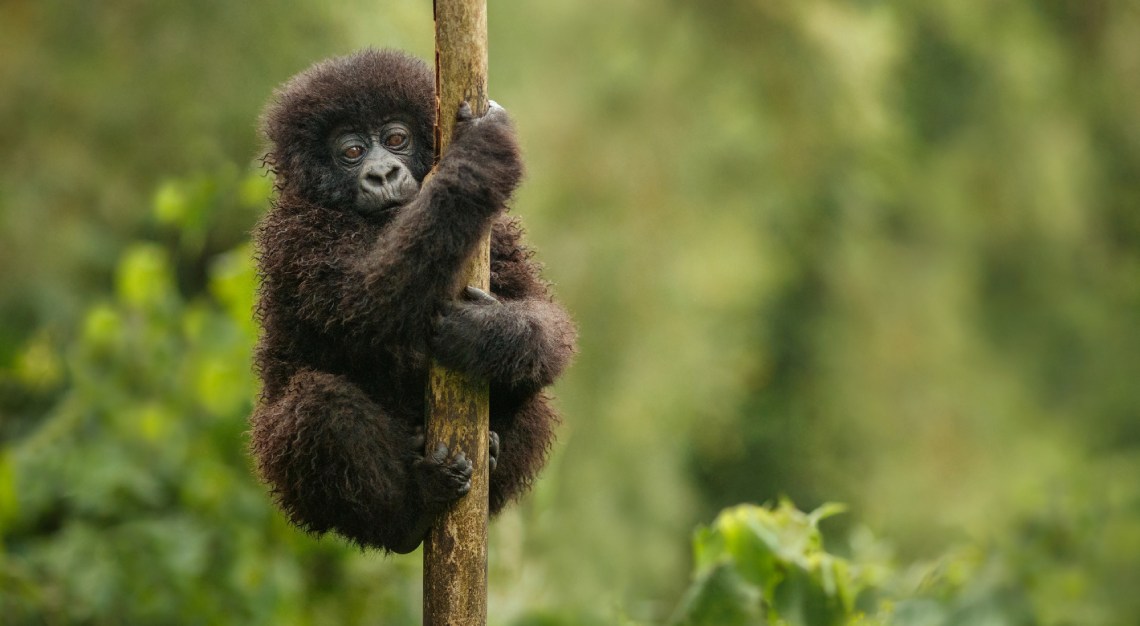 Best undiscovered luxury destination: Rwanda
The landlocked African nation has earned a new reputation as a luxury safari destination, due in part to the US$1,500 (S$2,038) permit that's required to visit Rwanda's prized mountain gorillas.
Simultaneously, a raft of fine hotels has appeared across the country. Singita and One&Only have prime sites close to those gorillas in Volcanoes National Park, while Magashi Camp by Wilderness Safaris sits on the border with Tanzania. There's more to come, too, with luxury camps set for the scenic shores of Lake Kivu.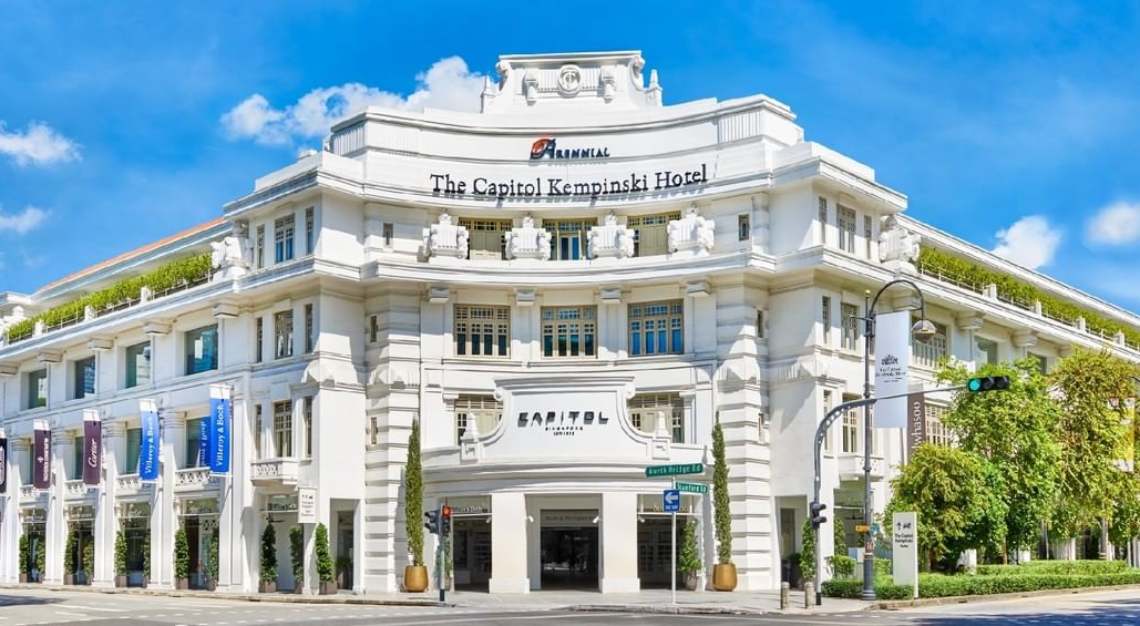 Humanitarian award: Singapore's hospitality industry
From five-star properties to five-star isolation rooms, that's how land-scarce Singapore transformed its luxury hospitality industry overnight to cope with the influx of returning citizens and residents during the height of the COVID-19 outbreak.
Over 7,500 hotel rooms were booked and paid for by the government to host those returning from overseas, especially university students and those stranded on business trips. Returnees were (and are still) made to isolate themselves in a room for a full 14-day period. Meals are delivered three times a day and laundry services are provided.
Staff, too, have been trained on the new protocols, and have learnt how to handle emergency situations, deep clean the rooms in between guest stays, and how to handle daily tasks which now require minimal human interaction. Meals have to be left outside the door and daily housekeeping duties have been tweaked, to allow for contactless delivery and the collection of linen. Even the usual maintenance tasks, such as repairing the air-conditioning systems, changing light bulbs and clearing blockages in sinks, now require special arrangements.
Since then, other hotels, such as Capitol Kempinski and The Scarlet, have also started offering special packages for those serving their stay-home notice, which includes daily meal and laundry plans. For that, we'd like to say a huge thank you to the industry for stepping up and reminding us what luxury also means: to extend one's resources and lend a helping hand in time of need.
Our full list of Best of the Best 2020 winners here